Nga mihi nui ki a koutou katoa – warm greetings to everyone
School sunhat:

 
From today onwards, if your child does not have the correct school sunhat, they will be required to stay out of the sun.
No hat = no outside play in the sun
Charter and Curriculum Review:
An email will be sent out today to fill in our charter and curriculum review. We are keen to hear your thoughts so that we can design learning that best meets your child's needs. Please take a moment to complete the review online by clicking the link provided below or going through your email. Please only answer it once!
Michael Van de Elzen: 
Monday 19th November 10am – 12pm
Have you got your tickets yet? Only $20 for this once in a lifetime event in Reporoa. This is an amazing opportunity for our school! Tickets available from the school office, Reporoa Valley Traders or Reporoa Foodmarket. School aged children year 3 and up will be attending the show – gold coin donation, all money raised will go towards a new planned kitchen for your child to cook in while at school.
Painting:
The painters are back today to finish painting the school. They will be working on the whanau room, the hall, and some other touch ups. The rooves will be painted over the Christmas holidays.
We will remind our children to leave the painters alone to do their work and they will be cordoned off where appropriate.
Wairakei Planting Day:
We had 27 children and 7 adults participating in a planting day as a fundraiser for our school KORU GARDEN. The Wairakei team were very impressed and highly commended us on our conduct, behaviour and expertise in our planting skills. We will receive the money next year when the plants have matured. As a result, we have also been invited to participate in a significant wetlands project next May/June using the plants we have potted up today. A huge thank you to the parents who came along to help us!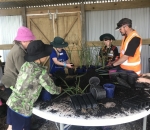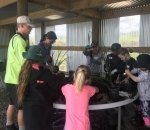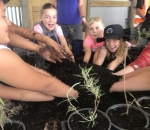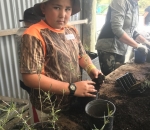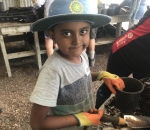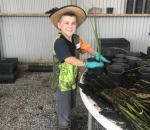 Wanted:
We have a large amount of green waste/branches from pruning trees that we need to get rid of. Can anyone help us?
Thank you:
A big thank you to the staff and parent helpers who made athletics day so successful. Please remember, if you have ideas for improvement, it is much more productive to talk to us and help out rather than complain loudly in public. We try our best and welcome your help and input always!
Stars of the week:
Ka Rawe te mahi (awesome work) to the children got another REPS tag last term. They enjoyed a yummy morning tea with the principal!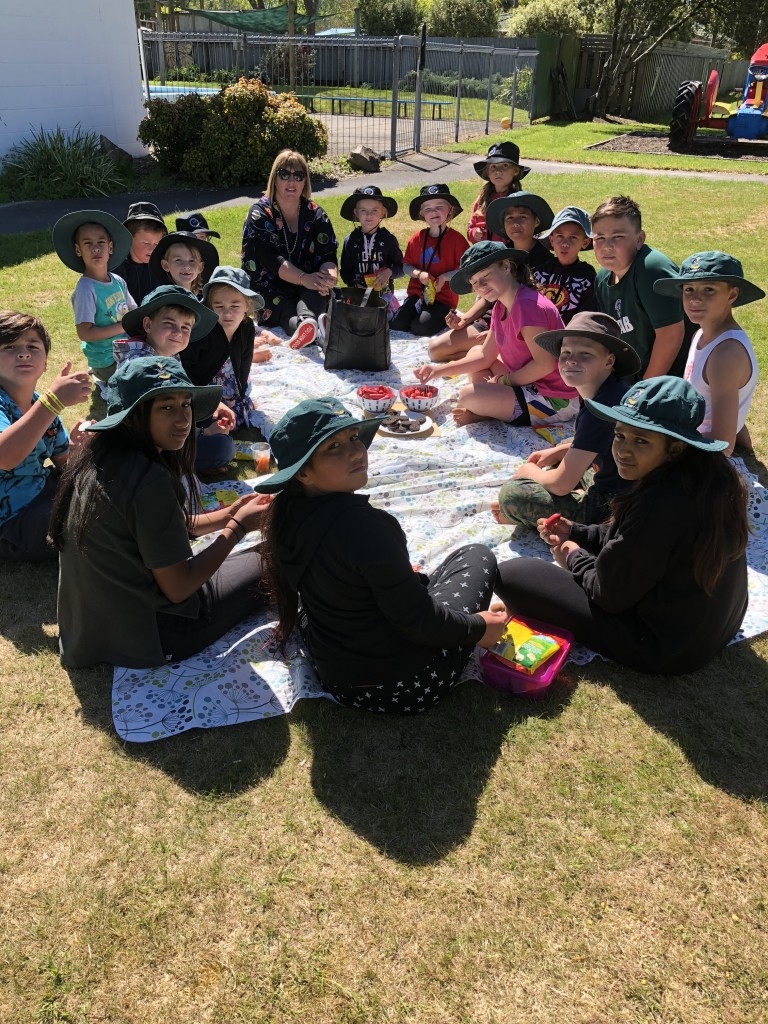 Sports:
Athletics:
Congratulations to the following place getters. Please note – there was a slight mix up with some certificates. If your child's is incorrect, please bring it in and have it fixed. If they are below but did not get a certificate, please also make us aware so that we can fix the problem. Our sincere apologies for this.
Please note: Only two entries for each event go to cluster. They are not always first and second place getters as we don't take children for the whole day to just participate in one event unless we have to. There are 57 students (half of the school) going to cluster. This is a huge event to organise. Thank you to my parent helpers who are working hard behind the scenes to make this happen!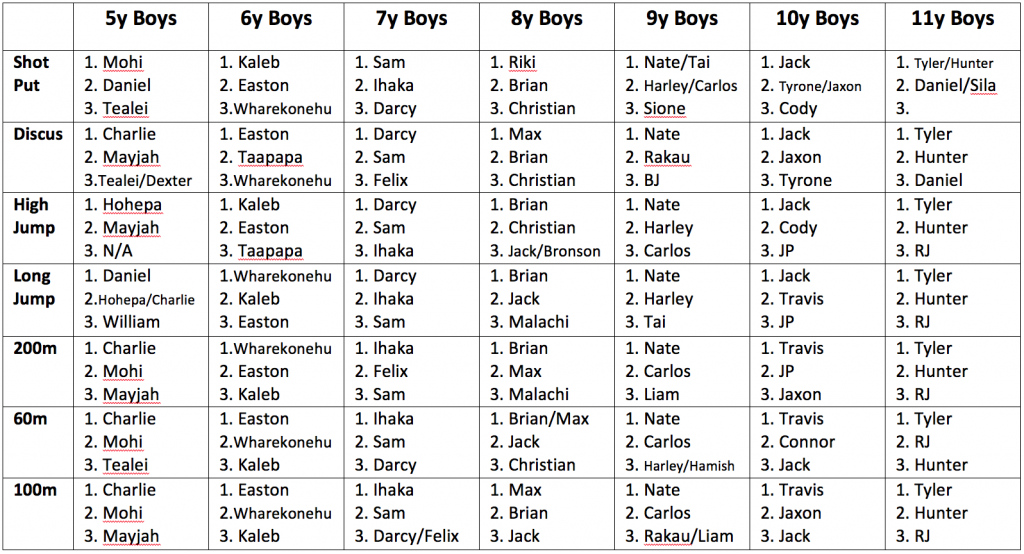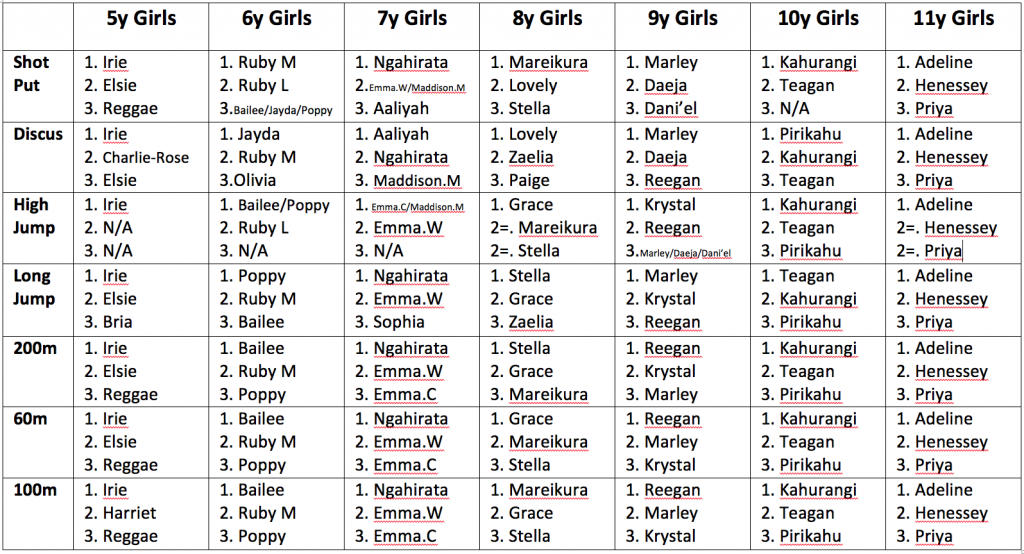 Cricket:
Well done to the cricket teams who competed in Rotorua last week. It was a fun day and everyone did very well. One team won a cricket set for the most improved team throughout the day.
Orienteering:
Coming up on Thursday the 15th November. Good luck to the teams.
Calendar:
| | |
| --- | --- |
| Thurs 15th Nov | CBOP Orienteering Day |
| Fri 16th Nov | Wheels Day |
| Mon 19th Nov | Michael Van De Elzen – NZ kiwi chef, The Food Truck – children gold coin donation. |
| Tues 20th Nov | Cluster Ahtletics pp 22nd Nov |
| Wed 5th Dec | Board of Trustees Meeting 6:30pm |
| Fri 7th Dec | Global World Presentation |
| Thurs 13th Dec | Y6 Graduation |
| Fri 14th Dec | Reports Home |
| Tues 18th Dec | Triathlon |
| Tues 18th Dec | Last Day for 2018 |
Other Notices:
School Account Details:
Account payments can be made directly to our school ASB account using online banking.  The account number is: 123155 0134517 00
Remember if you get a new cell phone number  to notify the school so we have up to date records, also the office needs your up to date email address so the newsletter can be emailed out – thanks.
FRIDAY LUNCHES: 
Lunch menu
http://www.rep.school.nz/lunches/
Absences:
Reminder if your child is absent either text, leave a message fill in an or on-line absent form. We also are required to fill in the reason they are away, so remember to include this in your message – thanks.
Nãku i runga i aku mihi ki a koe – Yours with thanks
Richelle McDonald
and our team –Jill, Phil, Debs, Susannah, Rachel, Julie, Maureen, Heather, Tracy, Mary, Megan & Linda.


Print or Save this Post