Nga mihi nui ki a koutou katoa – warm greetings to everyone
Welcome to Term 4:

 
It seems very strange to say welcome to the last term in 2020. It feels like it should be term 2! However, here we are heading towards the end of the year and all that brings with it. I spoke to the children yesterday about this term being the business term. It's their final chance to strive to achieve those goals that they have set before reports go online mid December. We do have some fun planned this term too! We have our Pet Day (this Saturday) which we hope to see you at, Loud Shirt Day, Athletics, Bike Taupo, the CCC (Children's Collaborative Conference), year 6 graduation, and our final assembly to fit in. Please make sure you check the calendar regularly for updates.
Free Healthy Lunches in Schools:

 
We are very privileged to be a part of the second roll out of the Free Healthy Lunches in Schools. Just a few reminders about this:
Every student at school will be provided a free lunch everyday of every week of every term until the end of 2021, when the programme will be reviewed.
Numbers for the lunches are phoned in every morning and will be delivered to school before lunch time.
All lunches meet the nutritional and food safety requirements.
Your child will still need morning tea and a drink bottle every day.
It is very important that we are informed through the office if your child has special dietary requirements. Please note, this does not mean diary preferences (likes and dislikes) but rather things that they must not eat for medical reasons. Please email office@rep.school.nz with the necessary information (name, room number and dietary information). We will communicate with Ka Pai Kai as soon as we know.
Please note that in an effort to limit packaging and rubbish, students will still bring all rubbish from their morning tea back home in their lunch box.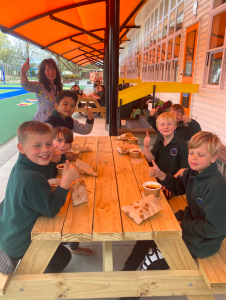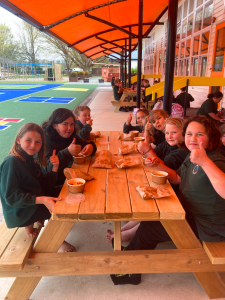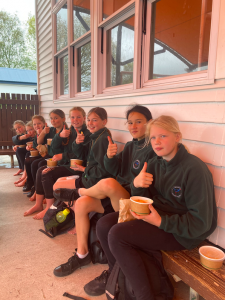 Note: This is a sample menu only. It doesn't necessarily come out in this order!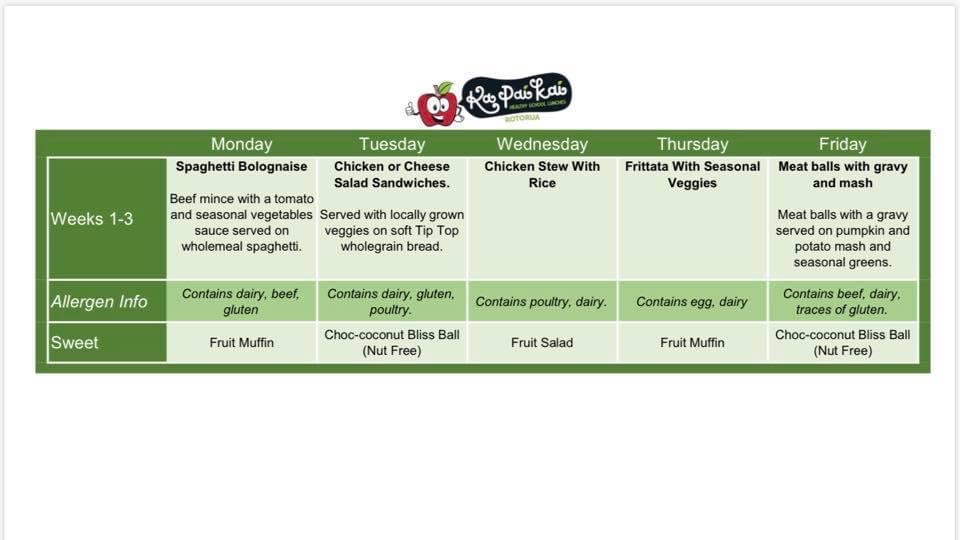 Pet Day:
WE LOOK FORWRD TO SEEING YOU THIS SATURDAY! 
Come along and watch the pet parades followed by raffles, food, games and fun planned for the morning. 
Please bring some home baking for the bake stall there is a prize for the best baking we sell.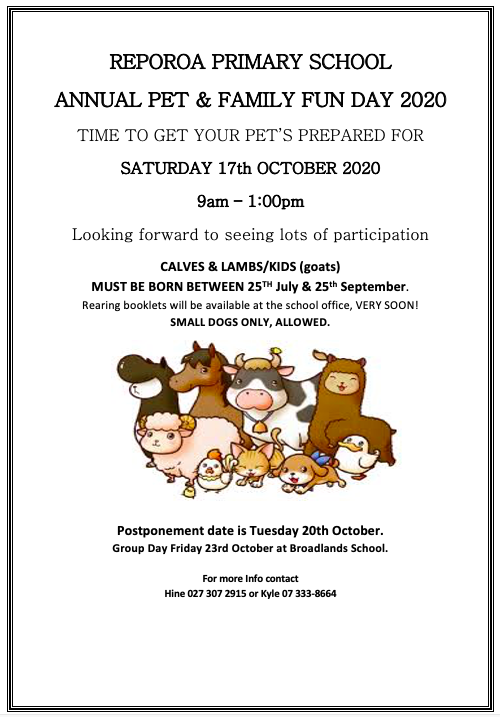 ---
Stars of the week:
Ka Rawe te mahi (awesome work) to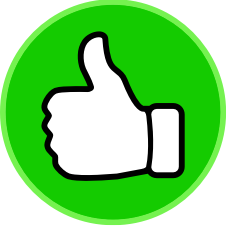 Thank You!
A big shout out to the Leslies who organised and donated these amazing picnic tables for the school. We love sitting in them to eat our healthy lunches each day! Thanks to Graham Donald for such a great job at making them.
Wanted…
In 2023 our school has our 100th celebration! The Board of Trustees would like to gauge interest in forming a committee to prepare for these centennial celebrations. Please leave your name at the office if you are interested in being involved.
Fundraiser – Vermicast…
$10 per bag. Please pay at the office before collecting your bag. Excellent for your spring gardens!
Thank you to My Noke who have come to our aide and donated the bags for fundraising as well as replacing the soil that was taken from our garden recently.
Sports:
Y4, 5 & 6 CBOP CRICKET coming up on the 3rd November – team will need to be entered by the 26th October. More information on Monday 19th if you are interested in being a part of this day, we will need a parent coach for this day to happen, can you inform the school by Monday 19th if you are able to help.
CBOP ORIETEERING Y5 & 6, 10th November – entries need to be in by Monday 2nd November. More information next week for children interested in attending this day.
ROTORUA MINI MARATHON
Congratulations to all the children who took part in this day.
Jazmine a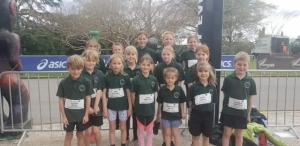 nd Jolene
Whanau Group News:
Please note there is a Squash tournament on Saturday so please do not park at the Squash club.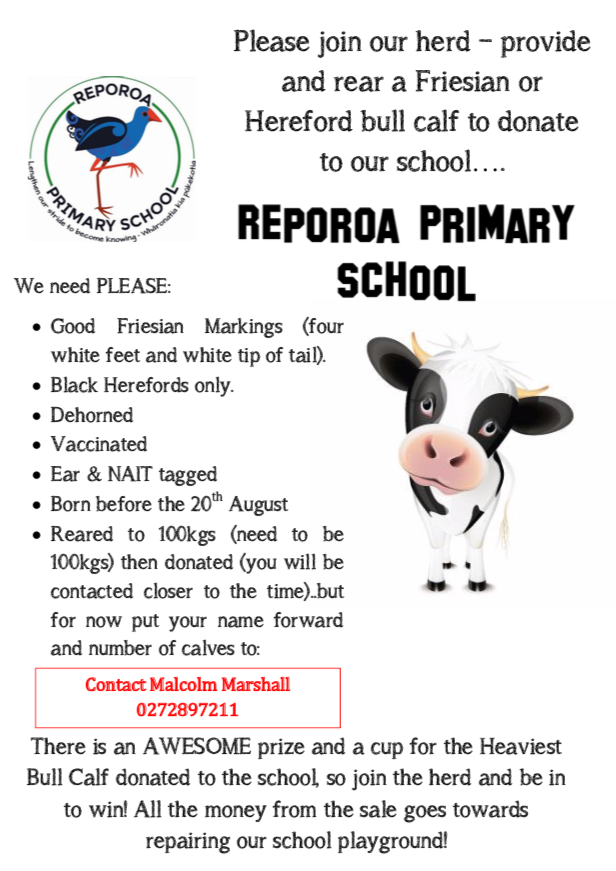 Need help with a high Energy Bill?
For every new business or farm that signs an Energy Management Contract with Independent Energy they will donate $100 back to Reporoa Primary School!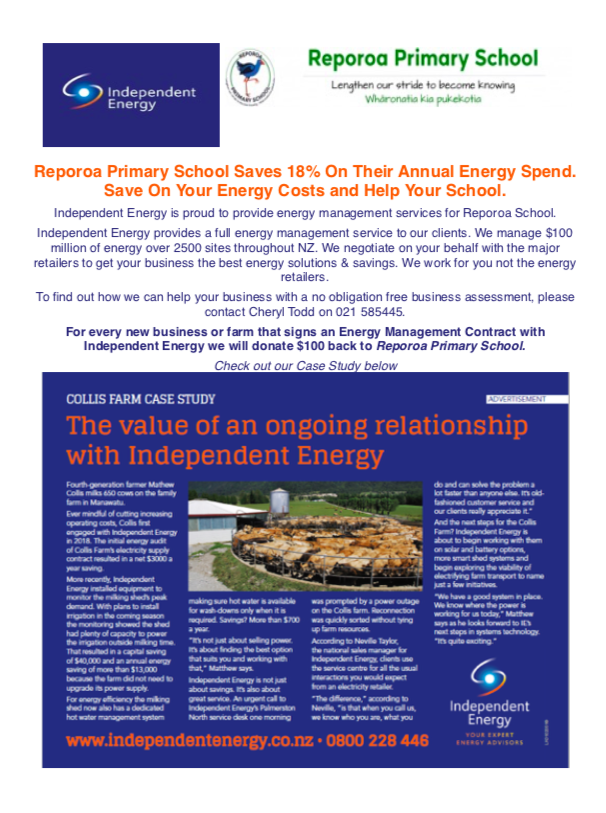 Calendar:
| | |
| --- | --- |
| Sat 17th Oct | Pet Day this Saturday 9am – 1pm |
| Fri 23rd Oct | Storyteller |
| Fri 23rd Oct | Loud Shirt Day – Gold Coin Donation |
| Fri 23rd Oct | Group Day |
| Mon 26th Oct | LABOUR DAY – NO SCHOOL |
| Wed 28th Oct | BOT Meeting 7pm |
| Thurs 29th Oct | Student Rep Day |
| Thurs 29th Oct | Whanau Group Meeting 7pm |
| Tues 3rd Nov | Festival of Cricket CBOP pp thurs 5th |
| Tues 10th Nov | Orienteering CBOP |
| Tues 13th Nov | Bike Taupo 9-12 |
| Wed 11th Nov | Reporoa Athletics pp 12th Nov |
| Fri 13th Nov | Science Children's Collaborative Conference |
| Fri 20th Nov | Cluster Athletics pp 25th Nov |
| Tues 1st Dec | CBOP Athletics |
| Thurs 10th Dec | School Triathlon pp Fri 11th Dec |
Other Notices:
SCHOOL UNIFORMS
Please remember to name your school uniforms then they can be returned to their owners – thank you.
LOST PROPERTY
Reminder to name your child's uniform, if it is named and found it can be returned – thanks.
School Account Details:
Account payments can be made directly to our school ASB account using online banking.  The account number is: 123155 0134517 00
Remember if you get a new cell phone number  to notify the school so we have up to date records, also the office needs your up to date email address so the newsletter can be emailed out – thanks.
Absences:
Reminder – if your child is absent either text, phone and leave a message, or fill in an on-line absent form. We also are required to fill in the reason they are away, so remember to include this in your message – thanks.
Wanted – spare boys clothing:
We are all out of boys pants (shorts and track pants) to lend when our students get dirty. Any donations gratefully received!
Car Parks:
Please use the car parks provided at the front or back of the school. No vehicles are permitted on the school grounds except for staff or service vehicles.
Bus Changes:
ALL changes to bus arrangements MUST be made through the office please. We will not make changes based on children's requests. REMINDER ALSO when events finish to tell us so we can update our bus rolls.
Thanks
Nãku i runga i aku mihi ki a koe – Yours with thanks
Richelle McDonald
and our team –Cherie, Jazz, Debs, Susannah, Rachel, Julie, Tina, Maureen, Heather,  Karla & Linda.
Contact Details:
Massey Road
Box 2, Reporoa, 3060
Phone 07 3338350
Cell 027 660 2281
Email: office@rep.school.nz
Principal: Richelle McDonald, principal@rep.school.nz


Print or Save this Post