Nga mihi nui ki a koutou katoa – warm greetings to everyone
Happy New Year:
I trust that you are all having a wonderful summer full of family adventures. This is just a very short newsletter with some back to school information for you.
Term One:
School starts back on Thursday the 4th February at 9am. Children need to go to the class they were allocated at the end of 2020. New students may report to the office if they do not know their class yet.
Communication:
We use a variety of methods to communicate with you, but we need you to do your bit and make sure you receive that communication!
School Newsletters – get emailed via an automated system every second Wednesday and are held in the school website. We must have your correct email address. To see all newsletter you can go to the website  https://www.rep.school.nz/category/newsletters/ 
If you do not receive the newsletter email, make sure you phone the office and let us know what your email address is. The newsletter has important information in it and we need you to keep up to date with what is happening in the school. It is not helpful when parents don't read the newsletter and the complain that they were not informed. We do provide a paper newsletter on request.
Text and Phone – We will text and/or phone when there is an issue or to clarify something important, or if we have not heard why your child is away. It is vital that we have your correct phone details for health and safety reasons. Please text and/or phone and/or fill in the website page for us when your child is away.
Facebook – Our school has a facebook page which we post news and events. If you use facebook, be sure to follow us! https://www.facebook.com/ReporoaPrimarySchool/
School App – We use the school app to get information out that is of importance such as cancellations. Be sure to down load the app on your phone. Instructions are at the bottom of every newsletter.
SeeSaw – All classes use SeeSaw as a way to share student progress with home. Make sure you sign up and keep interested in how your child is doing at school. An email will come out at the beginning of the year inviting you to join.
Website – Our website contains all basic information about how we operate at Reporoa Primary School. We aim to keep this as updated as possible. If you need information, check out the website first. www.rep.school.nz
HERO – Our reporting and assessment details will be kept in the HERO SMS (Student Management System). This means mid-year and end of year reporting is done online and available to you at any time.  Information will be available prior to the mid-year reporting stage on how to view.
Policies and Procedures – All of our policies and procedures are online and available to view by going to  https://www.schooldocs.co.nz/ . Click 'search for your school' and type in Reporoa. Our user name is reporoa and our password is pukeko. Each term we will ask you to review a policy online for us.
Uniform:
You can get the information you need here:
The uniform is compulsory for all students and sunhats are worn in term 1 and 4.
Bus vests are now part of the uniform too and need to be worn to be able to ride on the bus (we have a few we can lend if necessary).
Stationery:
The link for stationery lists can be found here:
It is expected that children will start the year with their stationery. It is difficult for you child to make the best possible start to their learning if they do not have their stationery ready on day one. Office Max gets very busy at the beginning of the year so it is important that stationery is not left until the last minute as delays are likely.
Staff:
We have had a few changes over the holidays and welcome Steven Webby to the staff. Steven comes from Palmerston North and will be teaching in Room 1 this year. He will be sending an introductory letter home early in the term.
Our current staff are:
Room 1 – Steven Webby – Year 3/4/5
Room 2- Cherie Hill (DP) – Year 5/6
Room 3 – Jazmine Elkington – Bilingual – Year 4/5/6
Room 5 – Susannah Engel/Julie Vine – Year 2/3
Room 6 – Debs Morrison (DP) – Year 0/1
Office Manager – Maureen Johansen
Library/Teacher Aide – Heather Vermeulen
Teacher Aide – Colleen Davis
STEAM/Release Teacher – Karla Shaw
Release Teacher – Tina Dobson
The staff have teacher only days on Tuesday the 2nd and Wednesday the 3rd February. They will be busy involved in professional learning and setting up for the year in the staffroom between 9am and 3pm. If you need to make contact, please do so outside of these hours where possible.
Building Works Update:
It is touch and go for us s to whether we will be in Rooms 1-4 at the start of the year. The works are very close to finishing but we need to wait for the compliance sign off from the Rotorua city council before we move in. If we are not in to the renovated rooms, Rooms 1 and 2 will start in the hall and Room 3 will start in the whanau room (room 7).
Unfortunately the wall covering (Autex) has not been able to be installed in the rest of the school over the Christmas break. It will be done in the term 1 holidays. Please forgive us if the walls look bare in term 1 as we took everything down in preparation!
Our numbers are continuing to grow, so we have decided not to put the library back into Room 4 as we may need to start another classroom this year. Instead the library will occupy part of the hall space.
Sports:
Swimming:
We hope to start swimming straight away and remind you that your children need to bring their togs everyday in term 1 as it is part of the curriculum.
Calendar:
| | |
| --- | --- |
| Thursday 4th February | Term 1 starts |
| Friday 5th February | Life Education |
| Monday 8th February | Waitangi Day observed |
| Tuesday 9th February | Life Education |
| Wednesday 10th February | Life Education |
| Thursday 25th Life Education | Whanau Group AGM |
| Wednesday 3rd March | Swimming Sports |
| Thursday 25th March | "I am Hope" assembly 9am |
| Tuesday 30th March – Thursday 1st April | Year 3 & 4 Camp – Wai-o-tapu |
| Friday 2nd April – Tuesday 6th April | Easter (No school) |
| Tuesday 13th April – Friday 16th April | Year 5 & 6 Camp |
| Monday 19th April | Term 1 Holidays |
| Monday 3rd May | Term 2 starts |
| | |
Other Notices:
School Account Details:
Account payments can be made directly to our school ASB account using online banking.  The account number is: 123155 0134517 00
Details: 
Remember if you change address, get a new cell phone number or email address  to notify the school so we have up to date records. The office needs your up to date email address so the newsletter can be emailed out – thanks.
LUNCHES: 
We are part of the governments healthy lunches programme. Children are provided lunch everyday. If they have any allergies, please let the office know so that allowances can be made. Children still need to bring a drink bottle (water only please) and morning tea every day.
Absences:
Reminder – if your child is absent either text, phone and leave a message, or fill in an on-line absent form. We also are required to fill in the reason they are away, so remember to include this in your message – thanks.
Car Parks:
Please use the car parks provided at the front or back of the school. No vehicles are permitted on the school grounds except for staff or service vehicles.
Nãku i runga i aku mihi ki a koe – Yours with thanks
Richelle McDonald
and our team –Cherie, Jazzmine, Debs, Susannah, Steven, Julie, Maureen, Heather, Colleen, Tina, Karla & Linda.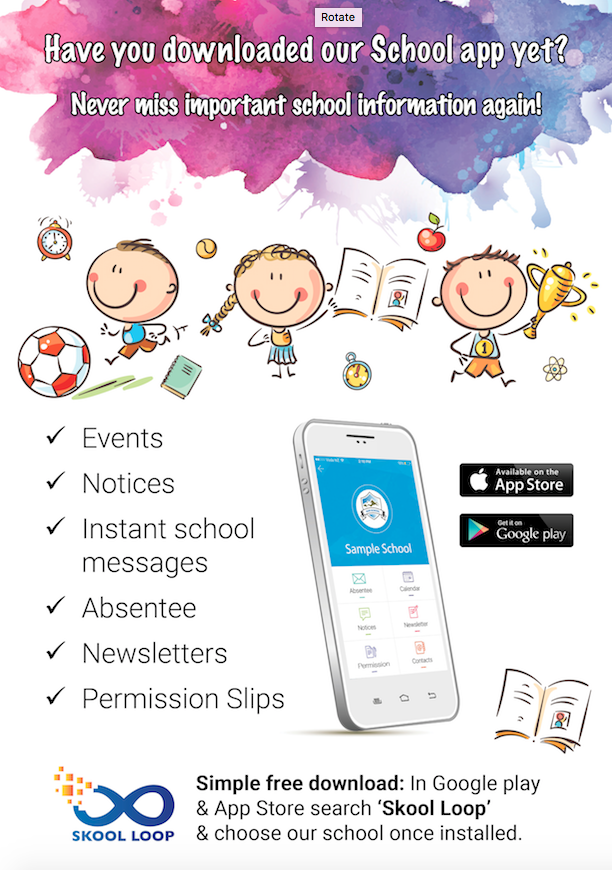 Print or Save this Post