Nga mihi nui ki a koutou katoa – warm greetings to everyone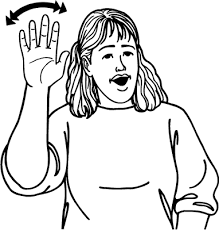 Kia ora, Nameste, Talofa, Konnichiwa, Guten Tag , Gidday, Vannakkam, ni Hao, Kia orana, Hola, Salam, Sa wat dee kha, Dia Dhuit, Goeie Dag, Bonjour, Hello, Sat Shiri Akaal (please let us know the greeting in your language if it is not here)
Pet Day Projects:
Congratulations to those children who submitted a pet day project this year. They were fabulous to read and really showed a great insight into the care that has gone into raising their pets. Prizes were given out last Friday.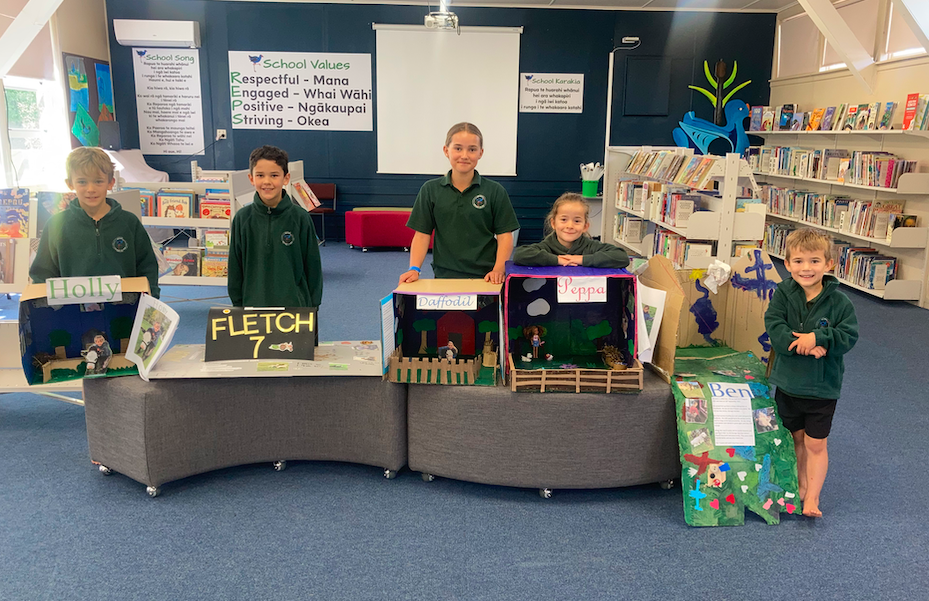 Survey:
A very big congratulations to Emma Ferrier for winning the draw for a $100 grocery voucher! Thank you to the 26 families who filled in the survey for us and gave us some direction for 2022 planning.
Buses for 2022:
Next year our school bus operator is changing. Our new school bus operator is Ritchies.  We are working closely with Ritchies and the Ministry of Education to ensure that the transition to our new school bus operator goes well.
To make sure that the start of the school year goes as smoothly as possible, please familiarise yourself with the information below.
As always, please either stay with your children while they are waiting for their school transport in the morning or keep in contact with them to make sure that they are picked up safely.
School bus routes, timetables and bus stop information
This is not likely to change from the current arrangements. We will let you know if it is altered in any way.
Eligibility for school transport assistance
We often get questions about whether students qualify for school transport assistance i.e., a place on a school bus.
The Ministry of Education has three criteria that students must meet in order to qualify for school transport assistance. They are:
The student must attend their closest state or state-integrated school
The student must live more than a certain distance from the school:

Years 1-8: at least 3.2 km
Years 9-13: at least 4.8 km

There must be no suitable public transport options
The Ministry of Education has a handy video on their website that helps explains the eligibility criteria for school transport assistance.
Responsibility of caregivers
To ensure a safe environment for bus loading and unloading, caregivers should:
not park in bus bays
adhere to the speed limit (20 km/h while passing a stationary school bus on either side of the road)
try to eliminate the need for children to cross the road
ensure that children get to and from the bus stop safely
teach children to not run across the road
Please note: if you currently have a private arrangement with your bus operator, you will need to contact your bus operator to confirm that your arrangement will continue in 2022.
School transport queries
If you have any queries about our school transport, please contact the school office between the hours of 8:30am and 3pm (except Tuesday and Friday afternoons).
Planning for 2022:
If you know you will be leaving Reporoa Primary before 2022, please let us know as we are currently working on class placements, staffing and numbers. We do our best to get this right but always end up with something quite different when school starts back. Also, if you know of anyone planning to come to Reporoa Primary next year, please encourage them to enrol early so that we can plan for them.
Letters went home this week for applications to get in to the bilingual class. For this class to continue, we need 20 students. Make sure you return the notice to the office this week please.
COVID RESPONSE:
We are in the process of digesting the new COVID-19 Public Health Response Order which came into effect at 11.59pm on Monday 25 October. Clearly there are implications for school life, and it is going to take some time to appreciate what all of these are. A school like ours is highly dependent on the support of parents and the community, and this is something that we appreciate a great deal.
The advice that we have received from the Ministry of Education is that everyone who works or volunteers for a school who may have contact with children or students, or will be present at a time when children and students are also present must have had a first dose of the COVID-19 vaccine by 15 November and be fully vaccinated by 1 January 2022.
This also applies to 
* principals
* teachers
* relief teachers and casual staff
* administration staff
* caretakers and cleaners
* contractors and other tradespeople (if on site when children are around)
* service managers
* caregivers and other staff
The vaccination requirements apply wherever in person schooling occurs, such as on the school site, but also at school camps, swimming pools, museums, or where other education outside the classroom (EOTC) programmes take place.
This means that we can only allow people to help at school events with children if they have had at least their first dose by 16 November, and are fully vaccinated by 1 January 2022.
If you wish to be involved as a helper in any events after 16 November, please email through or pop by school with evidence of your vaccination/s before that date. When school starts next year, we will need evidence of full vaccination by 1 January 2022 for any school helpers (or evidence of exemption). We will store your information privately in our school database.
The requirements do not apply to people who are just visiting the school, such as for a learning conference/parent-teacher interview or meeting, or a parent, whānau and community evening.
I realise that there will be plenty of questions, and it is likely that we will not have answers right away. All schools are in the same boat and working through various situations and scenarios.
Thanks very much for your understanding and support.
TERM 4 EVENTS:
Changes to some term 4 events coming up…
Athletics.

This has been changed to the

24th November

. It will be a whole school event BUT there will be no parents/spectators which removes the level 2 restrictions we currently operate under. 

Athletics finals.

On the morning of the

26th November

we will hold an athletics finals for those children who placed 1st – 6th in each event. Parents will be able to view this event by staying behind a spectator area that will run the full length of the field alongside the fence line and around the PE shed. Students cannot go into the spectator area. Because parents are not working with students, vaccination status does not come into effect, however masks and social distancing will be expected. There are no cluster or CBOP athletics events this year.

Year 6 Graduation.

This will be at our school on the

9th December

. It will run in a similar format to what we usually do at the college except it will be year 6 students only (so that we don't exceed 100) with 1-2 invited guests each. Guests will be asked to remain at the back section of the hall reserved for spectators and will not be able to interact with the students. Because parents are not working with students, vaccination status does not come into effect, however masks and social distancing will be expected. Invitations with details will be sent out at a later date.
Final assembly/prize-giving.

This will be on

16th December

– the last day of school for the whole school and will not include any parents or guests. Hopefully we will be able to hold it outside as per last year. We may live stream so whanau can view from home.
Athletics:
We are practicing our athletics everyday to prepare for our athletic sports in a few weeks. The teachers have all participated in an athletics training course to up-skill on current practice in education.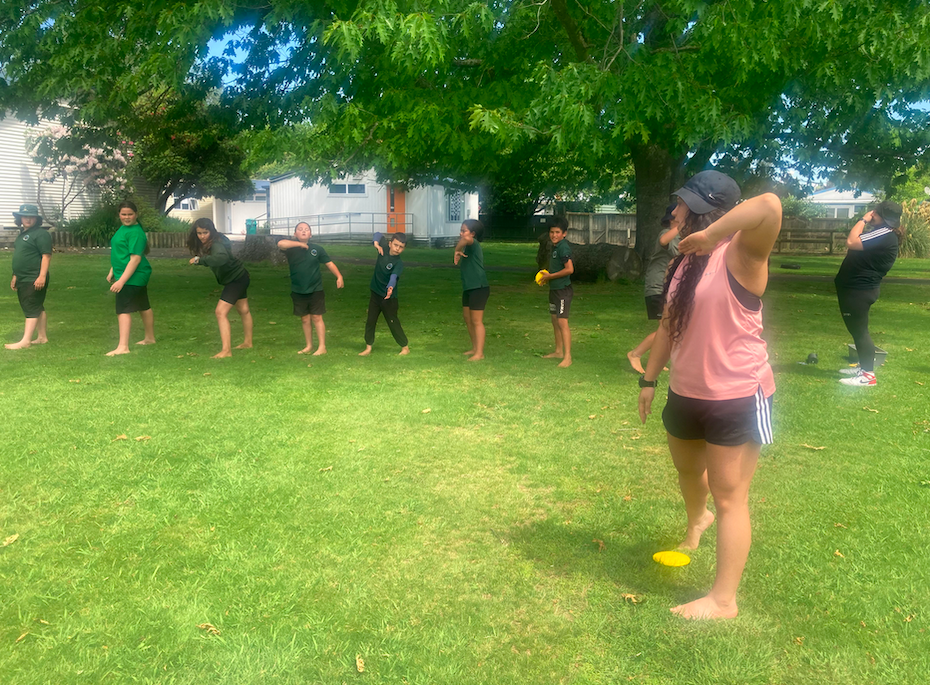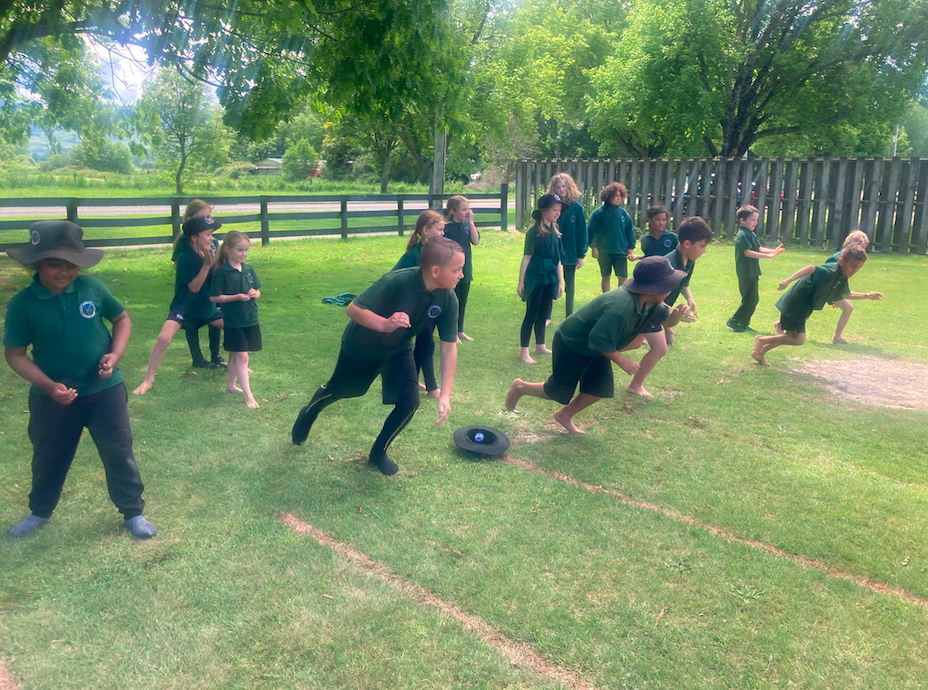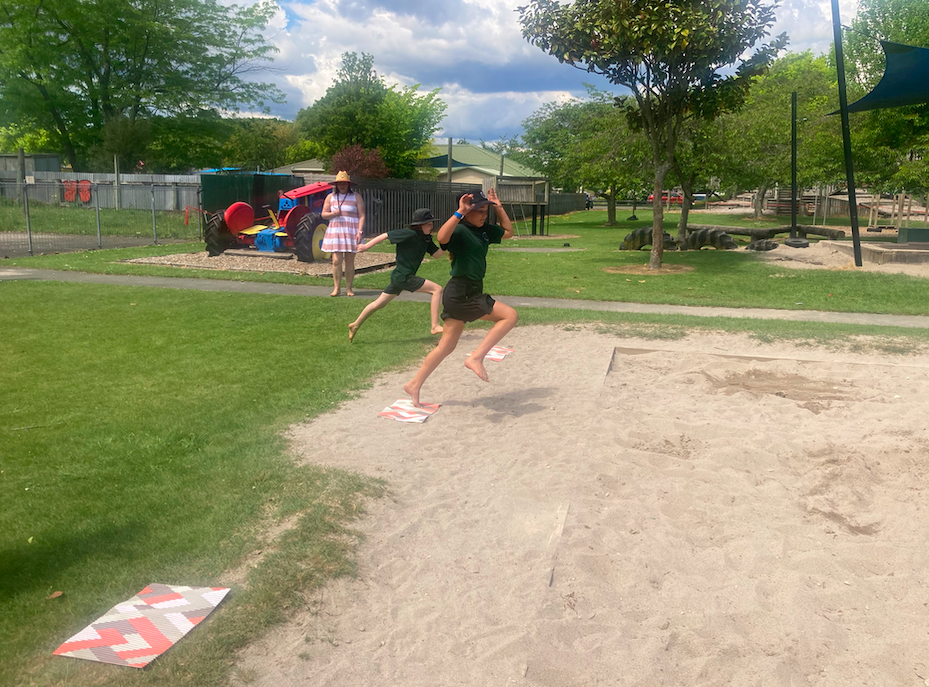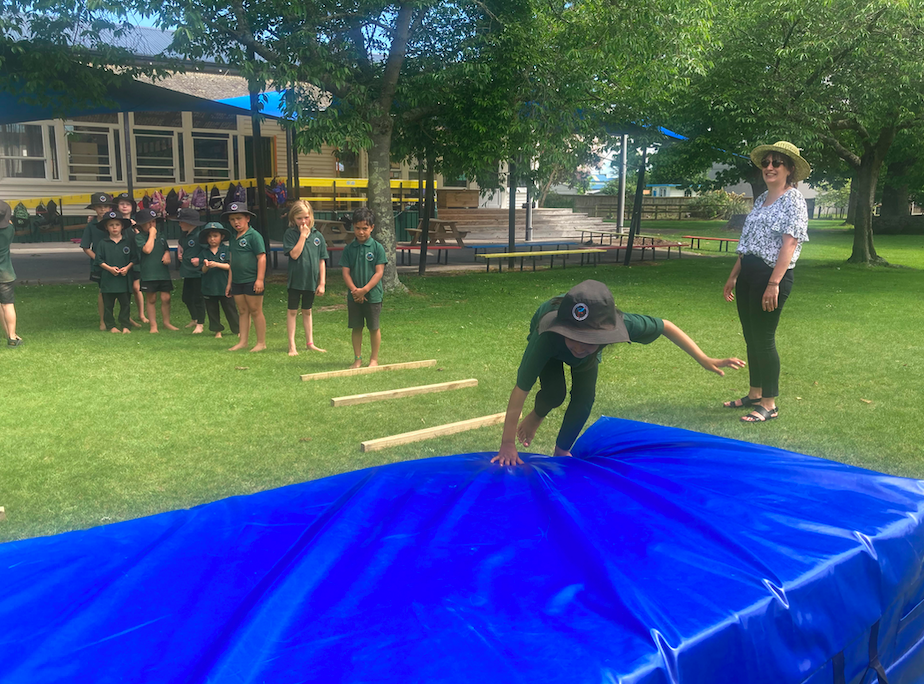 Sports:
Orienteering – Tuesday 16th November
Calendar:
| | |
| --- | --- |
| Tues 16th Nov | CBOP Orienteering Day |
| Thursdays | Whole school cricket lessons |
| Wed 24th Nov | School Athletics |
| Fri 26th Nov | Athletics Finals |
| Thurs 9th Dec | Year 6 Graduation 6pm |
| Fri 10th Dec | Reports Home |
| Wed 15th Dec | BOT Meeting 7pm |
| Thurs 16th Dec | Final Assembly / Prize Giving |
| Thurs 16th Dec | Last day of school – 3pm finish |
Other Notices:
School Account Details:
Account payments can be made directly to our school ASB account using online banking.  The account number is: 123155 0134517 00
Details: 
Remember if you change address, get a new cell phone number or email address you need to notify the school so we have up to date records. The office needs your up to date email address so the newsletter can be emailed out – thanks.
LUNCHES: 
We are part of the governments healthy lunches programme. Children are provided lunch everyday. If they have any allergies, please let the office know so that allowances can be made. Children still need to bring a drink bottle (water only please) and morning tea every day.
Absences:
Reminder – if your child is absent either text, phone and leave a message, or fill in an on-line absent form. We also are required to fill in the reason they are away, so remember to include this in your message – thanks.
Car Parks:
Please use the car parks provided at the front or back of the school. No vehicles are permitted on the school grounds except for staff or service vehicles.
Nãku i runga i aku mihi ki a koe – Yours with thanks
Richelle McDonald
and our team –Cherie, Jazmin, Debs, Susannah, Steven, Julie, Maureen, Heather, Colleen, Nei, Tina, Karla & Linda.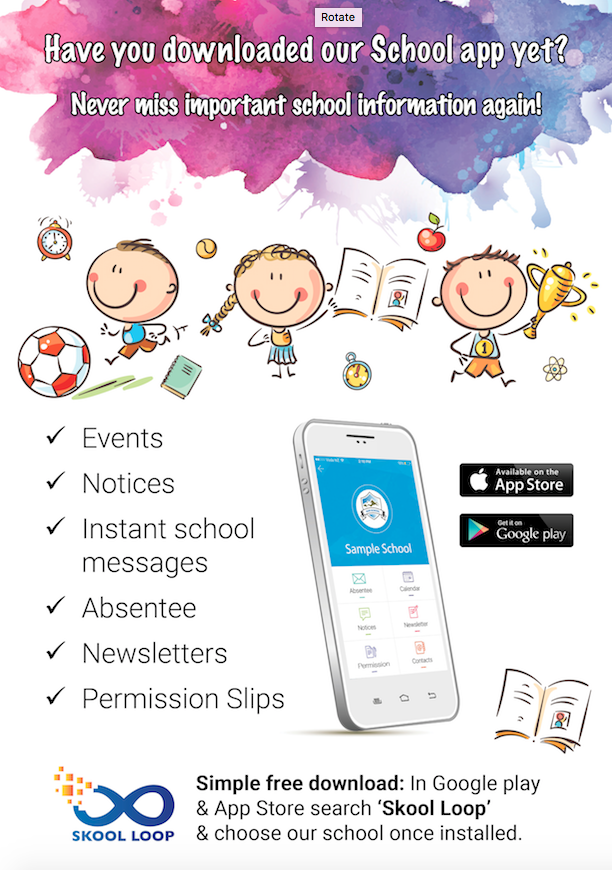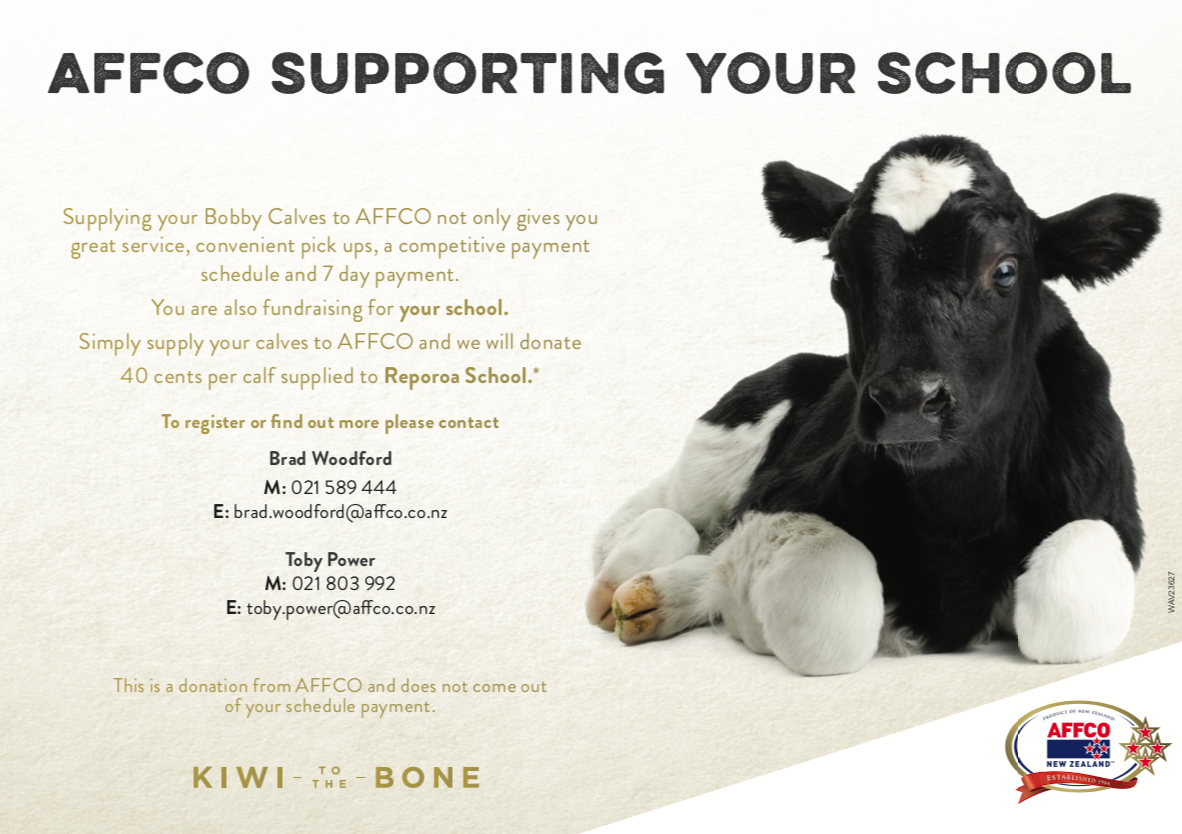 North Fuel:
North Fuel supply Bulk on farm fuel and lubricants for Farmers and Contractors throughout the Primary Sector in New Zealand. One way they give back to the community is via Schools and fundraising events. They also have a large BBQ Trailer for which they bring along for Schools to use on their event days. For every 100 Litres of fuel used by a contractor or farmer in our area they will donate 50 cents to Reporoa Primary School. Once we've reached $1,000.00 against our School, they let us know at which point we choose what package suits us best. We could choose between sports, IT and Stationary Packages.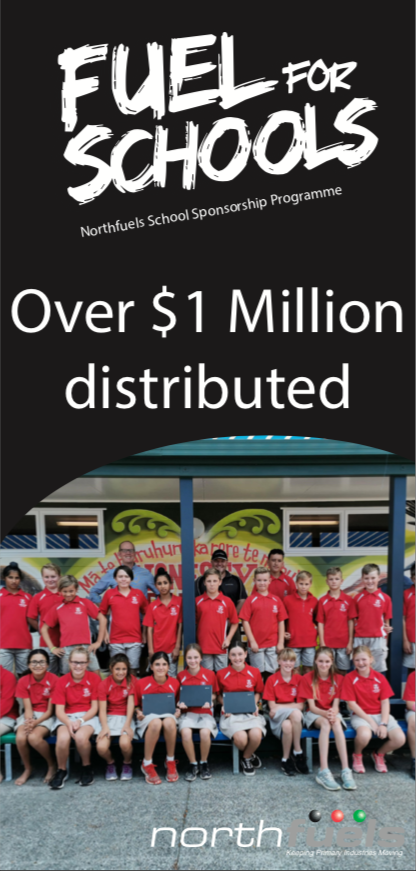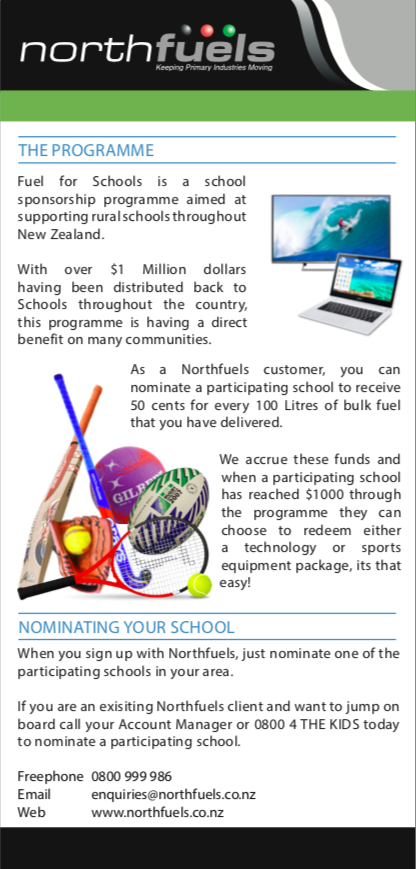 Print or Save this Post