Nga mihi nui ki a koutou katoa – warm greetings to everyone
Term One:
I would like to say a heartfelt THANK YOU to everyone for their support during another very strange term. School has felt somewhat like a train station as children and staff have rolled in and out over the 11 weeks with many absences due to Covid-19, other illnesses, and tangi. Through it all we have appreciated the open and timely communication so that as a school we could plan ahead and adjust our teaching delivery to suit.
Thank you also for your understanding when children have had relievers or had to have their class split due to teacher absences. We are very fortunate to have been able to remain operating daily. Some schools have had to move to learning at home for a week or two during their Omicron peak due to lack of staff.
We are very pleased to say that it appears we are through the worst. We only have one new case this week. Students are returning to school with a 77% attendance rate this week. This is up from 50% earlier in the term. We will continue to operate with measures to reduce spread next term such as mask wearing for years 4-6, sanitising hands and surfaces, and monitoring the air flow in classrooms.
Farewells:
We are very sad to say farewell to Isla McKinnon in room 5 as she is moving on to be a teacher at Wairakei Primary. Unfortunately, as she was filling in for a short term vacancy, we were not in a place to be able to offer her further work at this time. Isla has been a great fit for our school and we will miss her bubbly, positive, can do attitude. It is our loss and Wairakei's gain. Best of luck in your future teaching career Isla. We will miss you!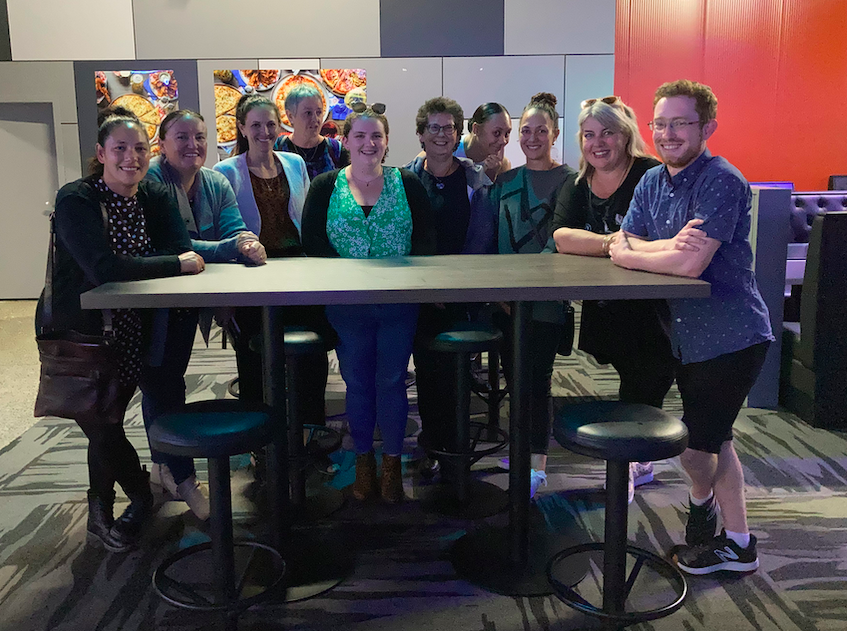 Jasmine Trumper and Karla Shaw are both part time teachers who are also stepping down from their teaching roles at our school at the end of this term. Karla has been our STEAM teacher and then our DP release teacher for a few years now. Jasmine has been our Garden to Table and DP release teacher for this term. We have appreciated their work and wish them all the best in their future endeavours.
Attendance:
We are very concerned that our attendance at school for term one is much less than the 90% minimum acceptable attendance rate. We acknowledge that this is because of Covid-19, however many students have not attended for much longer than the 7 days they needed to isolate for. We also acknowledge this may be due to anxiety around catching Covid-19. 
Our school is continuing to respond to COVID-19 in New Zealand. As you may have seen, the media has reported a reduction in the number of daily cases.
It is great for any child's wellbeing and learning to be at school with their friends, teachers and other school staff. We have very good systems in place to keep everyone as safe as possible.
 In our school we use additional layers of protection to help prevent or reduce the risk of onward spread. We will encourage mask wearing for our students Year 4 and above, for adults in indoor spaces and we are getting lots of fresh air during the day. We will also continue to focus on basic hygiene such as washing hands regularly, covering any coughs and sneezes, and cleaning surfaces regularly. 
Thank you for letting the school know of a reason for the absence when your child is away. The school will always attempt to contact you by text on the dates where there has been no contact made or reason given for an absence. Please note that by law Reporoa Primary School is required to follow up all forms of absence. 
We are concerned that the ongoing absence of many students is having an impact on their progress at school. Our team is here to help. We want children to be at school and engaging in learning with their friends. We hope to see a return to regular attendance again in term two. Those with higher than average absences this term will receive a letter this week.
Easter Party: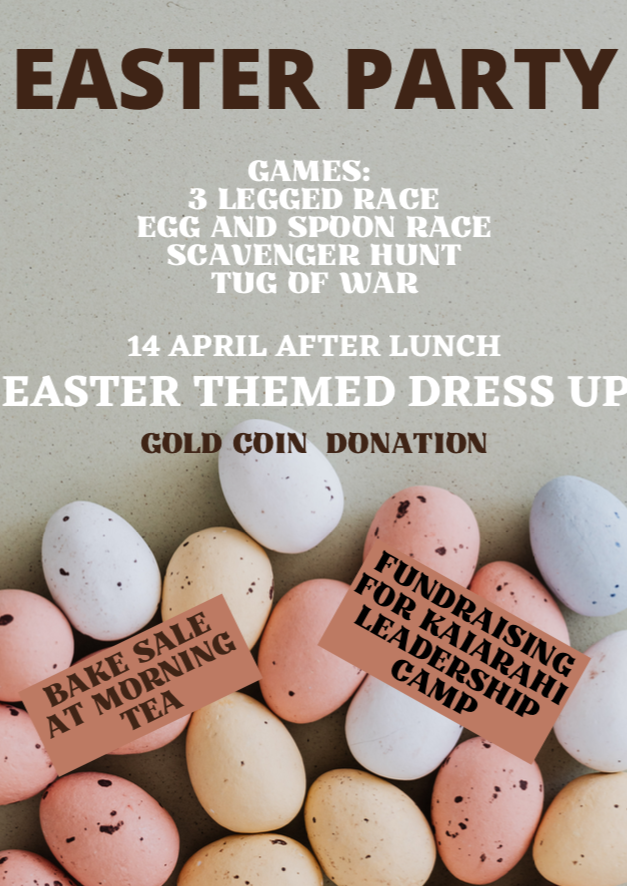 Free Parent Workshops Online:
Raising Achievement is offering an extremely popular parent support workshop for parents on Zoom. This is a great way to find out more about your child as a learner and support them with home learning.
The topics covered in the session include:
Understanding your child as a learner
Understanding learning difficulties
Specialist referrals
Supporting at-risk learners
Literacy and supporting children with home learning
Tutor reading /Basic spelling activities
Next steps for those who want more
The Term 2 dates are Tuesday 24 May and Wednesday 15 June. It would be great to have as many parents/ caregivers as possible attend. For more information and to register https://www.raisingachievement.com.au/freeparentwebinars
Message from the Board:
The board of trustees would like to wish everyone a safe a happy Easter break. We look forward to an exciting term two with more opportunities for community involvement in the school as restrictions reduce.
We would also like to thank the staff for getting us through a tricky term with a minimal amount of disruption. We look forward to building stronger connections with teachers and parents in the coming term.

Kate Bowron, Presiding Member
Sports:
Term Two Sports: 
Next term we have the Fell Cup (Netball and Rugby competition) and the Cross Country as our two main events. We are looking forward to getting involved with some inter school competitions again after so many cancellations in term one.
Sarah Martelli
Calendar:
| | |
| --- | --- |
| Thursday 14th April | Bake Sale – morning tea – bring money to buy some yum food |
| Thursday 14th April | Easter Party after lunch – games, Easter themed dress up – Gold coin donation |
| Thursday 14th April | Last day of Term 1 – 3pm finish |
| Friday 15th April | Easter Friday |
| Monday 2nd May | Term 2 starts – 9:00am |
| Wednesday 11th May | Fell Cup |
| Wednesday 18th May | Reporoa X CountryWednesday |
| Wednesday 25th May | Cluster (Reporoa Schools) X Country |
| Wednesday 25th May | Meet and Greet |
Other Notices:
School Account Details:
Account payments can be made directly to our school ASB account using online banking.  The account number is: 123155 0134517 00
Details: 
Remember if you change address, get a new cell phone number or email address  to notify the school so we have up to date records. The office needs your up to date email address so the newsletter can be emailed out – thanks.
LUNCHES: 
We are part of the governments healthy lunches programme. Children are provided lunch everyday. If they have any allergies, please let the office know so that allowances can be made. Children still need to bring a drink bottle (water only please) and morning tea every day.
Absences:
Reminder – if your child is absent either text, phone and leave a message, or fill in an on-line absent form. We also are required to fill in the reason they are away, so remember to include this in your message – thanks. IF CHILDREN ARE SICK PLEASE KEEP THEM AT HOME.
Car Parks:
Please use the car parks provided at the front or back of the school. No vehicles are permitted on the school grounds except for staff or service vehicles.
Nãku i runga i aku mihi ki a koe – Yours with thanks
Richelle McDonald
and our team – Nikkole, Korkz, Gemma, Debs, Tanissha, Isla, Steven, Julie, Jasmine, Maureen, Heather, Mary, Bridget, Karla, Linda and Sarah.

Print or Save this Post