Nga mihi nui ki a koutou katoa – warm greetings to everyone
Welcome back!
A very warm welcome to students, parents, staff and whanau to term two at Reporoa Primary School. I trust you had a wonderful break with your children and spent some quality time together. I was very unfortunate to get Covid on Easter Friday and spent most of the first week in bed. In the second week I walked the Abel Tasman track (50km in total) with my mother. It was a great time to bond, laugh, share stories and marvel at the absolutely stunning country that we live in. There were some rather big hills to climb and I feel like I am in need of a weeks sleep, but it was well worth it. It reminded me how very important it is for us to unplug and take time out from the busy lives we live!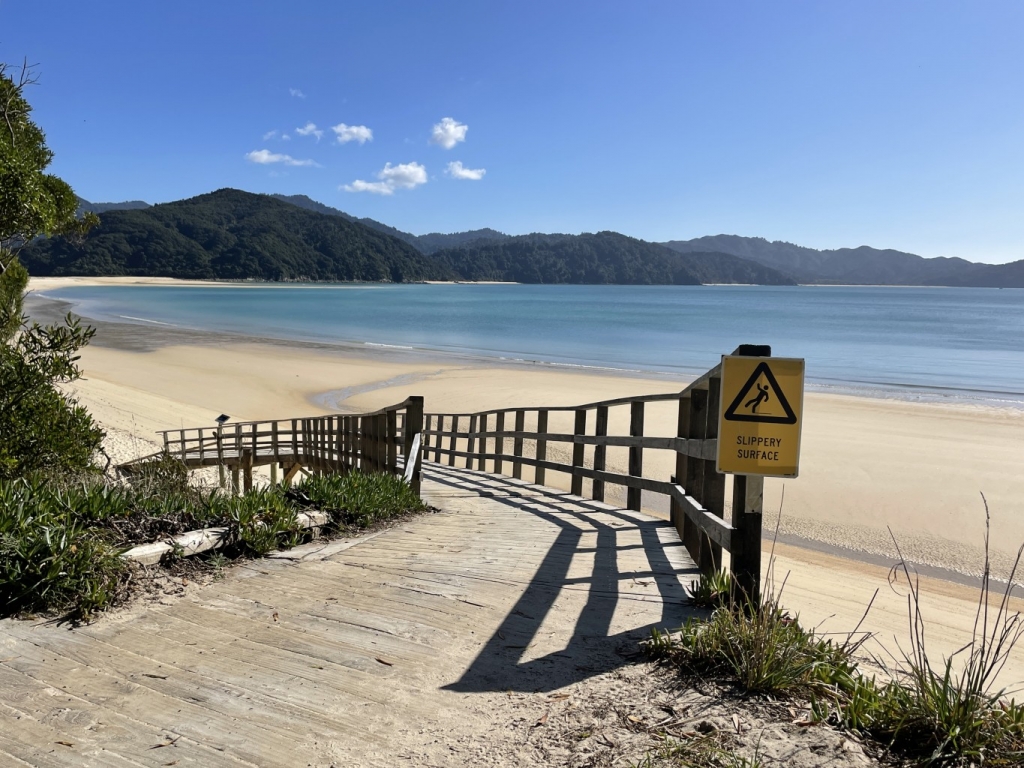 We have a lot to look forward to this term as we find ourselves in orange level for the Covid response. We have started meeting as a whole school again for assemblies on Monday morning at 9:15. This term we are excited to say that our community are welcome to join us. It has been a very long time since we have had regular whole school assemblies and we look forward to being able to celebrate successes and share our learning with each other and whanau again. We will also be holding a 'Meet and Greet' which is something we usually do at the start of the year. This is an opportunity for our whanau to meet the staff and for us to connect with you. Keep an eye out for an invitation soon! Powhiri is another event we usually hold for our new whanau that we were unable to have last term. We will be having a powhiri next week on Friday. Information is futher down in this newsletter.
At Reporoa school this term we are keeping the additional layers of protection in place to help prevent or reduce the risk of onward spread of Covid-19. Mask wearing for our students Year 4 and above and for adults is strongly encouraged in indoor spaces and we are getting lots of fresh air during the day. We also continue to focus on basic hygiene such as washing hands regularly, covering any coughs and sneezes, and cleaning surfaces regularly.
This term our concept inquiry is "Change". The context we are looking at this term is around our changing environment and how we can change the function of items to reuse them in a sustainable way. We are hoping this will lead to a wearable arts event at the end of the term which we are excited to invite our community to. Keep an eye out for an invitation later in the term. At home you can ask questions about how you can better address issues of sustainability and environmental issues to promote positive change for our earth.
Staff:
The last 12 months have been very disruptive for our junior school. A series of events out of our control have meant that classes have been disrupted and teachers have had to change in our junior classes. We acknowledge that this has been less than ideal. We can assure you that the Board of Trustees and myself have only ever acted in the best interest of the children at our school while dealing with the issues presented to us. Our tamariki's learning and wellbeing at school is of paramount importance to us. We are looking forward to a far more settled and consistent junior team for the rest of the year!
Our year 0-1 class remains with Tanissha McNeil and our year 2 class has been taken over by Gemma Hiini. Shortly we will need to start a New Entrant class as Tanissha's numbers are growing steadily. We will let you know as soon as we confirm this appointment.
After a period of leave, Debs Morrison resigned over the holidays and will not be returning to Reporoa Primary. We wish her all the very best in her future endeavours and thank her for her contribution to the junior school over the last 4 years.
Attendance:
As mentioned in the last newsletter last term, we are very concerned that our attendance at school for term one is much less than the 90% minimum acceptable attendance rate. We acknowledge that this is because of Covid-19, however many students have not attended for much longer than the 7 days they needed to isolate for. We will be monitoring attendance closely this term and expect to see much better engagement in school. The Ministry of Education is also concerned at a nation wide level and has money allocated in the budget to attend to this issue.
Fun Run:
On Monday your child was given a letter and a pamphlet explaining our fun run. Make sure you sign them up and get the message out there on social media to raise money for our new playground which we hope to be starting in September! Key dates to look out for are…

We already have a leaderboard! Well done to the following children who are the top 10 fundraisers in just a few days! Awesome mahi!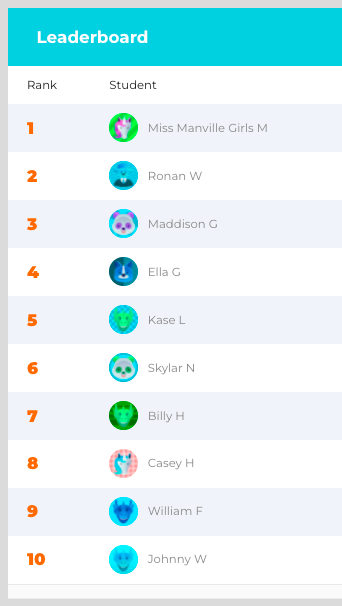 The children are training for their endurance every day at school. It would help them if they had somewhere to practice running up and down hills outside of school time as this is a part of the course we hold our Fun Run on.
On the day (18th May) we will be bussed to the rugby club where we will start the Fun Run. Parents and whanau are welcome to come along and watch. More information to follow.
Pink Shirt Day:
Every year we support Pink Shirt Day. Please chick on the following link to donate, or send your gold coin to school with your child when they wear pink on the 20th May.
Pink Shirt Day – Reporoa Primary page

Congratulations!
At the end of term one I had a lovely morning tea in my office with Noah Phillips, Tiare Thompson, and Taapapa Biddle-Rika. These three boys have achieved their Bronze tag for consistently showing their REPS (Respectful, Engaged, Positive and Striving) during the term. I hope to see a lot more bronze, and some silver, tag holders this term.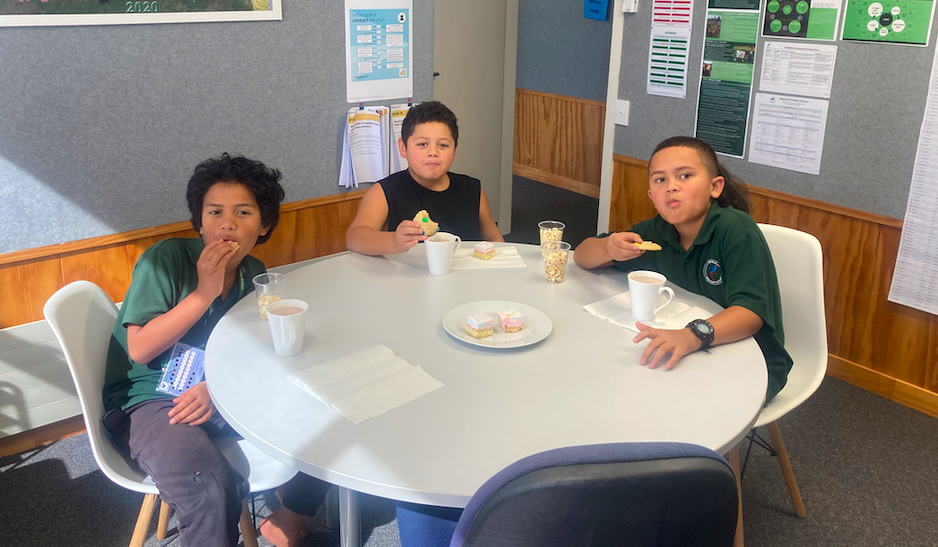 Book Week:
We are excited to be able to hold Book Week again this year after a couple of years of not being able to. Keep an eye out for more information. It starts in week 4 on Monday the 23rd of May and will finish with a dress up parade on Friday the 27th May.

Powhiri for our newcomers:
Please come along to our powhiri for newcomers as a manuhiri (visitor/guest) if you are new to our school this year. This includes newcomers from term one as we were unable to hold our powhiri earlier in the year due to Covid-19 restrictions. Please feel free to come along as tangata whenua (local) to support us too. It's a great chance for our tamariki to lead and share with you. It will be followed by morning tea for adults and new students in the staffroom.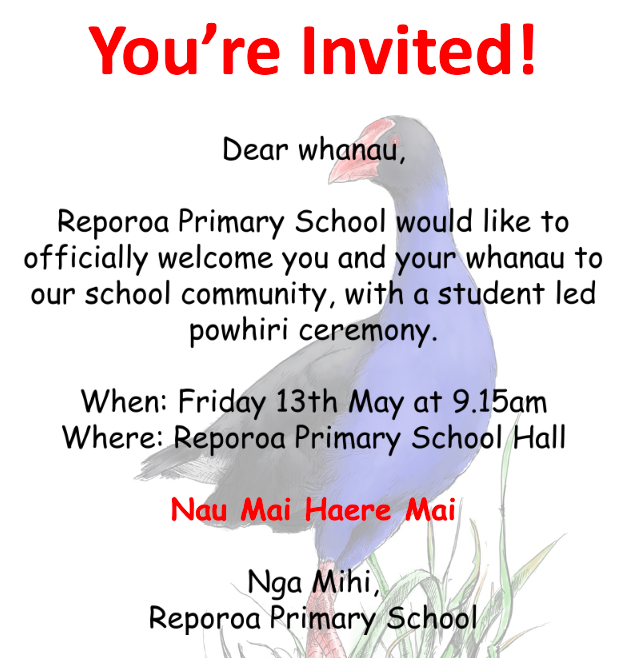 Kiarahi Leaders:
A big thank you to everyone who contributed money for the Kiarahi Leaders camp coming up at Hilary Outdoors. They raised $1090 in the firewood raffle (two loads) generously donated by the Muggeridge family and $590 in bake sales and other fun activities that they have hosted. All of this is going towards their camp early in June.
Message from the Board:
The Board of Trustees would like to welcome back whanau to term two. We are excited to be able to have the community back in the school!
We are still looking for a BOT secretary. Please let the office know if you are able to help us!
Board of Trustee elections are to be held later this year. If you are interested in becoming a board member, please either get in touch for a conversation with me or have a look on the following website for more details.
The board meet twice a term from 11am in the staff room. Our third meeting for the year is next Wednesday.

Kate Bowron, Presiding Member
Sports:
Fell Cup at Reporoa College 11rh May 2022 9:15am
It is a Netball and Rugby tournament for Y5 & 6. Unfortunately there was not enough interest from the schools to have a Year 3 & 4 team this year.
School Fun Run (Cross Country) Wednesday 18th May – We need at least 20 parents to volunteer to help on the course to make this happen for our kids.  PLEASE if you can volunteer your time, contact Maureen at the office to put your name down. Our kids appreciate your support!
Cluster Cross Country Wednesday 25th May – Rerewhakaatu School. Children who are place getters in our school Cross Country will represent Reporoa Primary School at this cluster event.
Sarah Martelli
Calendar:
| | |
| --- | --- |
| Wednesday 11th May | Fell Cup Year 5 & 6 |
| Friday 13th May 9:15 | Powhiri for newcomers |
| Wednesday 18th May | Reporoa X Country Fun Run |
| Friday 20th May | Pink Shirt Day – Gold coin donation |
| Wednesday 25th May | Cluster (Reporoa Schools) X Country |
| Wednesday 25th May | Meet and Greet |
| Mon – Fri 23rd – 27th May | Book Fair – Book Week |
| Friday 27yh May | Book Character Dress Up Day |
| Monday 13th June | School Photos |
| Friday 1st July | Reports Live |
| Thurs 7th July | Wearable Arts Show |
| Friday 8th July | Term 2 finishes 3:00pm |
| Monday 25th July | Term 2 starts 9:00am |
Other Notices:
School Account Details:
Account payments can be made directly to our school ASB account using online banking.  The account number is: 123155 0134517 00
Details: 
Remember if you change address, get a new cell phone number or email address  to notify the school so we have up to date records. The office needs your up to date email address so the newsletter can be emailed out – thanks.
LUNCHES: 
We are part of the governments healthy lunches programme. Children are provided lunch everyday. If they have any allergies, please let the office know so that allowances can be made. Children still need to bring a drink bottle (water only please) and morning tea every day.
Absences:
Reminder – if your child is absent either text, phone and leave a message, or fill in an on-line absent form. We also are required to fill in the reason they are away, so remember to include this in your message – thanks. IF CHILDREN ARE SICK PLEASE KEEP THEM AT HOME.
Car Parks:
Please use the car parks provided at the front or back of the school. No vehicles are permitted on the school grounds except for staff or service vehicles.
Nãku i runga i aku mihi ki a koe – Yours with thanks
Richelle McDonald
and our team – Nikkole, Korkz, Gemma, Tanissha, Steven, Julie, Maureen, Heather, Mary, Bridget, Linda and Sarah.

Print or Save this Post