Nga mihi nui ki a koutou katoa – warm greetings to everyone
Winter Wellness:
It is important during the winter season that we manage our health and make sure we are getting what we need to stay well. If we are sick, we stay at home. However, make sure your child returns to school as soon as possible so that they don't disrupt their learning too much.
The Ministry of Health has put together some Winter Wellness guidelines for you to assist. Check them out in this link:
Playground Update:
We have recently received a $30 000 grant from NZCT and a $35 000 grant from Pub Charities. When we add this to the $60 000 the BOT have put towards the playground we have $125 000. We are waiting to hear from Grassroots next month (hopefully another $35 000!). This will be the playground paid for! We are looking to be on track for September/October for installation. This is so exciting as it has been a very long wait and we miss the playground terribly!
100 YEARS!
Reporoa School was founded in 1923. That means that next year we are 100 years old!
The Board of Trustees are setting a date at their next meeting (tonight) for a centenary celebration. The next step will be to put together a committee made up of a BOT member, Whanau Group member and members of the community that wish to be involved. If that sounds like something you would like to be involved in, please contact the office and leave your details.
Pet Day – Get Excited!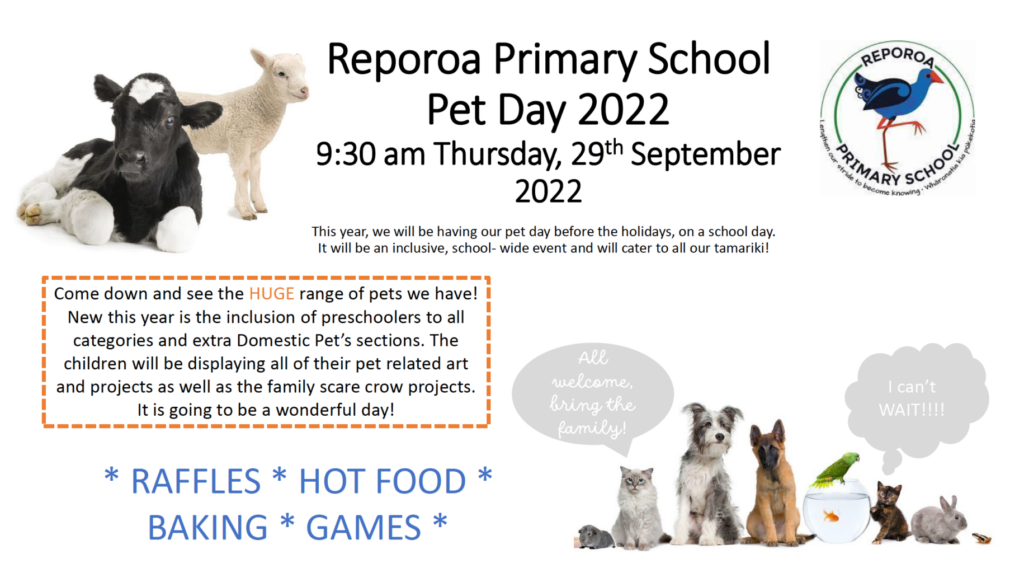 Every day at school counts!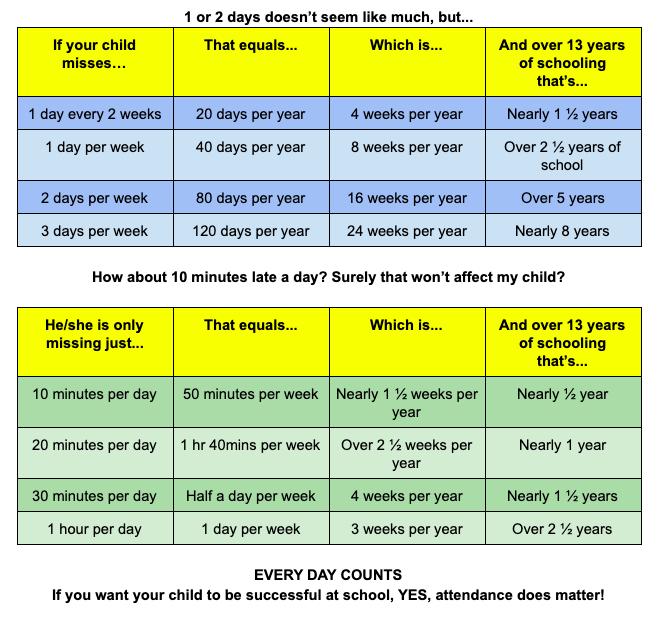 Library:
A friendly reminder from Mrs V – Please remember to return your library books on library day! There are a number of overdue books right now.
Healthy Food at School:
In assembly this week we had a good talk about making sure we have healthy food at school. Children must only have 'Brain Food' for brain break at 10am. At 11am they have morning tea. Again, we ask that this is healthy so that our children are not going back into class on a sugar high. This is when they become disruptive and struggle to concentrate and learn. We also ask that packets are kept to a minimum as they cause a huge rubbish issue for us. Here are some ideas of what to put in the lunch box and what to keep out.
A friendly reminder that we only have water or milk at school too!
After School Care provider:
We are interested in setting up an after Kindergarten (2:30pm) and After School (3pm) care provider for Reporoa School whanau as an option for whanau who are working and finding pick up times difficult. If you are interested in this idea (either running it or using it for your children) please send an email to [email protected]
If there is enough interest, we will pursue the idea further.
Have you got our app downloaded for all current communications?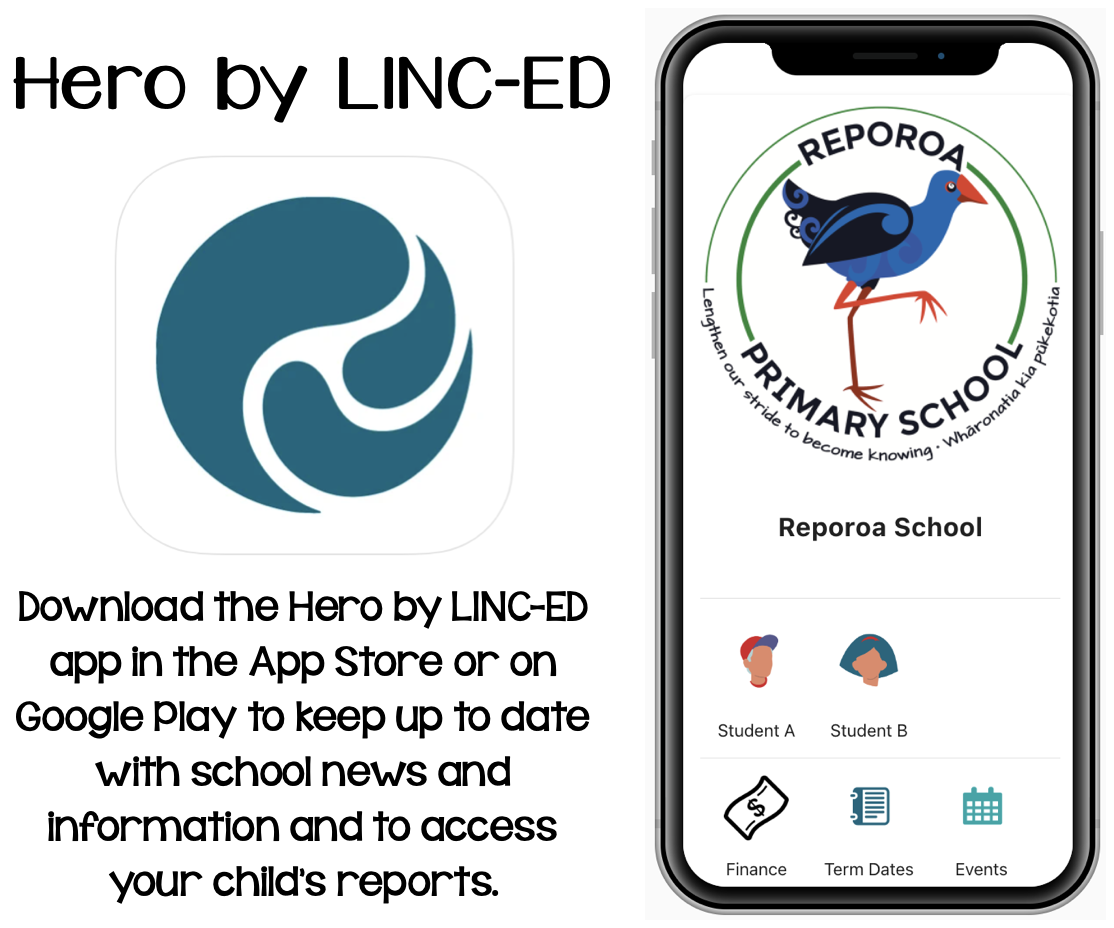 Message from the Board:
Thank you to Emma Ferrier for offering to be our Board Secretary! We are delighted to have you as part of the team!
SCHOOL BOARD ELECTIONS
Parent Election Results Declaration (no voting election required)
At the close of nominations, as the number of valid nominations was equal to the number of vacancies required to be filled.
I hereby declare the following duly elected.
Kate Bowron
John Guyton
Kane Polyblank
Megan Smith
Reece Williams
Nikkole Fell – Staff Rep
Maureen Johansen – Returning Officer

Kate Bowron, Presiding Member
Sports:
Coming up is the Golf Fun Day on Tuesday 23rd August. Expressions of interest will be asked for shortly.
Nikkole Fell (Sports Coordinator)
Calendar:
| | |
| --- | --- |
| Wednesday 10th August | BOT meeting 7pm Staffroom |
| Tuesday 23rd August | Golf Fun Day |
| Thursday 1st September | Reporoa College Open Day |
| Friday 2nd September | Teacher Only Day |
| Wednesday 7th September | RPS Speech Competition |
| Tuesday 13th September | RVC Speech Competition |
| Tuesday 13th September | CBOP Winter Sports Field Day |
| Thursday 15th September | Cultural Festival |
| Friday 16th September | Mini Marathon |
| Thursday 22nd September | RVC Winter Sports |
| Tues 27th September | Rip, Grip & Whip Y4-6 |
| Thursday 29th September | Pet Day |
| Friday 30th September | Teacher Only Day – Kahui Ako |
Other Notices:
School Account Details:
Account payments can be made directly to our school ASB account using online banking.  The account number is: 123155 0134517 00
Details: 
Remember if you change address, get a new cell phone number or email address  to notify the school so we have up to date records. The office needs your up to date email address so the newsletter can be emailed out – thanks.
LUNCHES: 
We are part of the governments healthy lunches programme. Children are provided lunch everyday. If they have any allergies, please let the office know so that allowances can be made. Children still need to bring a drink bottle (water only please) and morning tea every day.
Absences:
Reminder – if your child is absent either text, phone and leave a message, or fill in an on-line absent form. We also are required to fill in the reason they are away, so remember to include this in your message – thanks. IF CHILDREN ARE SICK PLEASE KEEP THEM AT HOME.
Car Parks:
Please use the car parks provided at the front or back of the school. No vehicles are permitted on the school grounds except for staff or service vehicles.
Nãku i runga i aku mihi ki a koe – Yours with thanks
Richelle McDonald
and our team – Nikkole, Korkz, Gemma, Tanissha, Steven, Pip,  Julie, Maureen, Heather, Mary, Bridget, Sarah and Linda.

Print or Save this Post