Nga mihi nui ki a koutou katoa – warm greetings to everyone
Health and Safety:
Following the tragic events in New Zealand last Friday, we are making sure that all of our procedures are up to scratch in the event of an emergency. This Thursday we will be having a lockdown practice. You will get communication about this via letter today, email/facebook/school app tomorrow as the lockdown practice happens. It is very important to note that during a lockdown (even a practice) no-one will be allowed in or out of the buildings. This is important for the safety of all.
We will then have another lockdown next week at a break time to practice what to do when we are out of the classroom.
Kia Kaha Christchurch:
Our condolences are with the families who have lost loved ones, our aroha goes to those who are still recovering and our thoughts and well wishes are with all those living in Christchurch.
It is important that your children/our students are supported in the best possible way that we, parents and educators, can provide. The following is a bulletin the Ministry of Education have provided to support us with this.
Let's continue to live by our REPS (Respectful, Engaged, Positive, Striving) and love/support each other regardless of differences. This week we are having a RAK (Random Acts of Kindness) week to show our love and support for each other.
Kia kaha Aotearoa-New Zealand.
Camps:
Permission forms, health forms, parent help forms and student contract forms for the year 3/4 camp to Wai-o-tapu, and the year 5/6 camp to Whirinaki should all be back now. Payment must be settled before the camp. Parent helpers have been selected and there is a camp parent meeting tomorrow at 4:30 in the hall.
Raffle tickets are being sold by the year 5/6 students are due Friday. Money needs to come into the office before 9am with the ticket butts. The raffle will be drawn on Monday morning at assembly.
Thank You:
A very big thank-you to the Lions club for donating $2000 to our school camps to pay for teachers and parents attending the camp. We really appreciate not having to add this cost onto the students camp bill!
Board of Trustees:
BOT elections are coming up this year. If you are interested in being a board member, come along to a meeting and see what happens! The next BOT meeting is in the staffroom tonight at 7pm. Or you could attend the following information evenings: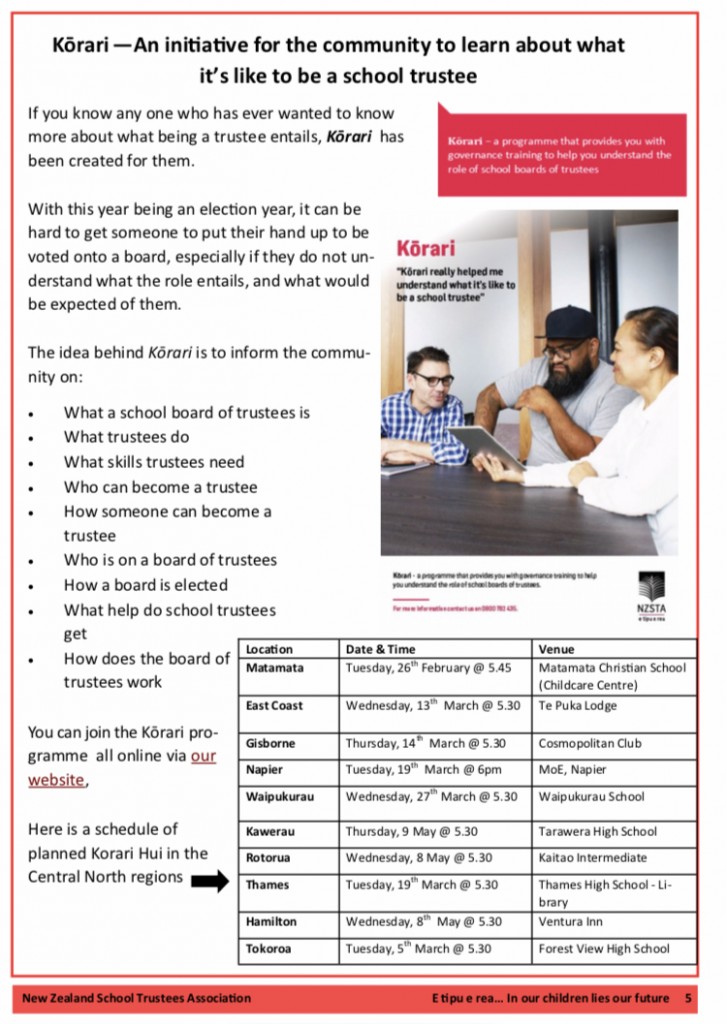 Sports:
Swimming:
Congratulations to all the children who competed at the cluster swimming sports day. We represented Reporoa Primary in force and won the competition!
Here are the results: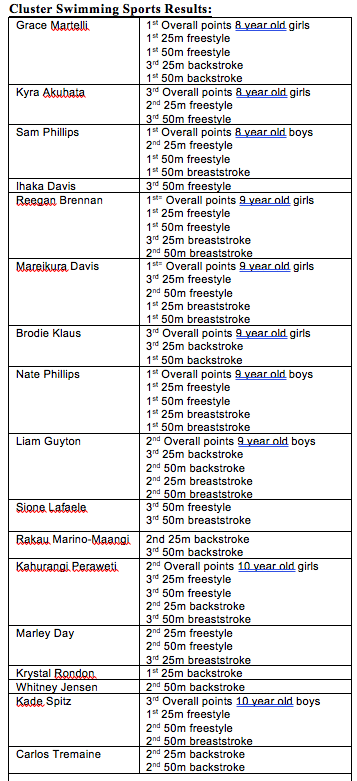 Cluster swimming points per school…
Mihi 20
Waikite 135
Broadlands 152
Lake Rerewhakaaitu 154
Reporoa College 326
and with a massive 344 points Reporoa Primary!!
Staff:
Kōkā Piri (Jazmine Elkington) is our teacher in charge of sport and can be emailed at jazze@rep.school.nz
Jolene Guyton is our sports co-ordinator. She will be managing the entries, permissions, transport and sports uniforms for the teams.
Mini Marathon 3rd May– forms coming home this week with children interested.
Calendar:
Thurs 21st Mar

Camp Parent Meeting 4:30
THIS Fri 22nd Mar
ALL raffle tickets and money back –

Drawn Monday at assembly

1st – 3rd Apr
Senior Camp Y5/6
3rd – 5th Apr
Y3/4 Camp
 Tues 9th Apr
Cluster Summer Sports
Wed 10th April
BOP Swimming Sports
Thurs 11th Apr
Cluster Summer Sports postponement
 Fri 12th Apr
 End of Term 1
Mon 29th April
Term 2 begins 9:00am
Fri 3rd May
Mini Marathon
Other Notices:
School Account Details:
Account payments can be made directly to our school ASB account using online banking.  The account number is: 123155 0134517 00
Remember if you get a new cell phone number  to notify the school so we have up to date records, also the office needs your up to date email address so the newsletter can be emailed out – thanks.
FRIDAY LUNCHES: 
Lunch menu
http://www.rep.school.nz/lunches/
Absences:
Reminder if your child is absent either text, leave a message or fill in an on-line absent form. We also are required to fill in the reason they are away, so remember to include this in your message – thanks.
Library News:
Library sessions happen every Monday for Rooms 1, 2 and 3.
Rooms 5 & 6 have theirs on alternate Fridays.
Books must be carried in a book bag or plastic bag to and from school. Please remind, or help your children with returning their library books.
Lost or damaged library books will be charged for.
Nãku i runga i aku mihi ki a koe – Yours with thanks
Richelle McDonald
and our team –Jill, Jazz (Piri), Debs, Chelsea, Susannah, Rachel, Julie, Maureen, Heather, Mary, Karla & Linda.


Print or Save this Post