Nga mihi nui ki a koutou katoa – warm greetings to everyone
Week 5!
Welcome to week 5. It is hard to believe this term is half way over already! We are in full swing with our learning this term but have made a couple of changes to our programme based on need. It is important for us to respond to our students needs and be flexible with our curriculum at times.
You would have received a letter explaining the "Keeping Ourselves Safe" police education programme on Monday. It is very important that you read and reply to us if you DO NOT wish your child to participate. The importance of our children knowing what to do when they feel unsafe was highlighted in an incident last week. We are responding with this programme as our students safety is our number one priority.
We also have our very important visit from Jo McLeod who is creating a gourmet hangi for us. We welcome interruptions like this to our curriculum plan as it provides such rich learning experiences for our children. Make sure you get tickets through facebook, school app, website, or the office (just give Maureen a call or pop in before lunchtime!)
Board Secretary:
WE NEED YOU! The Board of Trustees are after a Minutes Secretary. You will need good spelling, grammar and be organised. A laptop can be provided if necessary and training will be given. Meetings are approximately twice a term, at school on a Wednesday 11:00am-1:00pm during winter and 7:00pm – 9:00pm during summer. Please contact Richelle McDonald through the school phone (07 333 8350 or 027 660 2281) for a job description if you are interested in applying.
PET DAY:
Make sure you are getting ready for PET DAY! Do you have a lamb, calf, cat, dog, rabbit or something else you want to enter?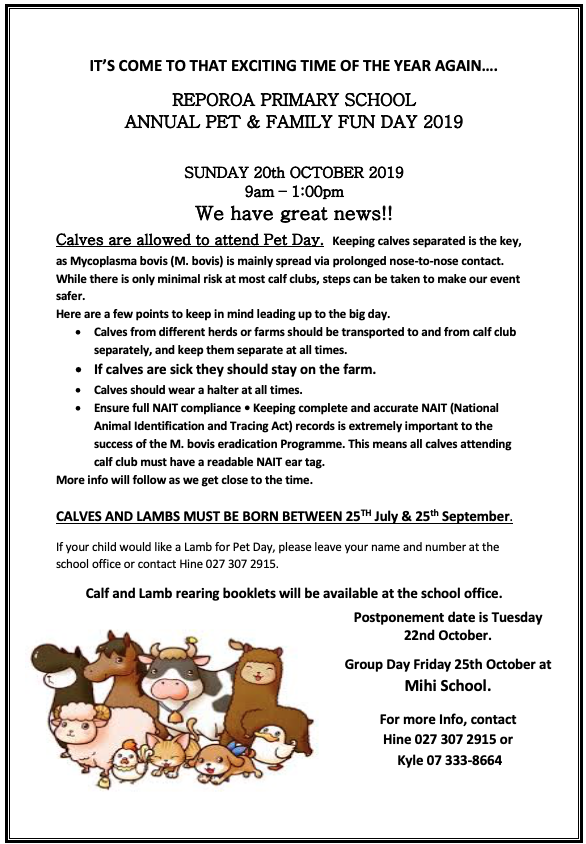 Te ra whanau o Reporoa:
Remember to get your tickets before they all go!
Come to "Te Rā Whānau o Reporoa!" on the 30th August for food, fun and whanau! Guest featuring gourmet chef Joe McCleod.
Note: This is not a fundraiser. Cost covers food only.
Reporoa Whanau Day
We are very excited about our Reporoa Whanau Day. Gourmet Hangi tickets may be ordered and purchased through the office with Maureen @$12.00 or directly online at www.eventfinda.co.nz.  Talk to your friends and let as many people know about our event as possible – people don't need to commit to the whole day – pop down for lunch, kick back and play games with the children after our kai – check out our school facebook. Details are also on the back of the latest Roundabout and on posters displayed at our local shops.
If you are in a position to donate any of the following – that would be super! Please let Maureen know before 12 pm Monday 26 as she will have a Master List to tick off items. Every little bit will help and is most appreciated!
4 x large chickens, 1 x large leg lamb (4-5Kg), 1 x large leg pork, 4 kg of potatoes, kumara, pumpkin, 6 onion, 3 loaves of white bread (stale for breadcrumbs), 2 x pkts of butter, 1x pkt peach powder – (Vetros)
9 loaves of bread from Couplands-Rotorua, 4x 500gms butter, 3x boxes of custard powder, 2x pkts of soft brown sugar, 3x 2 Litres milk, 2x 2 L. cream, 4x 5 L .vanilla icecream, 2x Litres Budget Tomato Sauce, (Pak n Save cheapest) 200 drink cups
Donated or in progress already: 1 large leg of lamb, 2 clean, gutted eels
Ka Pai Whanau
Tickets available online @ eventfinda
College Open Day:
Open Day 2019
Come along and see what Reporoa College can offer you and your Whanau!
Wednesday 28th August
Full days programme for Year 6 – 7- 8 students from 8:50-3:10pm Programme:
School Assembly (Can catch the bus here)
Experience Mahi Tahi our Year 7 & 8 home base
Discuss directions in education
Choice of Activities offered at college in the afternoon
Tour of the school
Leave at 3.10 – experience a full college day!
Grab an enrolment pack
Whanau welcome to attend with students!
Meet our new Principal, Mr Brendan Carroll, who will be available to talk to parents!
RSVP: College office – 3338117 or
counter@ reporoa.school.nz
They will follow this up with the enrolment interviews (conducted by Jane Goss and Brendan Carroll) between the 5th to the 9th of September. More communication regarding both the Open Day and the enrolment interviews will follow.
School Photo Orders – due by Friday 23rd August
We need all photo orders back to school by this Friday so we can send them away for processing. Orders after this date will need to be ordered straight from Masterpiece – thanks.
PERRIN AG CONSULTANTS
We would like to thank Perrin AG Consultants for contacting us with their very generous donation of $500 towards our breakfast club it is really appreciated.
Star of the week:
Ka Rawe te mahi (awesome work) to Harmony who has been making huge progress with her writing!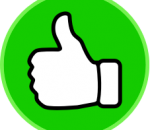 A very big thank you:
To Jill Burns (Deputy Principal) and Debs Morrison (Junior Team Leader) for running the school last week while I was in Hamilton learning lots about the next direction for our school. It is wonderful to have such capable people in the hot seat!
Sports:
Amazing Race has been postponed until Thursday 22nd  August. Y5/6 – we have teams entered into this day.
Jazmine and Jolene
Calendar:
| | |
| --- | --- |
| Wed 22nd Aug | Amazing Race Y5/6 |
| Fri 23rd Aug | All photo orders back to school |
| Fri 30th Aug | Te Ra Whanau o Reporoa – Hangi |
| Fri 30th Aug | No school lunches |
| Thurs 12th Sept | Speeches 9:15am |
| Tues 17th Sept | Cluster Winter Sports pp 19th |
| Fri 20th Sept | Cluster Speeches |
| Thurs 26th Sept | Loud Shirt Day – Gold coin donation |
| Thurs 26th Sept | Last Day of Term – 3pm finish |
| Fri 27th Sept | Teacher Only Day |
| Mon 14th Oct | Term 4 starts – 9:00am |
Other Notices:                                                                           
School Bus Vests;
Reminder these belong to the school. If you are moving remember to return your vest to the school office.         If you lose your vest is lost it will cost $15.40 to replace it.
School Uniforms:
If you are moving and would like us to sell your old uniform on behalf come in and see us – thanks.
School Account Details:
Account payments can be made directly to our school ASB account using online banking.  The account number is: 123155 0134517 00
Remember if you get a new cell phone number  to notify the school so we have up to date records, also the office needs your up to date email address so the newsletter can be emailed out – thanks.
FRIDAY LUNCHES: 
NEW Lunch menu
http://www.rep.school.nz/lunches/
Absences:
Reminder if your child is absent either text, leave a message or fill in an on-line absent form. We also are required to fill in the reason they are away, so remember to include this in your message – thanks.
Library News:
Room 1 Friday 9am
Room 2 Friday 9am
Room 3 Friday 11am
Room 5 Friday 10am
Room 6 Monday 11am
Books must be carried in a book bag or plastic bag to and from school. Please remind, or help your children with returning their library books.
Lost or damaged library books will be charged for.
Kia ora
Nãku i runga i aku mihi ki a koe – Yours with thanks
Richelle McDonald
and our team –Jill, Jazz (Piri), Debs, Chelsea, Susannah, Rachel, Julie, Maureen, Heather, Mary, Karla & Linda.


Print or Save this Post