Nga mihi nui ki a koutou katoa – warm greetings to everyone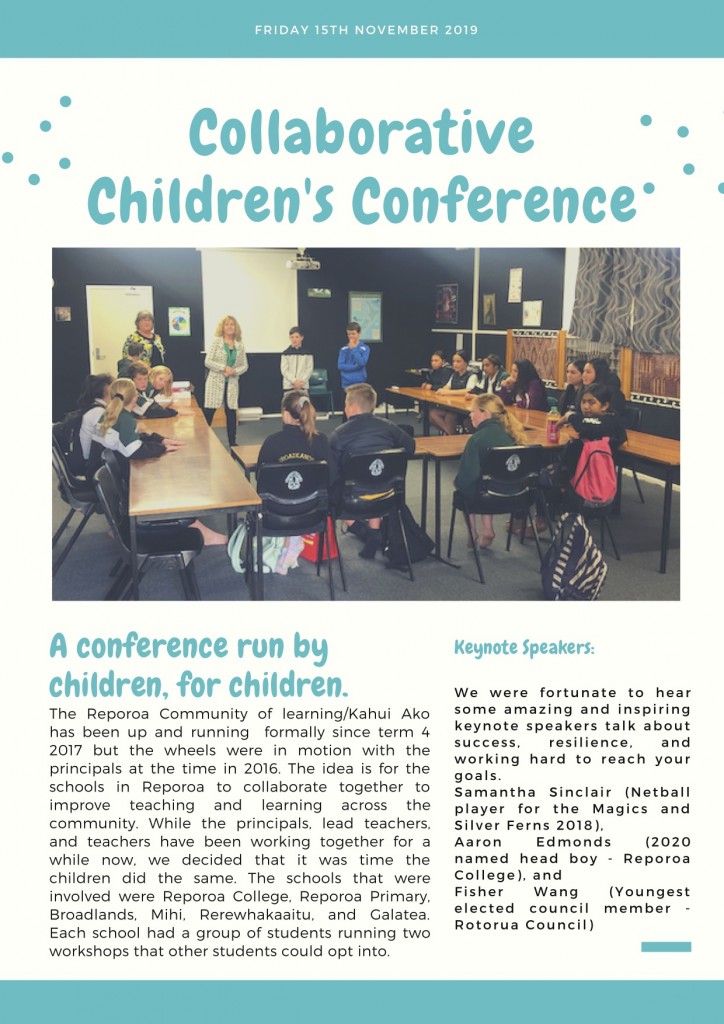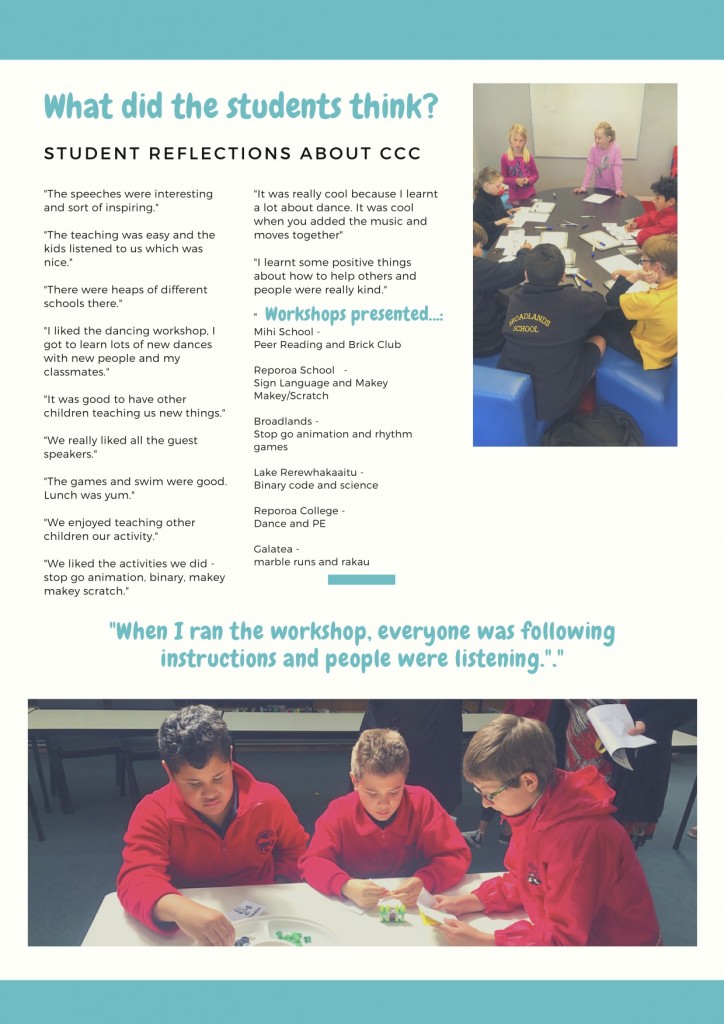 Bi-Lingual:
We are pleased to announce a bi-lingual class for 2020. It will be for years 3 to 6 students in room 3 with Jazmin Elkington as the lead teacher. There is a hui/meeting for all whanau who have opted into this class at 5pm on Wednesday the 4th December in the hall. Please come along and hear more about the plans for bi-lingual education in Reporoa. Note – there are still a small number of places available if you are interested in your child taking up bi-lingual education in 2020.
Cluster Maths Today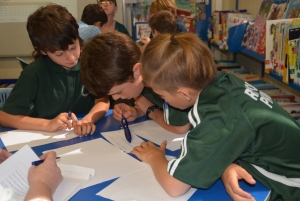 Well done to our Cluster Maths group Harley Brennan, George Ferrier and Brian Collins who came 2nd today well done boys.
Cluster Athletics Results:
Congratulations to all involved. It was a great day! Click on the link to see the final results:
CLUSTER ATHLETICS RESULTS 2019
Reporoa Junior School Fundraiser – well done they raised $400 towards Xmas present for the church.
Garage Sale – Thursday and Friday 10.30-11am and 12.45-1.15pm
We still need more items if you are clearing out.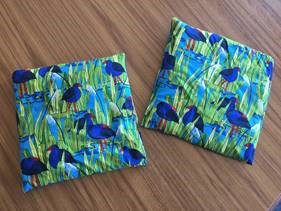 Wheat/Heat/Cold sacks for sale lovingly made by the Junior Students. $10 for 1 or $15 for 2. They make great Grandparent gifts, and can be pulled out of the freezer for children to snuggle up to on these hot nights. Phone the office on 07 333 8350 to order.
Money raised will go towards Christmas gifts for local families through our local church.
Cheers
Debs Morrison
Reporoa College Market Day:
This Friday Reporoa College is hosting a Market Day to fundraise for making a positive change around Mahi Tahi. The fundraiser includes games, bake sale, BBQ, raffles, car wash and other activities. The students are running this and met with me during the week to request permission for our children to attend between 11am and 2pm. This is another great way for us to build relationships with the college. If your child comes with a few coins on Friday, we will escort them over in groups to visit and take part in this initiative.
Stars of the week:
Ka Rawe te mahi (awesome work) to Lachlan Bowron for some outstanding writing this week!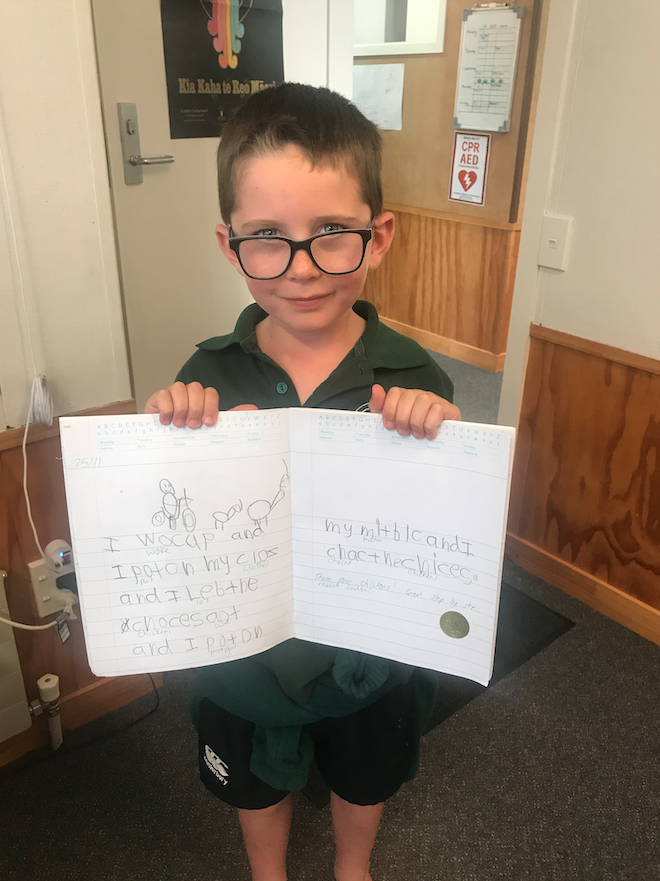 Year 6 Graduation: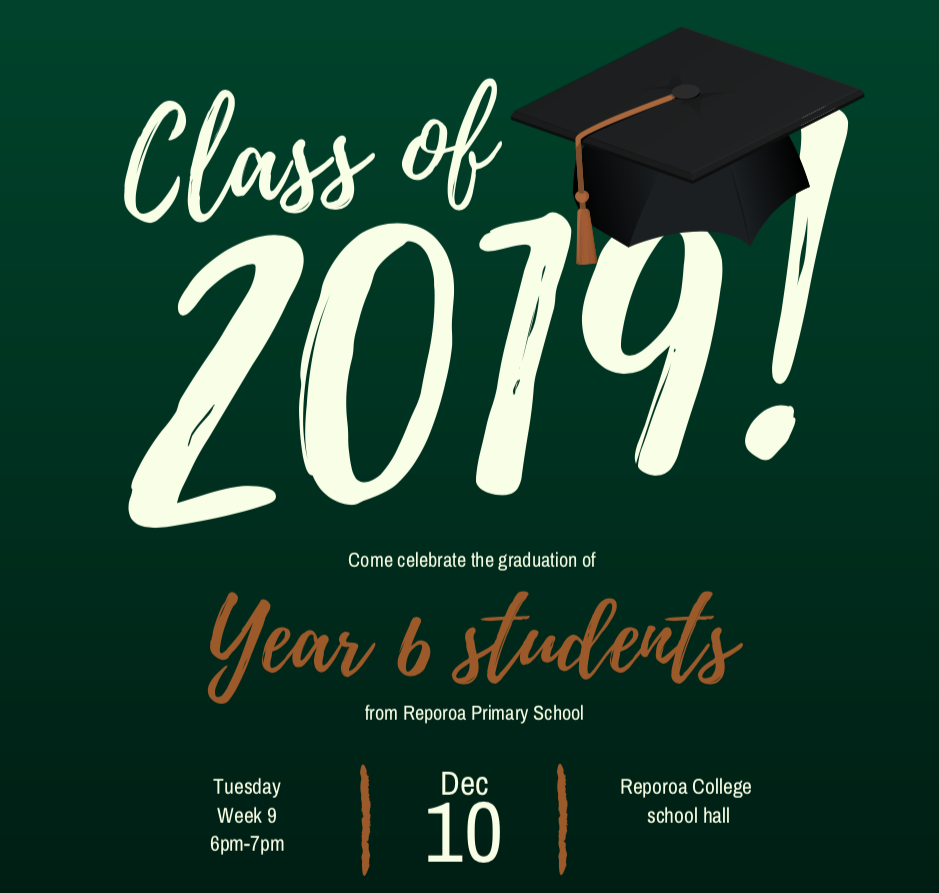 Sports:
THANK YOU
We would like to thank Peter and Kylie Hurihanganui from PK Tyres for their very generous donation, so that all students were able to have a sausage at our recent Athletics day – Whanau Group.
ALL sports uniforms need to be returned to the school now – thank you.
CBOP Athletics
Forms have been sent home with the children involved – these need to be returned to school now with the $5 entry fee – thanks
SCHOOL TRIATHLON 
Friday 13th May will be our annual Triathlon. We are just waiting to get approval from Rotorua District Council once we have conformation a newsletter will follow.
Sports calendar for term 4.
3rd December –  EBOP/CBOP Athletics Championship Whakatane
13th December – Annual School Triathlon
Jazmine and Jolene
Calendar:
| | |
| --- | --- |
| | |
| | Go4it continues |
| | |
| Tues 3rd Dec | BOP Athletics |
| Fri 6th Dec | Reports Home |
| Tues 10th Dec | Junior School Trip |
| Tues 10th Dec | Year 6 Graduation 6pm College Hall |
| Fri 13th Dec | Triathlon |
| Tues 17th Dec | Final Assembly |
| Wed 18th Dec | School finishes for 2019 – 3pm |
| Mon 3rd Feb | School starts for 2020 – 9am |
Other Notices:
Update your details please!
It is very important that we have your correct address, email, phone number, and emergency contact details. If you have moved, changed phone numbers or email please phone the office 07 333 8350 or 027 660 2281 to get your current information to us asap.
School Bus Vests
Reminder these belong to the school. If you are moving remember to return your vest to the school office.         If you lose your vest  it will cost $15.40 to replace it.
School Uniforms:
If you are moving, or have a uniform that no longer fits and would like us to sell your old uniform on behalf come in and see us – thanks.
School Account Details:
Account payments can be made directly to our school ASB account using online banking.  The account number is: 123155 0134517 00
Remember if you get a new cell phone number  to notify the school so we have up to date records, also the office needs your up to date email address so the newsletter can be emailed out – thanks.
FRIDAY LUNCHES: There will no lunches Friday 13th December because of Triathlon.
http://www.rep.school.nz/lunches/
Absences:
Reminder if your child is absent either text, leave a message or fill in an on-line absent form. We also are required to fill in the reason they are away, so remember to include this in your message – thanks.
Library News:
Room 1 Friday 9am
Room 2 Friday 9am
Room 3 Friday 11am
Room 5 Friday 10am
Room 6 Monday 11am
Books must be carried in a book bag or plastic bag to and from school. Please remind, or help your children with returning their library books.
Lost or damaged library books will be charged for.
Kia ora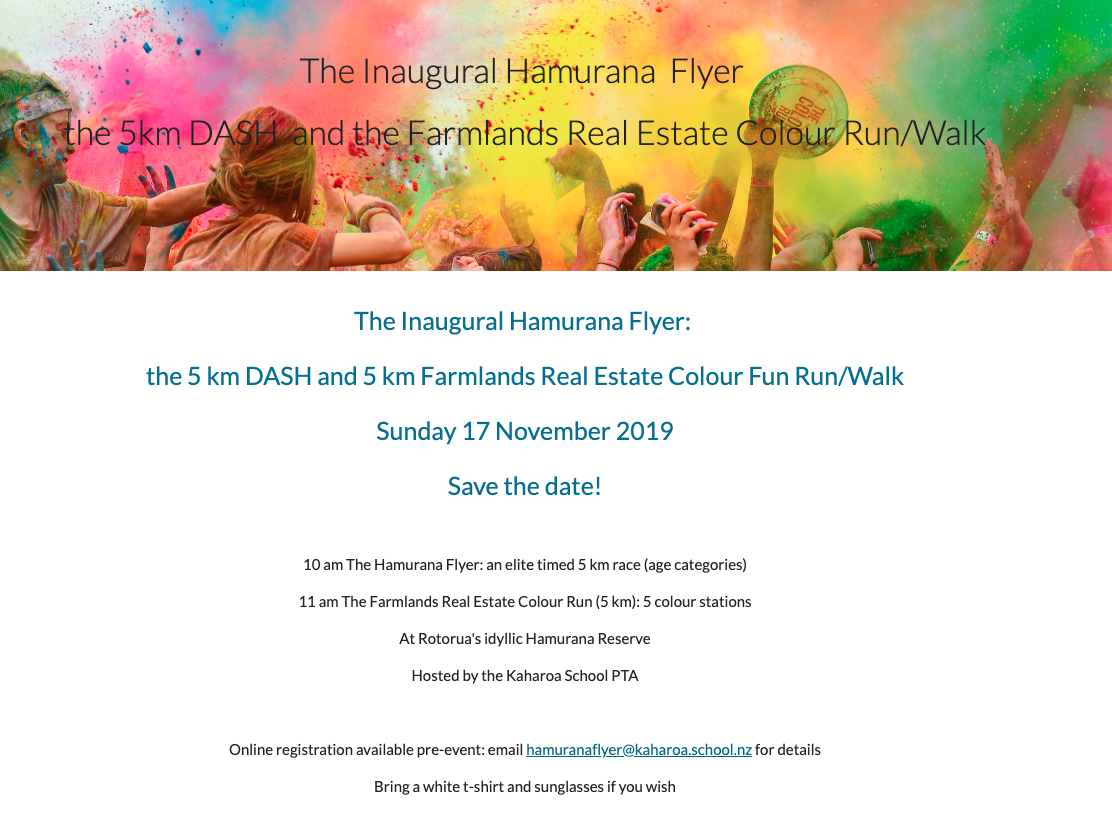 Nãku i runga i aku mihi ki a koe – Yours with thanks
Richelle McDonald
and our team –Jill, Jazz (Piri), Debs, Chelsea, Susannah, Rachel, Julie, Maureen, Heather, Mary, Karla & Linda.


Print or Save this Post