Nga mihi nui ki a koutou katoa – warm greetings to everyone
Online Learning:
This week marks the first week of term two and the beginning of our online learning programme. At the end of term one we asked that you become familiar with google classroom and the Learning from Home link on our website. This week teachers will set daily learning and be monitoring/marking/giving feedback. School-wide communications will be via facebook, Skool Loop app (download instructions are at the bottom of every newsletter), and email. Please help us by ensuring you keep up to date with the newsletters and information.
Timetable:
This is a POSSIBLE example timetable to help whanau structure their day. I encourage you to make your own to suit your day. Teachers will not be checking the amount of time students are spending on tasks. This is at the discretion of parents and the time frames you have at home.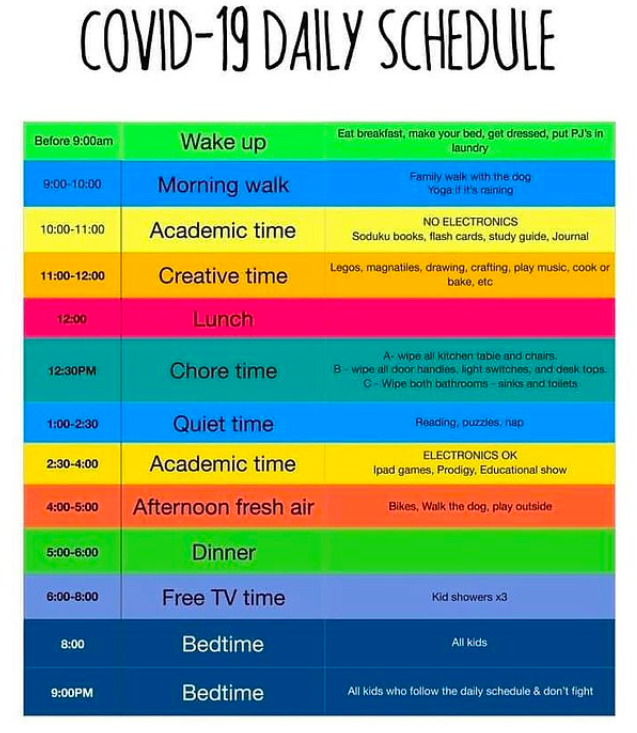 School Devices:
We asked all of our school community on Sunday 5th April via Facebook, Skool Loop app, email and text if they wanted a device to assist in online learning. We are waiting for the courier to pick up and deliver 32 iPads for students who requested them in the timeframe given to assist in their online learning. If you requested a hard pack, this will be created by the Ministry of Eduction and may not be exactly to the level your child is working at, but will be better than nothing!
Set Tasks:
Your child's teacher will set tasks in google classroom each day to meet their educational needs. Plenty of extra activities can be found at www.rep.school.nz and clicking on the 'Learning at Home' link. Theses tasks are NOT compulsory. Students will be able to complete the learning without too much teaching from parents. We will have a focus on maintenance and revision in most areas or activities that lead the students to develop understanding as opposed to teaching them the content.
Be Kind:
This is new learning for all of us. We are working hard to maintain sustainable distance learning for Reporoa Primary students. Teachers are operating within their own homes and some have their own children needing to be parented or supported as they take part in their own distance learning. All staff are dedicated to supporting your child at home as best they can. The way we do this will continue to grow and change as we adjust and improve. We ask that you support the teachers and school by keeping in mind that they, like you, have also been thrown in the deep end with this and are learning as we go; so be kind, be patient and be gracious as we work together on this new undertaking.
Online Safety:
While children are learning from home, they are away from the online safety and security services provided by Network for Learning (N4L) at school. So together with N4L and Netsafe, the MOE have launched www.switchonsafety.co.nz – a free way to block the worst of the web for students and teachers.
Remember, no technical solution is a silver bullet. Please remember to refer to our digital citizenship expectations and contract.
Netsafe
Netsafe provides comprehensive support and information to support everyone to stay safe as they work, learn and play online. Netsafe has new and updated resources for parents, whānau and students at https://www.netsafe.org.nz/advice/staying-safe/
Contacts:
If you are struggling or have any questions, please contact your child's teacher first and foremost. If the issue is not resolved, feel free to contact me. Contact details are:
Room 1 – Susannah Engel – susannahe@rep.school.nz
Room 2 – Cherie Hill – cherieh@rep.school.nz
Room 3 – Jazmine Elkington (Korka Piri) – jazze@rep.school.nz
Room 5 – Debs Morrison – debsm@rep.school.nz
Room 6 – Rachel Judd – rachelj@rep.school.nz
Principal – Richelle McDonald – principal@rep.school.nz
Nãku i runga i aku mihi ki a koe – Yours with thanks
Richelle McDonald
and our team –Cherie, Jazz, Debs, Susannah, Rachel, Julie, Tina, Maureen, Heather,  Karla & Linda.
Contact Details:
Massey Road
Box 2, Reporoa, 3060
Phone 07 3338350
Cell 027 660 2281
Email: office@rep.school.nz
Principal: Richelle McDonald, principal@rep.school.nz


Print or Save this Post