Nga mihi nui ki a koutou katoa – warm greetings to everyone
REPS:
This term we are focusing on being engaged. Ask your child at home what engaged means and where they think they sit on our Engaged Rubric. What strategies might they try to move to the next level of being engaged at school and in life?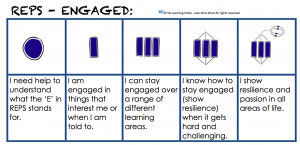 My Bag of Worries:
My bag of worries is obnoxious and tiring. It is always following me. I don't like my bag of worries. However, I am going to put all of my effort into it so I can get on with my life and not be worried about anything. I'm going to say "GO AWAY. I'M BIGGER THAN YOU!"
By Maiya
Fun Run:
Dear Parent/Guardian,
As a way to raise money for new playground equipment and outdoor games, we will be holding the School Fun-Run (previously called our Cross Country) on 21st May 2019. The funds raised will be used to buy playground and sporting equipment for our turf and outdoor games for an outdoor area by the staffroom. The more we raise, the more we are able to buy!
We are excited to be taking the FUN RUN (Cross Country) offsite this year and will be running it on the Marshall's farm.
About the Program
The School Fun-Run promotes healthy and active lifestyles while helping us raise funds! It's all about participation, with students treated to a great day as a reward for their fundraising efforts.  Family support is key to our fundraising success and we encourage everyone to get involved. It is done through sponsorship.
A LETTER WITH ALL INSTRUCTIONS AND INFORMATION CAME HOME THIS WEEK – KEEP AN EYE OUT FOR IT!
WELL DONE TO THOSE WHO HAVE ALREADY STARTED RAISING MONEY – THE BALANCE IS GOING UP FAST ALREADY!
Bus Vests:
This week your child will come home with a bright orange vest. This has been numbered and issued to them. It belongs to the school.
All children riding on the bus MUST wear a vest to and from school please.
This decision was made by the Board of Trustees in response to information that our new uniform has made it more difficult to see our children clearly. With winter and foggy weather approaching, we do not want our children to be in any danger. The BOT have paid for the vests, however you will be responsible for replacing them if they are lost. Walkers may choose to wear the vest and are encouraged to do so if they walk to school along any part that does not have a footpath. If walkers living close to the school are not going to wear the vest, please return them to school immediately so we can delete your name from the issuing register.

Stars of the week:
Ka Rawe te mahi (awesome work) to our wonderful writers this week – JK, Zachary, Hamish, Paige, Carlos, Sione, and George.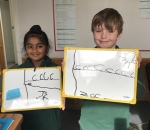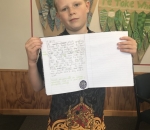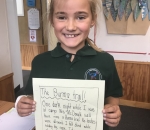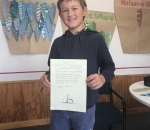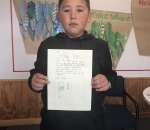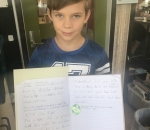 Thank You:
A big thank you to Kate Bowron for sourcing the new school bus vests and organising the labelling of them for us over the holidays. Our children will be much safer waiting for buses!
Sports:
Basketball:
Good luck to the children starting basketball this Friday. Information is coming home today.
Mini Marathon: 3rd May
Good luck to the children competing in the Mini Marathon in Rotorua this Friday.
Fell Cup: 8th May from 9:15am
At Reporoa College Rugby and Netball years 3-8
Staff:
Kōkā Piri (Jazmine Elkington) is our teacher in charge of sport and can be emailed at jazze@rep.school.nz
Jolene Guyton is our sports co-ordinator. She will be managing the entries, permissions, transport and sports uniforms for the teams.
YEAR 5/6 Netball practice this Thurday @ 3:30pm at the School
Whanau Group:
Our school is hosting a quiz night on Saturday 11th May to raise funds to go towards a new kitchen area for your children to cook in.
We need your help!  We are catering for up to 150 people – donations and cooking of meat are needed – hot ham, pulled pork, pulled beef, also coleslaw to be made
for the supper.  Any donations of cheeses, crackers, condiments.
Also if you are able to help on the night we would love to hear from you!
Please contact Sarah Martelli 021807338 if you can help or contact Maureen in the school office.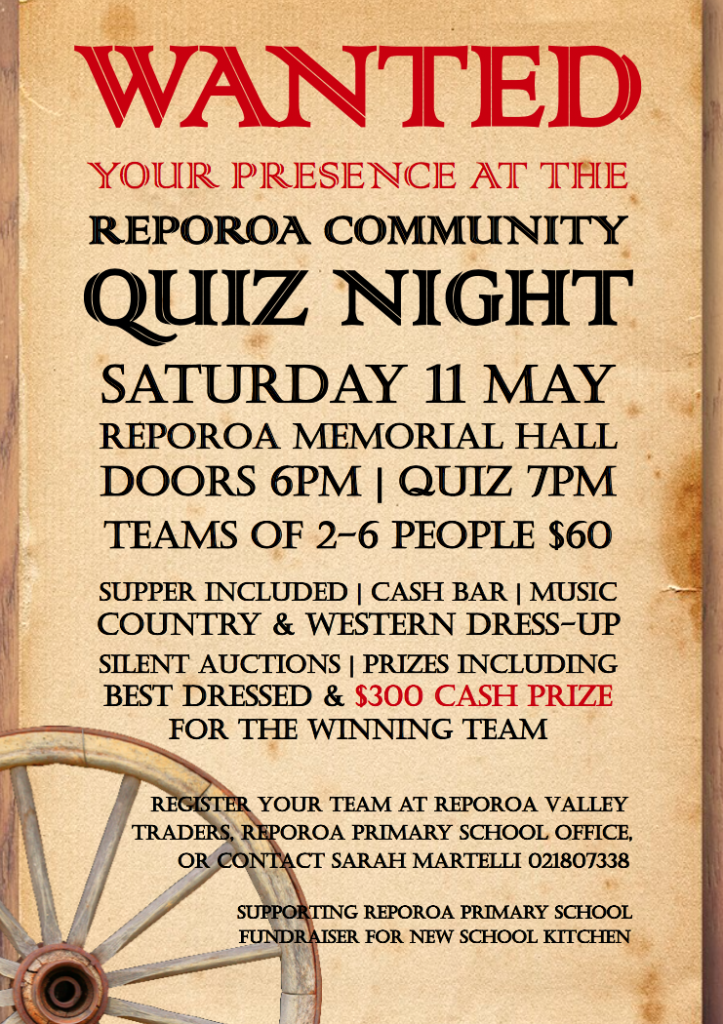 Calendar:
| | |
| --- | --- |
|  Fri 3rd May |  Mini Marathon |
| Wed 8th May | Fell Cup |
| Sat 11th May | Quiz Night 6pm |
| Tues 21st May | Fun Run  (Cross Country) |
| Fri 24th May | Leadership Day |
| 27 – 31 May | BOOK FAIR |
| Mon 3rd June | Queens Birthday – No School |
| Wed 12th June | Wairakei revegetation Project Day |
| Fri 21st June | Kapa Haka Festival |
| Fri 5th July | End of Term 2 – 3pm finish |
| Mon 22nd July | Term 3 starts |
Other Notices:
School Account Details:
Account payments can be made directly to our school ASB account using online banking.  The account number is: 123155 0134517 00
Remember if you get a new cell phone number  to notify the school so we have up to date records, also the office needs your up to date email address so the newsletter can be emailed out – thanks.
FRIDAY LUNCHES: No lunches this week due to the Mini Marathon.
Lunch menu
https://www.rep.school.nz/lunches/
Absences:
Reminder if your child is absent either text, leave a message or fill in an on-line absent form. We also are required to fill in the reason they are away, so remember to include this in your message – thanks.
Library News:
Library sessions happen every Monday for Rooms 1, 2 and 3.
Rooms 5 & 6 have theirs on alternate Fridays.
Books must be carried in a book bag or plastic bag to and from school. Please remind, or help your children with returning their library books.
Lost or damaged library books will be charged for.
Nãku i runga i aku mihi ki a koe – Yours with thanks
Richelle McDonald
and our team –Jill, Jazz (Piri), Debs, Chelsea, Susannah, Rachel, Julie, Maureen, Heather, Mary, Karla & Linda.


Print or Save this Post