Nga mihi nui ki a koutou katoa – warm greetings to everyone
Board of Trustees:
At Reporoa Primary School, we are lucky to have a very capable, harmonious, longstanding Board. This does not happen overnight or even at all schools. Our Board members have worked hard for all of our children, so they can enjoy success in all its forms and a nurturing, inclusive environment.  I know I speak for everyone on the Board when I say it has been an immensely rewarding experience,  and much learning as both a Board and as individuals has taken place!
Board elections are coming up, anyone in our school community who feels they have something to add to the Board is welcome to stand for election, enquire at the Office or approach one of our current members for more information.
Since the last election,
We closed the gap significantly between Maori and non-Maori achievement from more than 30% back in 2016 to an average of 6%. This is cause for celebration!
Implemented a new curriculum, to reflect the varied and changing needs of our students
New look Charter, which is the school's guiding document, to reflect the changing needs of our students
Significant support, professional development and technology input to up-skill both teachers, Board and support staff, equipping them to better teach and support our students, eg. iPads, new online policy site, new student management system, Board self review
Played our part in forming the community wide Community of Learning, cooperating and sharing with all the other schools in the area
A lot of maintenance- pool heating, playground, koru garden, new shiny, red lawnmower (Yipee!), school houses, painting of buildings, artificial turf and planning for future development with our new Innovative Learning Environment and 10 year maintenance
Massive improvement in learning outcomes and student achievement data in Reading and Writing which have been our focus for improvement (in reading from 59% in 2016 to 74% in 2018 working at their expected curriculum level, and in writing from 51% in 2016 to 81% in 2018 working at their expected curriculum level)
Huge strides in student behaviour and involvement in the school from our families
Survived the ERO visit and did awesome, especially when they have toughened their criteria
Statements from BOT members:
I joined the board 8 years ago as I wanted to be involved with the school where my two boys were starting. Looking back I've enjoyed being part of a team that's taken the school through some positive & significant changes . I didn't have any experience in governance or the education system but through getting involved with a supportive board these skills were developed . Our two boys have now finished at Reporoa Primary & I'll be standing down at the next election. My time on the board has been rewarding in many ways including replacing the new roof over the main block, new solar heating for the pool, treemendous outdoor class room, purchases of two new lawnmowers just to name a few & even a couple of on stage fun raising events for the whanau group.
Graeme Monk
The school has been on an incredible journey in recent times, and it has been fantastic to see the school thrive. More than anything though, we excel at addressing the needs of all our students and it is immensely rewarding to be able to assist that journey.
Paul Leslie
Being on the Board has allowed me to grow as a person, parent and community member. Student achievement is the Board's number one focus and I love that I have a part in contributing to every student's learning.
Hayley Hathaway
My School Camp:
Nate, JP, Brian and I went to camp. On Monday night the four of us were playing in the cold muddy rain and freezing puddles. The best thing about camp was swimming and white water rafting. It was exciting because we were allowed to jump out of the raft and into the water. On the last day of camp, on the way back home, Justin drove. His driving reminded me of watching a Lamborghini race a Ferrari. In the car we listened to 'We will rock you' and 'Space Oddity'. I lost my voice because I was yelling so much! It was a bad ending to camp because I tripped up when I was hopping out of the car.
By Stylez
Fun Run:
Dear Parent/Guardian,
As a way to raise money for new playground equipment and outdoor games, we will be holding the School Fun-Run (previously called our Cross Country) on 15th May 2019. The funds raised will be used to buy playground and sporting equipment for our turf and outdoor games for an outdoor area by the staffroom. The more we raise, the more we are able to buy!
About the Program
The School Fun-Run promotes healthy and active lifestyles while helping us raise funds! It's all about participation, with students treated to a great day as a reward for their fundraising efforts.  Family support is key to our fundraising success and we encourage everyone to get involved. It is done through sponsorship.
A LETTER WITH ALL INSTRUCTIONS AND INFORMATION WILL BE SENT HOME THIS WEEK – KEEP AN EYE OUT FOR IT!
Thank You:
A very big thank-you to the parents who came with us on our camps last week. We appreciate the time and energy you put into helping us. We would not be able to go without you. Both camps were a huge success and the children are still buzzing!
Sports:
Swimming:
Good luck to the children competing in the CBOP swimming sports in Rotorua today.
Nate Phillips, Sam Phillips, Brodie Klaus, Sione Lafaele, Kahurangi Perawiti, Carlos Tremaine, Mareikura Davis, Ihaka Davis, Liam Guyton, Marley Day, Reegan Brennan, Rakau Marino-Maangi.
Staff:
Kōkā Piri (Jazmine Elkington) is our teacher in charge of sport and can be emailed at jazze@rep.school.nz
Jolene Guyton is our sports co-ordinator. She will be managing the entries, permissions, transport and sports uniforms for the teams.
Mini Marathon 3rd May
YEAR 5/6 Netball practice this Friday @ 3:30pm at the School
Whanau Group: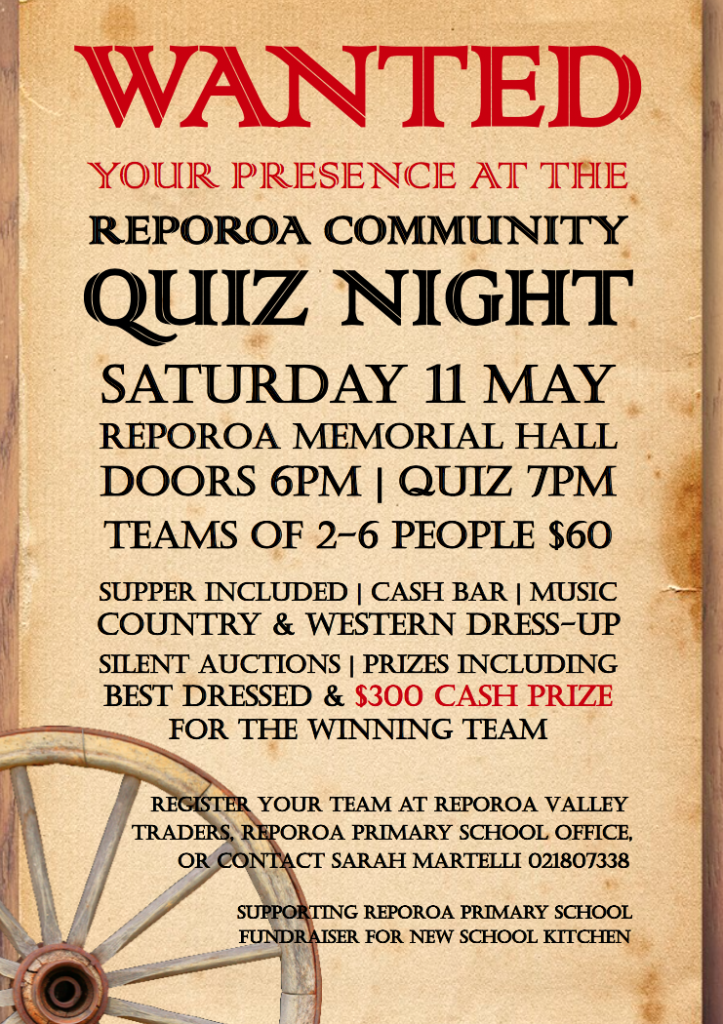 Calendar:
| | |
| --- | --- |
|  Fri 12th Apr |  End of Term 1 |
| Mon 29th April | Term 2 begins 9:00am |
| Fri 3rd May | Mini Marathon |
| | |
Other Notices:
School Account Details:
Account payments can be made directly to our school ASB account using online banking.  The account number is: 123155 0134517 00
Remember if you get a new cell phone number  to notify the school so we have up to date records, also the office needs your up to date email address so the newsletter can be emailed out – thanks.
FRIDAY LUNCHES: 
Lunch menu
https://www.rep.school.nz/lunches/
Absences:
Reminder if your child is absent either text, leave a message or fill in an on-line absent form. We also are required to fill in the reason they are away, so remember to include this in your message – thanks.
Library News:
Library sessions happen every Monday for Rooms 1, 2 and 3.
Rooms 5 & 6 have theirs on alternate Fridays.
Books must be carried in a book bag or plastic bag to and from school. Please remind, or help your children with returning their library books.
Lost or damaged library books will be charged for.
LOST PROPERTY – it is good to see the lost property pile way smaller now we have a uniform. Remember to name your child's uniforms, there is one sweatshirt that keeps making its way back to lost property with no name on – thank you.
Nãku i runga i aku mihi ki a koe – Yours with thanks
Richelle McDonald
and our team –Jill, Jazz (Piri), Debs, Chelsea, Susannah, Rachel, Julie, Maureen, Heather, Mary, Karla & Linda.


Print or Save this Post