Nga mihi nui ki a koutou katoa – warm greetings to everyone
FUN RUN / CROSS COUNTRY! 

30th June pp 2nd July
We have buses organised to transport all the children to the rugby club grounds we will be leaving just after 9am. Children will be walked around the course on arrival, running starts 10am.
Children can wear mufti for the day and will need appropriate clothing, footwear a drink and nibbles.
Parent help on the day will be very much appreciated
Parents are welcome to come along and join us to watch their kids run at the rugby club on Tuesday the 30th of June from 10am onwards. Afterwards the Whanau Group are supplying a snack for the children a hot chippie sandwich. Children will still need a packed lunch
You are all more than welcome to come back to school afterwards and have a cuppa & a chat.
Our students are practicing their endurance running on a daily basis and the competition is looking fierce! We have lots of students fundraising through the FUN RUN website too. Below is the leader board for top fundraisers – well done! At present we have made $2500. Our goal is $5000 so let's get online and signing up everyone! The money will go toward topping up class set of PE gear so that our classes and enjoy full lessons.
You can sign up by going to https://schoolfundraising.co.nz/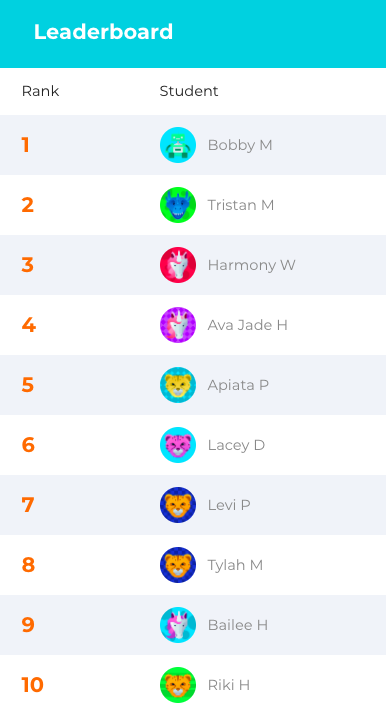 Lunches in Schools:
The Government is currently trialling a free, healthy, daily school lunch in some schools for all students.
We are really excited to let you know that our school has been invited to join the free and healthy lunch programme from Term 4 this year.
All parents want to provide their children with a lunch every day. But, as you will know, there are many reasons parents can struggle, often through no fault of their own. We know that some of you will have been particularly affected by the economic impact of the COVID-19 pandemic. Offering a lunch for all our children who need it will go some way to helping families and whānau to support their children and tamariki. This is why we have decided to take part in this programme.
Lunches will cater for the diet, health and cultural needs of our students, and we will work with suppliers and the Ministry of Education to make sure they are healthy and nutritious. All suppliers will be required to meet New Zealand food safety standards.
The lunches will be available for all our students. While we know there are hungry children in every community, we do not always know who they are. Providing a lunch to every child means we do not need to single-out those who need it more than others. However, lunches are not compulsory, and you can continue to provide your child's own lunch if you wish.
Right now, we are working with the Ministry of Education on the best way to meet our school's needs. So far, we are working with the College on planning how we will implement this initiative together.
The programme will run until the end of 2021 and will be evaluated whilst it is running. This will include feedback from schools, students and suppliers about what the lunches are like, how they are delivered, and if they have an impact on students' learning and achievement. The Government will use the information from the pilot to decide whether to continue beyond 2021, and what an ongoing programme might look like.
You can find out more about the programme at: www.education.govt.nz/free-and-healthy-school-lunches
Empowered Learning Trust (ELT) APD & Irlens Year 4 Screening Programme:
The purpose of this trust is to "deliver screening programmes that identify individual student barriers to learning and offer a range of interventions that assist them to reach their optimum potential." They engage in projects that identify and support young people with learning and processing difficulties.
ELT have been in our school for the past 2 weeks screening for vision (Irlens) and will return in Term 4 for Auditory Processing Disorders (APD). They offer this free service every year to our Year 4 students at this time.
As Special Education Needs Coordinator (SENCo) I will occasionally put forward some year 3 students to be tested as well.
If anything arises from the testing process, we will inform you immediately.
I will send a text to those who are being followed up by ELT with vision concerns, and at the end of the year we will have referral letters for an Auditory Specialist to send out for any APD concerns. Testing for Irlens will be completed by the end of next week.
The advantage for our students is that we are aware of any concerns/learning difficulties they have, and most importantly we can set up programmes for their specific needs starting from day one next year.
If you have any concerns yourself about your child, feel free to email me on DebsM@rep.school.nz , phone the office on 07 333 8350, or leave a message.
Reminder – Playground:
Please note that our large playground is still out of bounds. We are waiting on a Health & Safety inspection before conducting a working bee to fix a number of issues such as old boards and unsafe fixtures. This is not a quick fix and we would appreciate it if you kept your preschool children off it while waiting at the gate.
Reminder – Water Bottles:

Please remember to send your children with water bottles. The water fountains will be back in use in term 3.
SCHOOL WORKING BEE  – Wednesday 1st July 10am
We are having a working bee on Wednesday 1st July from 10am onwards. Any new faces are always welcome, many hands makes light work. Look forward to seeing you there. Please remember to sign in at the office.
Stars of the week:
Ka Rawe te mahi (awesome work) to Harriet Polyblank and Sage Phillips for their awesome expressive langauage in their writing this week. Tino Pai!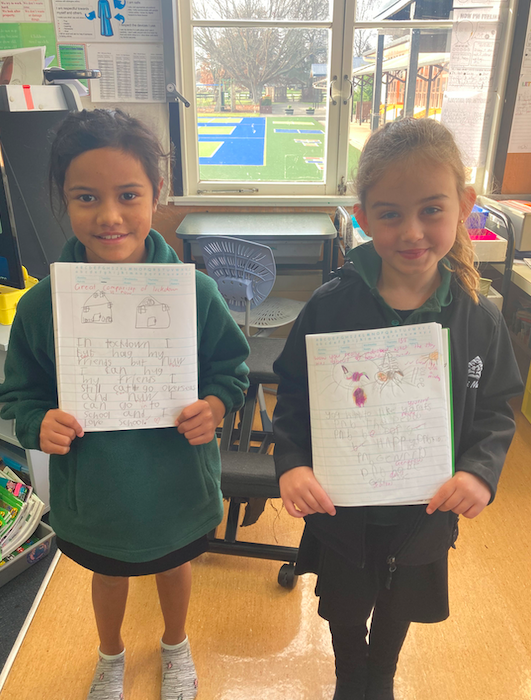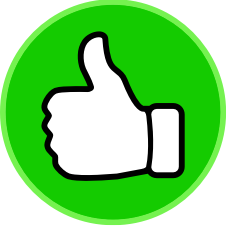 Tha

nk You!
A very big thank you from Abby Leslie, Lacey Davis, Liam Guyton & Brandon Pearce. They appreciate the mufti days, car washes and sausage sizzles which have helped them raise money to cover their Hillary Outdoors camp costs. Congratulations to Paul Leslie for winning the silent auction for the generator too. Best of luck to this group for the week at camp!
Sports:
Y5/6 CBOP AMAZING RACE:
Will be happening information coming home tomorrow with children who are interested in taking part.
FUN RUN / CROSS COUNTRY! 
30th June pp 2nd July
Jazmine and Jolene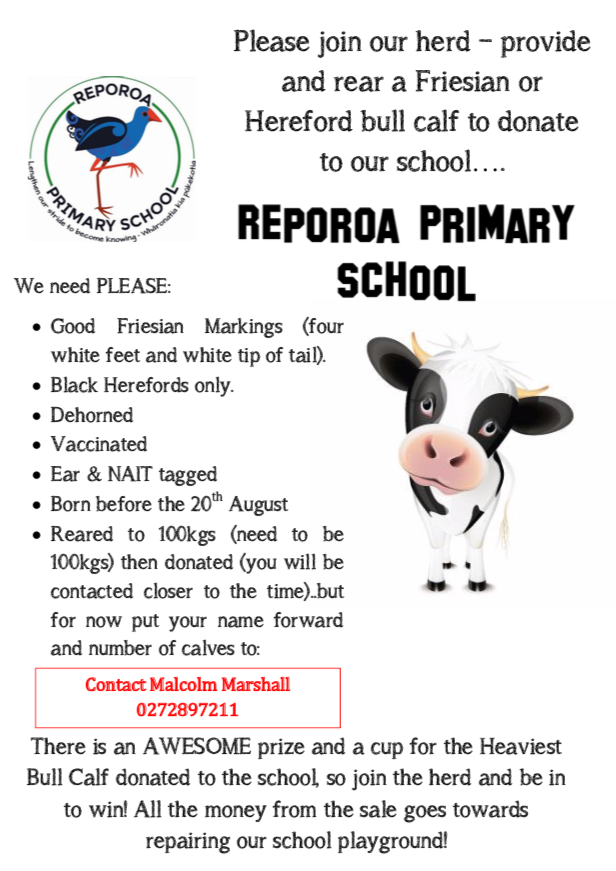 Calendar:
| | |
| --- | --- |
| 22nd June-26th June | Hillary Outdoors Leadership Camp – Year 6 |
| Tues 30th June | Fun Run / Cross Country (p.p 2nd July) |
| Fri 3rd July | Last Day of Term 2 – 3pm finish |
| Mon 20th July | Term 3 |
| Fri 24th July | School Photos |
| Fri 25th Sept | Last day Term 3 – 3pm finish |
| Mon 12th October | Term 4 starts 9:00am |
| | |
| | |
| | |
| | |
Other Notices:
SCHOOL LUNCHES: 
No school lunches until further notice
SCHOOL UNIFORMS
Please remember to name your school uniforms then they can be returned to their owners – thank you.
School Account Details:
Account payments can be made directly to our school ASB account using online banking.  The account number is: 123155 0134517 00
Remember if you get a new cell phone number  to notify the school so we have up to date records, also the office needs your up to date email address so the newsletter can be emailed out – thanks.
Absences:
Reminder – if your child is absent either text, phone and leave a message, or fill in an on-line absent form. We also are required to fill in the reason they are away, so remember to include this in your message – thanks.
Car Parks:
Please use the car parks provided at the front or back of the school. No vehicles are permitted on the school grounds except for staff or service vehicles.
Bus Changes:
ALL changes to bus arrangements MUST be made through the office please. We will not make changes based on children's requests.
Nãku i runga i aku mihi ki a koe – Yours with thanks
Richelle McDonald
and our team –Cherie, Jazz, Debs, Susannah, Rachel, Julie, Tina, Maureen, Heather,  Karla & Linda.
Contact Details:
Massey Road
Box 2, Reporoa, 3060
Phone 07 3338350
Cell 027 660 2281
Email: office@rep.school.nz
Principal: Richelle McDonald, principal@rep.school.nz


Print or Save this Post