Nga mihi nui ki a koutou katoa – warm greetings to everyone
Bus Vests:
Thank you again for your patience with this! We are having some trouble with our supply but hope to have them available shortly. Please feel free to purchase an orange vest from anywhere. The vest does not have to have our school name on the back.
Attendance:
Regular School Attendance Increases Likelihood of Academic Success – There is a clear link between school attendance and academic achievement.
In recent weeks the Ministry of Education has shared data about student attendance, much of which makes for concerning reading.  What both the regional data and the data for our school have in common is that there is a direct correlation between attendance levels and academic achievement.  Simply put, students who attend school regularly are far more likely to achieve curriculum expectations than those whose attendance levels are lower.  A recent Ministry of Education report exploring the relationship between attendance and attainment stated:
"School attendance is the most crucial prerequisite for quality education – students cannot learn if they are not at school."
This same report concludes that when attendance is below 95% there is a reduction in levels of achievement.  While 95% sounds high, it still means missing half a day of school per fortnight.  The New Zealand Ministry of Education uses 90% or higher as its cut-off point for measuring regular attendance.  This means that there are students whose level of attendance is having a negative impact on their academic achievement, yet they are considered as regular attendees at school.  Interestingly, in a number of other countries 90% attendance at school would be the level that triggers concern, rather than having them considered as regular attendees.
Students who attend school 100% of the time achieve, on average, 13 to 15 more credits in NCEA than do students who attend 90% of the time.  To put it into another context, 90% attendance means that a student is absent from school for one day per fortnight.  If we put that into a workplace context, for most of us, this level of attendance would put our continued employment in jeopardy.
While this report considered achievement at NCEA, the impact of absence from school is cumulative.  It is not enough simply to improve attendance in any one year, although all attendance at school helps, regular attendance in all years of schooling is essential.  NCEA assesses skills and knowledge that are developed throughout a student's education, not simply knowledge and skills learnt in a single year.
Causes of Attendance Concerns
We appreciate that there are circumstances that make attendance at school impossible – sickness, medical appointments and family bereavements are all examples of this.  Absences of this nature are unavoidable and understandable.
However, there are a growing number of situations where parental ease is having an impact.  We see some students who miss a day to attend a single appointment because it was easier for their parent/caregiver, or who are late home from an out-of-town function, or who make non-urgent appointments during the school day.  All of these absences are avoidable.  If your child is hearing a message that your convenience is more important than their education, then they are hearing a very powerful message.  Likewise, making every effort to have your child attend school whenever possible, especially when it might inconvenience you, sends a very powerful message to them about the value you place on their education.
Again, we appreciate that there are some family circumstances that make getting to an appointment difficult and we understand that extended time may be required when there are issues with transport etc.
Disrupted sleep, in particular resulting from digital device use until late at night or the early hours of the morning, is increasingly an issue for children and their whānau.  Having devices in the bedroom will have a negative impact on the amount and quality of sleep your child has.  Once they fall into this pattern it is not uncommon for school attendance to slip as children are tired and get sick.  It does not take long for a pattern to develop that has a negative impact on academic achievement.
Support Available
Our school wants to be able to work with parents to remove barriers to their child's academic progress.  If you are concerned about your child, we encourage you to make contact with us sooner rather than later so that support can be put in place before any attendance issues, or other problems, become ingrained habits that are more difficult to change.
Collaboration or Team Teaching:
At Reporoa Primary School we collaborate and team teach across the junior and senior schools. With our collaboration the children work with a number of teachers depending on what level they are on in different subjects. Teachers teach to their strengths in different subjects and will take different levels in different subject areas. Students are put in groups depending on their needs based on assessments. Children still have a home room where the roll is taken and some subjects are taught.
What is Team Teaching? Team teaching is when two (or more) teachers equally share the responsibility of the learning for the students in the classroom. It is different from job sharing where one teacher might teach three days a week and the other two days. In a team teaching environment, both teachers interact with all the students at different times.
The Advantages of Team Teaching:
Whilst we know that all students don't learn at the same rate, team teaching gives your learners the opportunity to have a more personalised and expertise rich experience in the classroom. Team teaching allows teachers to work from their strengths and have their weaknesses remedied, meaning students receive a higher level of instruction in all subjects. Research shows an increase in quality teaching as each teacher approaches topics from a different angle.  Evaluation can be less onerous, more insightful and balanced when a team approach is used. Responsibilities are spread and working closely alongside colleagues builds a stronger community in a school. Teachers can share insights with one another, give new ideas and try out different strategies, as well as learn from each other. Shared decision making can boost moral and self confidence. Experienced teachers comment, "the results are worth it".
Meet and Greet:
We had to postpone our meet and greet due to being in COVID level 2 last week. It will now be next Wednesday the 17th March. If it is hot, we will still have the pool open for those brave polar bears. Please come along and meet with us. Come to the hall first at 5pm and we will take you on a tour of our new rooms! The camp parent meeting will now follow at 6pm in the hall.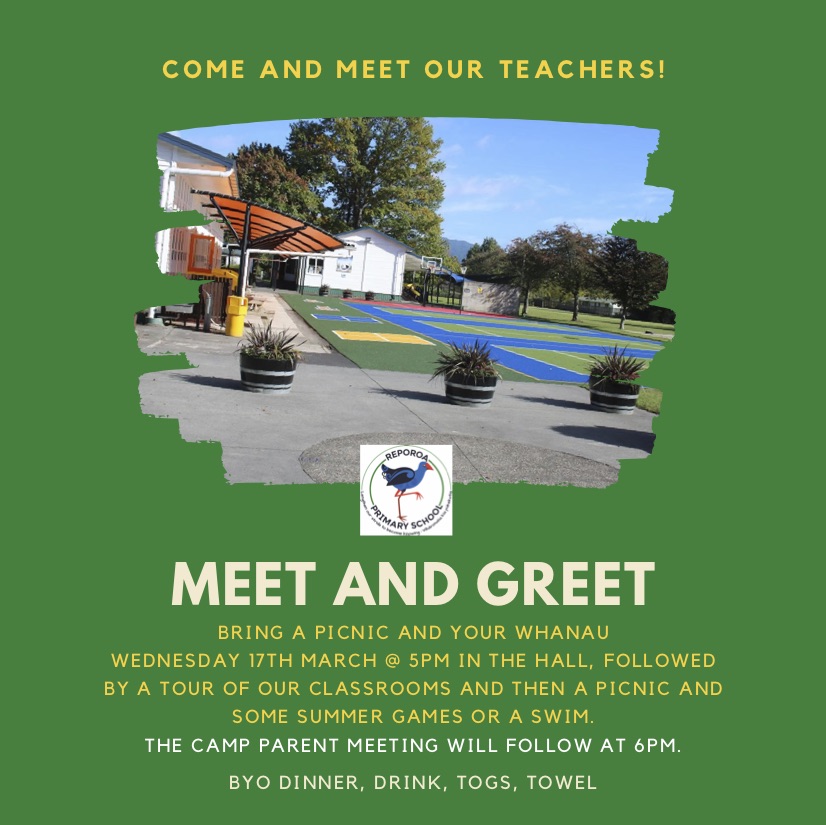 Harvest from our garden:
It was wonderful to see our children harvesting fruit from our Koru garden this week. We are excited to be making more use of this space this year.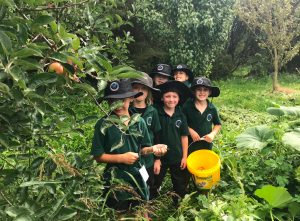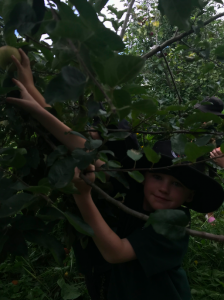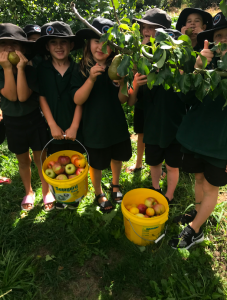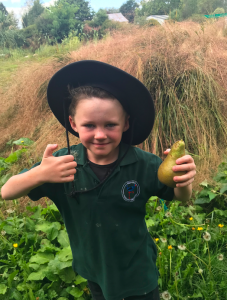 Enviro Club and Friends of the Koru Garden : – interested parties: parents, whanau, grand-parents
Meeting: Wednesday 10th  @ 3.30pm in Room 7
Purpose: Ask for people to be available in either both or in one group – gather ideas – think tank
Enviro Club – would entail working alongside our Enviro school student representatives to create a vision for our school to gain our Bronze certifcation. (Details provided at meeting)

Friends of the Koru Garden –

 A pool of people available, if needed, to work with each class teacher and students once a week in the Koru Garden.
New families to our school – we would love to see you!
Farewell:
It is with sadness that we inform you that Susannah Engel is finishing with us at the end of this term. Susannah is taking some time for herself and scaling down her working week. She will more than likely be in our school as a prefered reliever so we will still see her around. I would like to take this opportunity to thank Susannah and wish her all the best in her future endeavours. The Board of Trustees would like to especially acknowledge the commitment and contribution she has made to the Reporoa community, her gardening expertise and her organisation of some of our larger events such as treemendous and the Gourmet Hangi.
Health and Safety:
It has come to my attention that some of our students are still running out from behind or in front of busses and across busy roads. Please practice this with your children. It is crucial that they are aware of how dangerous crossing busy roads is. The last thing we want is a horrible accident because your children were not safe! Next week the police education officer will be coming to talk to the students about this. When parents collect or drop off children, please model safe behaviour around busses too.
Sports:
Swimming Sports:
Congratulations to the following place getters at our school swimming sports. The RVC swimming sports will be held at the college today.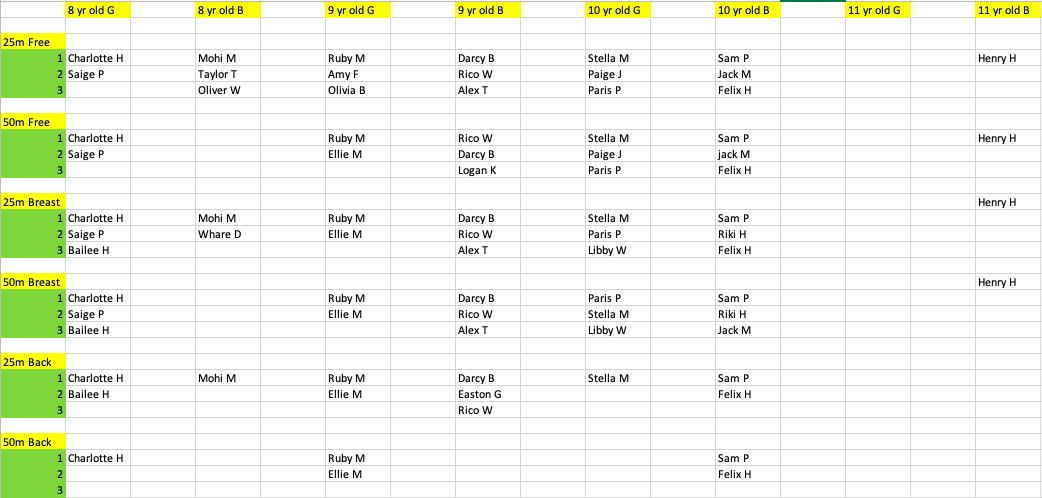 RATS duathlon:
Congratulations to the students who entered the RATS duathlon. Feedback has been that it was a wonderful day!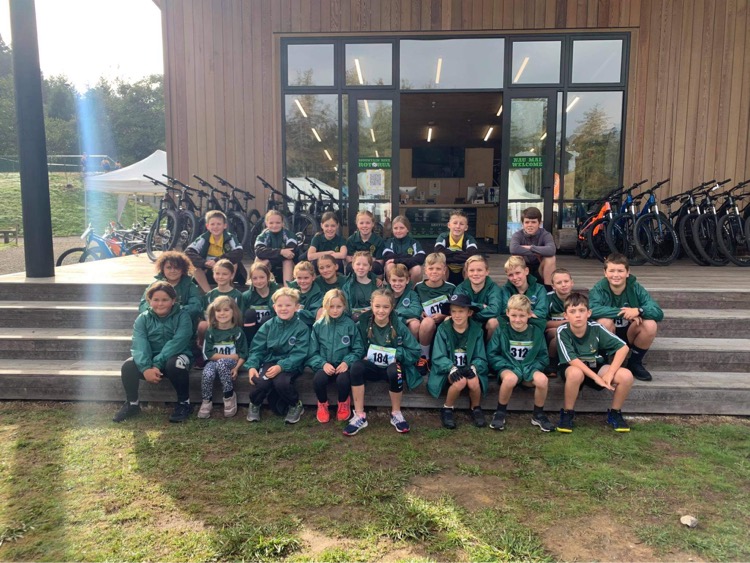 HERE'S WHAT COMING UP IN TERM ONE 2021 
CBOP TOP SCHOOL- MONDAY 22ND MARCH 2021 
Team has been entered, just waiting for it to go ahead. More information to follow closer to the time. GOOD LUCK TO ALL CHILDREN INVOLVED.
CBOP SWIMMING SPORTS- WEDNESDAY 14th April 2021 (Rotorua Aquatic Centre)
If you get a placing at the Cluster Swimming sports. Then you are able to go through to CBOP swimming Sports.
CBOP MINI MARATHON YEARS 1-6  FRIDAY 7TH MAY 2021 (ROTORUA) TERM 2
Get your thinking caps on. If you are keen on running the last 2kms of the Rotorua Marathon. Awesome day and all ages can take part. I will have a chat with the students at the end of March and put information out on Facebook & Skool Loop. I will need to have the team sorted before the seniors go on camp in mid April.
CBOP RIP GRIP & WHIP MOUNTAIN BIKE RIDE YRS 4-6- TUESDAY 11TH MAY 2021 (REDWOODS ROTORUA) TERM 2
Just waiting on more information on the day. All I know is the team will have to be entered before seniors go on camp in mid April.
Calendar:
| | |
| --- | --- |
| | |
| Wed 17th March | Reporoa Valley Cluster Summer Sports |
| Mon 22nd March | Top School Sports 4-6pm in Rotorua |
| Thursday 25th March | "I am Hope" assembly 9am |
| Tuesday 30th March – Thursday 1st April | Year 3 & 4 Camp – Wai-o-tapu |
| Friday 2nd April – Tuesday 6th April | Easter (No school) |
| Tuesday 13th April – Friday 16th April | Year 5 & 6 Camp |
| Wed 14th April | CBOP Swimming Sports |
| Friday 16th April | Teacher Only Day with Broadlands & Mihi |
| Monday 19th April | Term 1 Holidays |
| Monday 3rd May | Term 2 starts |
Other Notices:
School Account Details:
Account payments can be made directly to our school ASB account using online banking.  The account number is: 123155 0134517 00
Details: 
Remember if you change address, get a new cell phone number or email address you need to notify the school so we have up to date records. The office needs your up to date email address so the newsletter can be emailed out – thanks.
LUNCHES: 
We are part of the governments healthy lunches programme. Children are provided lunch everyday. If they have any allergies, please let the office know so that allowances can be made. Children still need to bring a drink bottle (water only please) and morning tea every day.
Absences:
Reminder – if your child is absent either text, phone and leave a message, or fill in an on-line absent form. We also are required to fill in the reason they are away, so remember to include this in your message – thanks.
Car Parks:
Please use the car parks provided at the front or back of the school. No vehicles are permitted on the school grounds except for staff or service vehicles.
Nãku i runga i aku mihi ki a koe – Yours with thanks
Richelle McDonald
and our team –Cherie, Jazzmine, Debs, Susannah, Steven, Julie, Maureen, Heather, Colleen, Tina, Karla & Linda.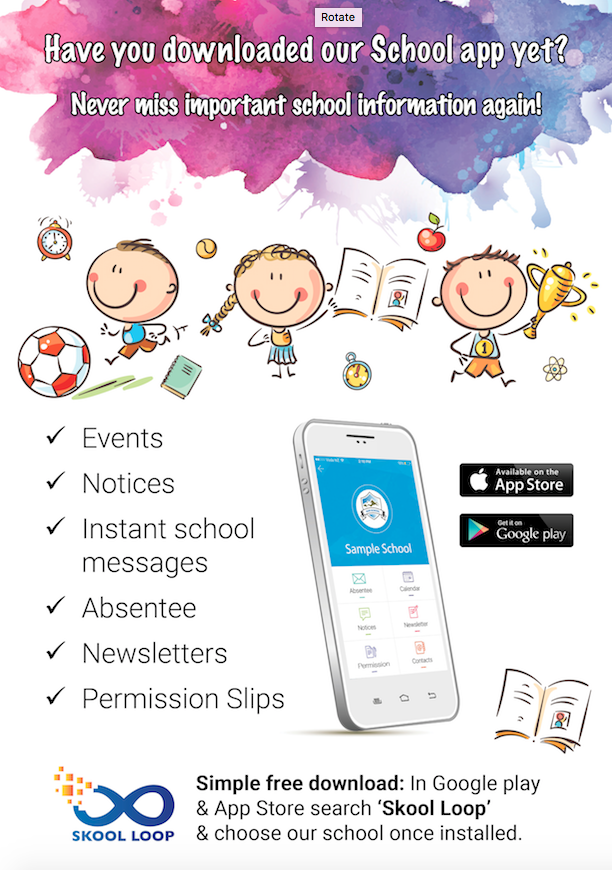 Print or Save this Post