Nga mihi nui ki a koutou katoa – warm greetings to everyone
Welcome back to Term 3:
It is hard to believe that we are over half way through the year already!
This term we have a number of exciting things happening such as our school followed by cluster sppech competition, the Reporoa Valley Cultural Festival, the mini marathon, Pet Week, STEAM (Science, Technology, Engineering, Art, Maths) programmes. Be sure to keep an eye on the calendar to make sure you don't miss anything!
Important! We have two Teacher Only Days happening this term:
2nd September – Literacy professional learning at Upper Atimuri School with our Kahui Ako schools.

30th September – Kahui Ako teacher only day.
School will not be open on these days.
Welcome Whaea Pip:
A very warm welcome to our new teacher Phillippa Cox. Whaea Pip is in room 4 with our new entrant students. They have had a great start to the term.
Mask wearing in schools:
With another wave of covid hitting the country, the Government has made a strong recommendation that we review and promote our mask wearing policy as much as possible.
As a school we will be returning to the expectation that staff and students of year 4 and up wear a mask indoors where suitable for the next four weeks.
Examples of situations where mask wearing may not be suitable include:
-while eating and drinking
-playing certain musical instruments
-playing indoor sport
-singing
-PE and Sports
Students whose parents/caregivers have made contact with me about their health issues with wearing masks will not be required to wear one.
Thanks for your understanding and willingness to adapt. Your support as we continue to navigate another challenging year is valued as we try to do what is best for the children in our care.
Reporting Progress:
At the end of last term you would have received your child's mid year report through HERO (our online SMS – Student Management System). If you have had any issues or have lost the instructions that were emailed and sent home on a paper sheet, please contact your child's teacher ASAP.
Also, some of you booked your SLC (Student Learning Conference) in last term but then did not attend. We need to follow up with you and meet to discuss your child's progress and will be in contact soon.
If you would like to know how we are doing as a whole school, the Senior Leadership Team report to the Board of Trustees can be found on our website.
It is very important that you are involved in your child's education. Research shows that when parents take an interest in their child's schooling, they do much better in school overall. 
STEAM:
This term and next term Steven Webby will be taking classes through our STEAM programme in Room 7 on Friday's. STEAM stands for Science, Technology, Engineering, Arts, Maths. Esther Beatie will be teaching in Room 1 on Friday's to cover. STEAM creates exciting opportunities for our children to learn the survival skills of the 21st century such as…
Collaboration across Networks and Leading by Influence
Curiosity and Imagination
Critical Thinking and Problem Solving
Agility and Adaptability
Initiative and Entrepreneurship
Accessing and Analyzing Information
Effective Oral and Written Communication
After School Care provider:
We are interested in setting up an after Kindergarten (2:30pm) and After School (3pm) care provider for Reporoa School whanau as an option for whanau who are working and finding pick up times difficult. If you are interested in this idea (either running it or using it for your children) please send an email to [email protected]
If there is enough interest, we will pursue the idea further.
Have you got our app downloaded for all current communications?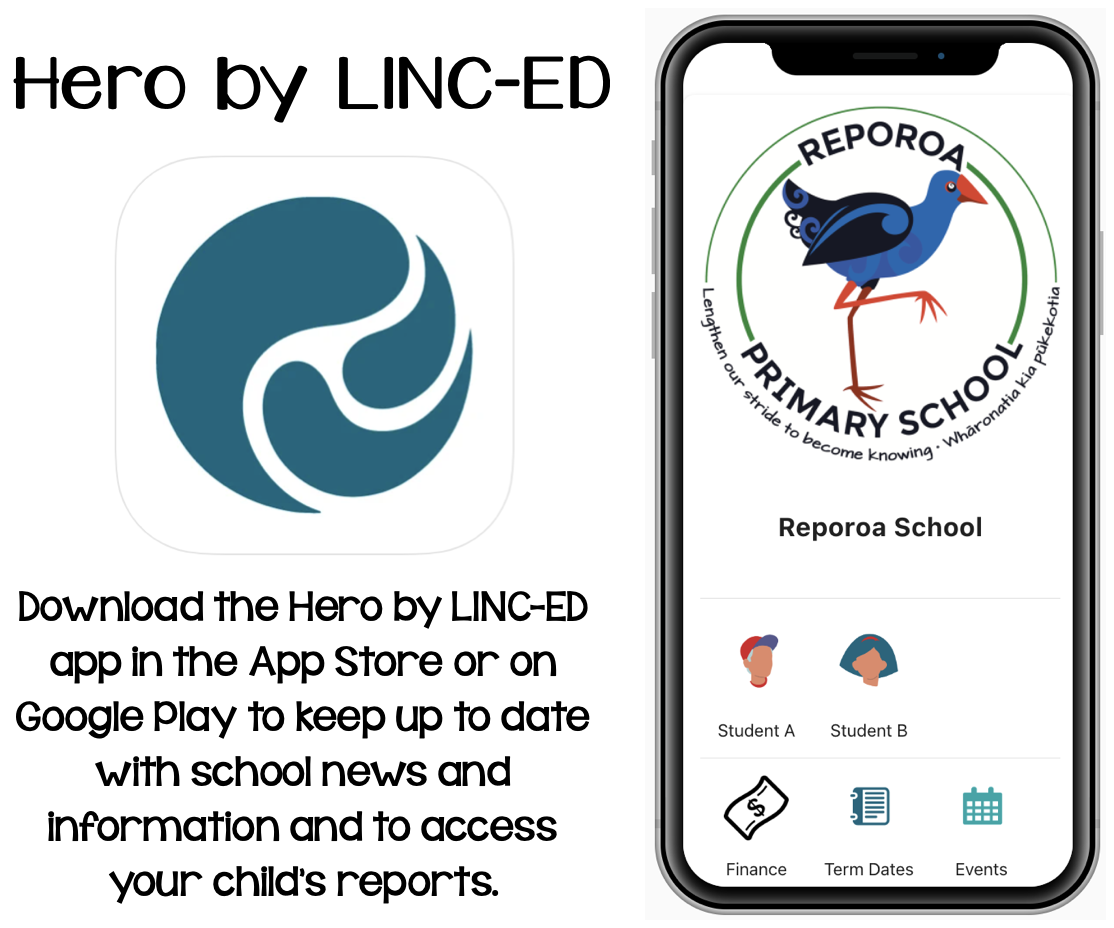 Message from the Board:
Thank you to Emma Ferrier for offering to be our Board Secretary! We are delighted to have you as part of the team!
Board of Trustee election nomination forms have been sent out. Nominations are open for the election of 5 parent representatives to the school board.
All eligible voters will receive a nomination form. Use this form to nominate yourself or someone in your community. You will also receive a nomination cover letter calling for nominations. Information on who is not eligible to be a board member is provided with the nomination form.
If you need more nomination forms, contact the school office.
Nominations close at noon on 3rd August. You may provide a signed candidate statement and photograph with your nomination.
The electoral roll is held at the school and can be viewed during normal school hours.
As nominations are received, there will be a list of candidates' names kept at the school up until election day, which you can view.
Voting closes at 4pm on 7 September 2022.
For more information abut what is involved, please click on the link below.

Kate Bowron, Presiding Member
Sports:
Amazing Race:
Entries close tomorrow for this event. Students who have expressed an interest will get a text today asking for permission to go. The event is on Thursday 4th August. Each team needs an adult to provide transport and participate in the event.
Rugby League 9's. This is on the 6th September. We calling for interest shortly.
Nikkole Fell (Sports Coordinator)
Calendar:
| | |
| --- | --- |
| Thursday 4th August | Amazing Race – Rotorua |
| Thursday 4th August | Whanau Group Meeting 7pm Staffroom |
| Wednesday 10th August | BOT meeting 7pm Staffroom |
| Wednesday 17th August | Rugby 7's |
| Tuesday 23rd August | Golf Fun Day |
| Thursday 1st September | Reporoa College Open Day |
| Friday 2nd September | Teacher Only Day |
| Wednesday 7th September | RPS Speech Competition |
| Tuesday 13th September | RVC Speech Competition |
| Tuesday 13th September | Rip, Grip, Whip |
| Thursday 15th September | Cultural Festival |
| Friday 15th September | Mini Marathon |
| Thursday 22nd September | RVC Winter Sports |
| Thursday 29th September | Pet Day |
| Friday 30th September | Teacher Only Day – Kahui Ako |
Other Notices:
School Account Details:
Account payments can be made directly to our school ASB account using online banking.  The account number is: 123155 0134517 00
Details: 
Remember if you change address, get a new cell phone number or email address  to notify the school so we have up to date records. The office needs your up to date email address so the newsletter can be emailed out – thanks.
LUNCHES: 
We are part of the governments healthy lunches programme. Children are provided lunch everyday. If they have any allergies, please let the office know so that allowances can be made. Children still need to bring a drink bottle (water only please) and morning tea every day.
Absences:
Reminder – if your child is absent either text, phone and leave a message, or fill in an on-line absent form. We also are required to fill in the reason they are away, so remember to include this in your message – thanks. IF CHILDREN ARE SICK PLEASE KEEP THEM AT HOME.
Car Parks:
Please use the car parks provided at the front or back of the school. No vehicles are permitted on the school grounds except for staff or service vehicles.
Nãku i runga i aku mihi ki a koe – Yours with thanks
Richelle McDonald
and our team – Nikkole, Korkz, Gemma, Tanissha, Steven, Julie, Maureen, Heather, Mary, Bridget, and Linda.

Print or Save this Post