Nga mihi nui ki a koutou katoa – warm greetings to everyone
Cultural Festival!
We are working hard on our Kapa Haka performances to get ready for the Reporoa Cluster Cultural Festival next Friday the 20th August at Reporoa College. We don't yet have the times we will be performing but will let you know as soon as we know! Our set will include performances from…
Ngā Tamariki o Te Kura o Reporoa – this group has been an established school kapa for a number of years. Tutorship is headed by Matua Grant Hohepa, a descendant of Ngāti Tahu-Whaoa.
This Kapa Haka rōpū is made up of Ngā Pōtiki (juniors) and Ngā tuakana (seniors) of the school.
AND
Ngā Taura Here (Tāngata) This is a newly established Kapa formed this year and tutored by Kōkā Piri, a descendant of Ngāti Koata, Ngāti Kuia, Ngāti Toa Rangatira and Ngāti Rangiwewehi. The name Ngā Taura Here (Tangata) symbolises the single threads of string which each child and their whanau represent, when woven together become a rope of strength and unity.
Hangi:
Please get behind our community and order a hangi through the school office. Orders close this Friday! Here are the details…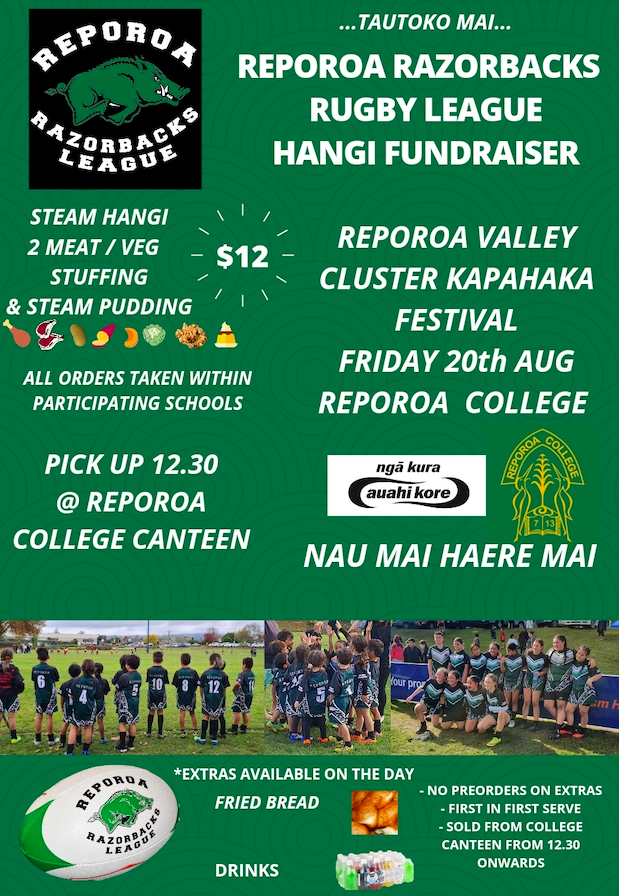 Student Learning Conferences:
Congratulations to Room 6 who had 95% attendance at our SLC meetings. They have a play date reward booked in with the principal soon!
If you have not yet met with your child's teacher, please make contact and do so.
GARDEN TO TABLE
" Many children and parents have been asking for our first series of recipes for this term's Garden To Table – it is thrilling to hear how many of our tamarki are cooking at home for their families. A shout out for some help in the Koru Garden… two options on Fridays are in the morning after 11am and after lunch – your choice of times when you can lend a hand. Many thanks – text Susannah on 027 366 9867
Mid Year data reporting:
A very big congratulations to Debs Morrison and Cherie Hill who have taken over the responsibility of collecting, mining, analysing and reporting data to the Board of Trustees. It is always a huge job and I must admit, it was a little difficult to pass on. They have done an amazing job! We have seen 44 new enrolments this year so far which has made a very big change to what we expected our data to look like. We are doing extremely well in mathematics. 97.5% of the whole cohort are achieving at or above their expected level in mathematics. This compares with 90% at the same time last year. 20 students are above expectation, compared with 14 students above expectation in mid 2020.
The senior school are tracking well in reading and writing. We have increased to 95% of our senior school reading at or above compared to 78% in 2020. 95% of our students in years 4-6 are reading at or above.
The junior school have some challenges in reading and writing (42% of our year 1-3 students are reading below or well below their expected level compared to 26% in 2020) which we are focusing on over the next few terms alongside our ERO evaluation partner. This will include unpacking how we can implement a more Structured Literacy approach alongside junior teachers collaborating together to address the higher than expected learning needs. I can assure the community, we have some stunning teachers in our school and we are committed to ensuring our learners progress, including all of those new students to our school. One thing parents and whanau can help us with is making sure that you make reading at home with your child a priority. Enjoy the 1-1 time, have fun and read at least two books EVERY SINGLE DAY. Research shows that if this is done from birth, reading will not be a problem for your child!
Pet Day:
Pet Day is coming up at the end of the term 3 holidays. Have you started raising a pet to enter?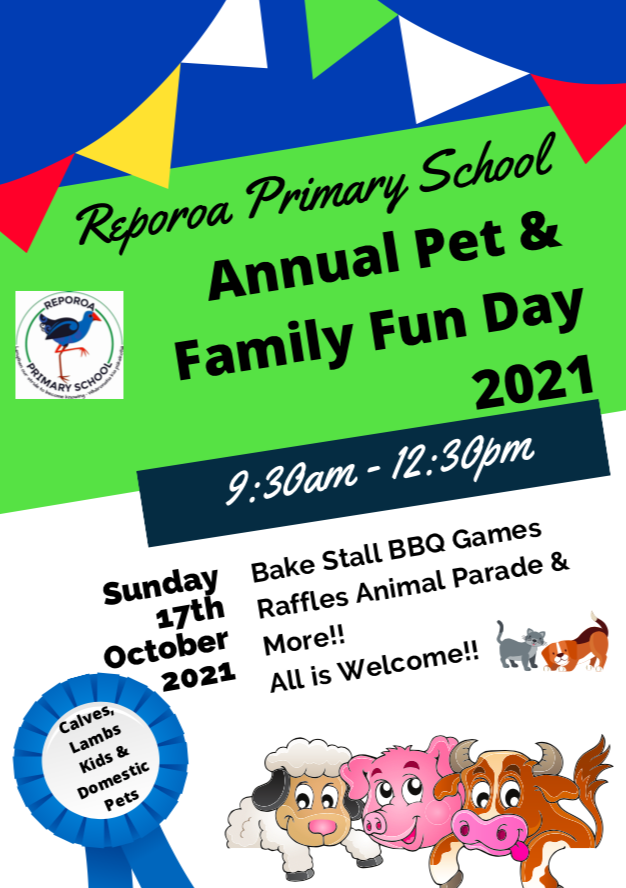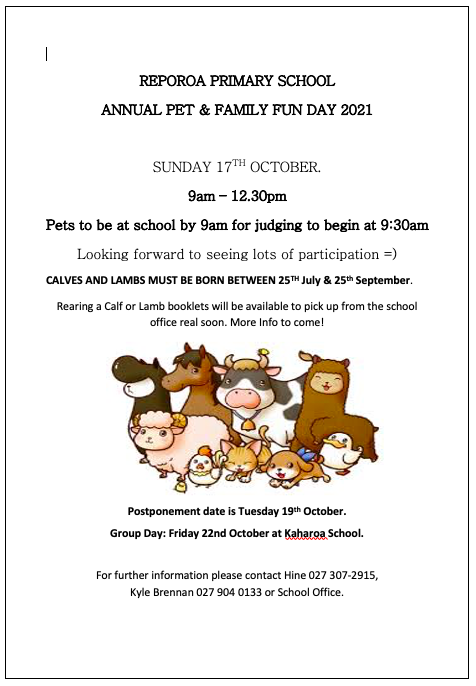 Board of Trustees:
The Reporoa Primary Board of Trustees is looking to select a new member due to a vacancy. If you are interested, please pick up an application form from the office.
To find out more about what is involved, please click the following link:
Sports:
HERE'S WHATS COMING UP IN TERM THREE 2021:
Amazing Race: On today have a great morning
Wed 22nd September – Reporoa Valley Cluster Winter Sports
Thanks
Calendar:
| | |
| --- | --- |
| Thurs 12th Aug | Whanau Meeting 7pm in the Whanau Roon – all welcome |
| Fri 13th Aug | ALL hangi orders and money for the Cultural Festival handed into office |
| Fri 20th Aug | Reporoa Valley Cluster Cultural Festival |
| Wed 15th Sept | Reporoa College Open Day |
| Wed 22nd Sept | Reporoa Valley Cluster Winter Sports |
| Fri 1st Oct | TOD – Kahui Ako |
| Sun 17th Oct | Pet Day pp Tues 19th Oct |
| Mon 18th Oct | Term 4 -9:00am start |
| Fri 22nd Oct | Group Day at Kaharoa School |
| Mon 25th Oct | LABOUR DAY – no school |
Other Notices:
School Account Details:
Account payments can be made directly to our school ASB account using online banking.  The account number is: 123155 0134517 00
Details: 
Remember if you change address, get a new cell phone number or email address you need to notify the school so we have up to date records. The office needs your up to date email address so the newsletter can be emailed out – thanks.
LUNCHES: 
We are part of the governments healthy lunches programme. Children are provided lunch everyday. If they have any allergies, please let the office know so that allowances can be made. Children still need to bring a drink bottle (water only please) and morning tea every day.
Absences:
Reminder – if your child is absent either text, phone and leave a message, or fill in an on-line absent form. We also are required to fill in the reason they are away, so remember to include this in your message – thanks.
Car Parks:
Please use the car parks provided at the front or back of the school. No vehicles are permitted on the school grounds except for staff or service vehicles.
Nãku i runga i aku mihi ki a koe – Yours with thanks
Richelle McDonald
and our team –Cherie, Jazzmine, Debs, Susannah, Steven, Julie, Maureen, Heather, Colleen, Tina, Karla & Linda.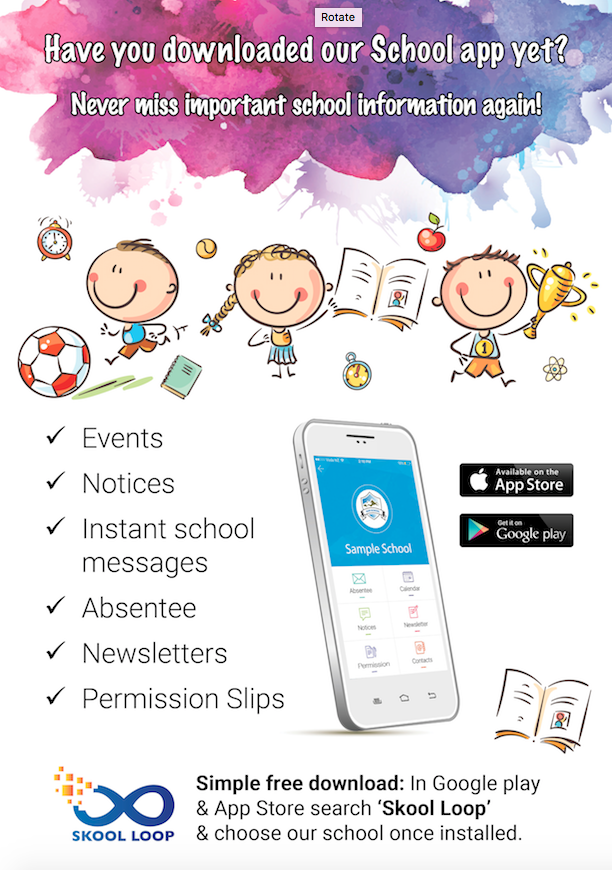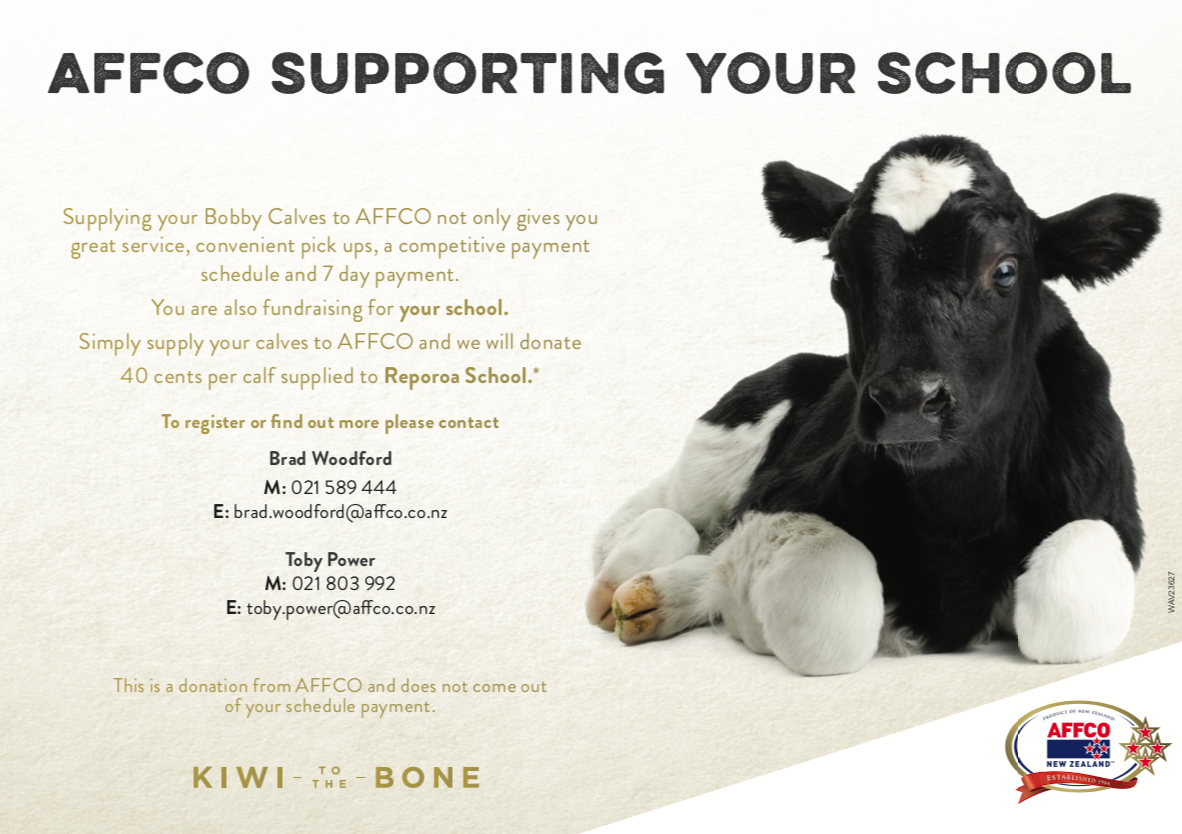 North Fuel:
North Fuel supply Bulk on farm fuel and lubricants for Farmers and Contractors throughout the Primary Sector in New Zealand. One way they give back to the community is via Schools and fundraising events. They also have a large BBQ Trailer for which they bring along for Schools to use on their event days. For every 100 Litres of fuel used by a contractor or farmer in our area they will donate 50 cents to Reporoa Primary School. Once we've reached $1,000.00 against our School, they let us know at which point we choose what package suits us best. We could choose between sports, IT and Stationary Packages.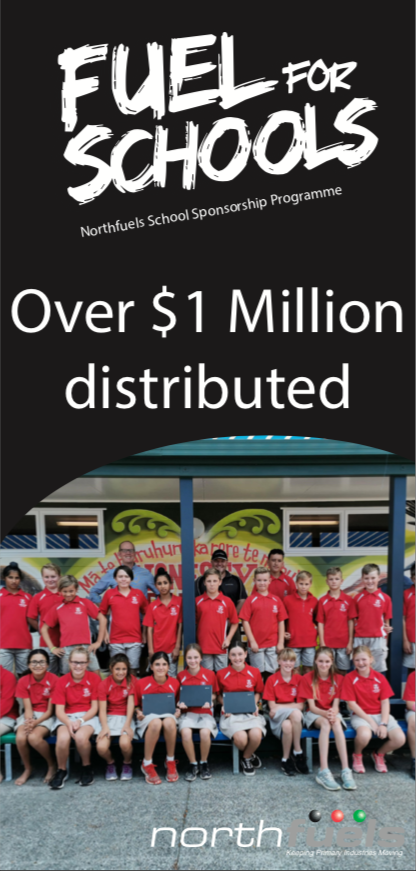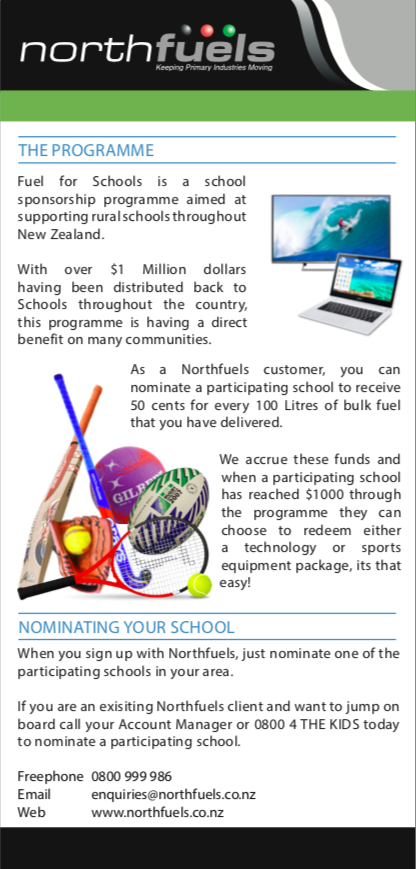 Print or Save this Post