Nga mihi nui ki a koutou katoa – warm greetings to everyone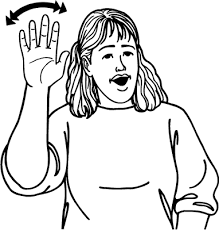 Kia ora, Nameste, Talofa, Konnichiwa, Guten Tag , Gidday, Vannakkam, ni Hao, Kia orana, Hola, Salam, Sa wat dee kha, Dia Dhuit, Goeie Dag, Bonjour, Hello, Sat Shiri Akaal (please let us know the greeting in your language if it is not here)
Covid Response:
Last week there was concern that we had some of our community in contact with an active Covid case. Please note that this is not the first time we have had staff and students isolating and waiting test results due to either being at a place of interest or being near an active case. Over the last 18 months we have had quite a few. This is not cause for alarm as a school. There are NO active covid cases at school and therefore no reason to keep students at home. There are significant benefits for children/tamariki and young people/rangatahi to be in school – from educational, social and developmental perspectives.
Rest assured there is a firm plan in place and procedures to follow should one of our students or staff test positive. We are ready for this and know what to do should it happen. Unless we have a positive case in school, it is business as usual. Should we have a case, we work with MOH and MOE through a contact tracing process and the MOH makes the decision on whether or not the school remains open (depending on the number of close contacts we identify). If someone with COVID-19 is at school during their infectious period we take steps to notify students, staff, whānau, and anyone else who may have been on our premises at the same time. This is supported by the Ministry of Education.
Staff are vaccinated which reduces their risk of becoming infected with the virus or becoming seriously ill. Children/tamariki are at lower risk of severe illness if they are infected with the virus.
This approach aims to support the continuation of learning within primary and intermediate schools and kura as NZ transitions to a minimisation and protection approach across the country
2022 Classes:
Traditionally as a school we have moved the students to their next year's class with their future teacher for a part of the day to transition them and ease anxiety around their class for next year. Unfortunately, due to factors out of our control, we are unable to do this this year. Because of the situation we find ourselves in, we cannot yet make decisions around staffing for 2022.  As a solution, we have put your child's classroom and year level for 2022 at the bottom of the comment on their 2021 report. No teachers have been allocated to rooms at present as we are not able to do this until after school finishes. We will allocate teachers to classes when we know who our staff for 2022 are. Rest assured, the BOT and I are working hard to employ the best possible teachers for 2022. We are excited about the opportunities presenting themselves moving forward!
End of Year Celebrations:
This year looks very different due to covid restrictions.
The
Year 6 Graduation
is by
invite only
and will be held in our hall at 10am tomorrow, Thursday the 9th December. Please remember to wear a mask, scan in, social distance and stay seperate from the student area.
Rangatira Lunch – congratulations to Elsie Crafar, Maia Thomas, Bronson Olson, Rhiannon Thomas, Ihaka Davis, Levi Phillips, Stella Marshall, Paris Phillips, Lachlan Bowron, Harmony Wallace, and Riki Holt. They are our Rangatira for 2021 and will enjoy a special lunch with the principal on Tuesday next week. A special mention to Riki Holt who as achieved Rangatira for 5 years in a row! That is an outstanding effort Riki!
Our
Final Assembly
will be held on Wednesday morning at 10am for
students only
. This will be followed by water activities in the afternoon.
Board of Trustees:
I would like to take this opportunity to thank the Board of Trustees for their support in an incredibly trying year. Our board are very supportive and encouraging. They have the absolute best interests of the students at heart and every decision they make holds your children at the centre. As a principal, knowing I have the support of the board makes these difficult times a little less daunting. I would also like to especially thank Kate Bowron, the presiding member (formally known as board chairperson). Kate is often in the school (sometimes several times a day at the moment) assisting and listening to the next 'change of plan' from the ministry. Her efficiency and commitment to our school is to be commended!
I wish the board members a very restful and joyful Christmas and New Year – they deserve it!
STEAM:
The students have thoroughly enjoyed taking part in our STEAM (Science, Technology, Engineering, Arts, Maths) programme with our visiting expert Gavin McLean. Gavin is also working over at the college and provides professional learning in STEAM all over the country. Next year we are looking forward to working with the year 7 and 8 students at the college on some very exciting developments that they have in store for 2022 and beyond!
I wish the board members a very restful and joyful Christmas and New Year – they deserve it!
Starting Date for 2022:
Next year the teachers and staff have teacher only days on the 27th and 28th January and again on the 1st February. The students start back at school on Wednesday the 2nd February.
Whanau Group Bull Calf Fundraiser:
Thank you so much to the following families for their kind donation of a bull calf/calves We raised $6000 to go towards the School Playground.
A big Congratulations to Keren Leslie on raising the heaviest calf at 133KG
Garrett/Guyton
Halliday
Leslie
Martelli
Marshall
Muggeridge
Phillips
Weren/Wills
We would also like to Thank Simon Marra  – Marra Livestock for all his support in this annual fundraiser.
Year 6 students mufti:
The year six student have made a deal with me. We agreed that if they could show outstanding leadership and be model examples at the end of the term, I would allow them to wear mufti in the last week. I am happy to agree that they have certainly been amazing. We have a wonderful cohort who are holding it together even though they are desperate to be moving on to college. Thank you year 6 students! Mufti next week it is!
Sports:
If you have any sports uniforms lurking in corners, please return them to school before the end of the term. Nga mihi!
Athletics:
A very big congratulation to all of our place getters in the athletic sports this year. It was a wonderful day enjoyed by all! There are no Cluster or CBOP athletic sports this year due to covid restrictions.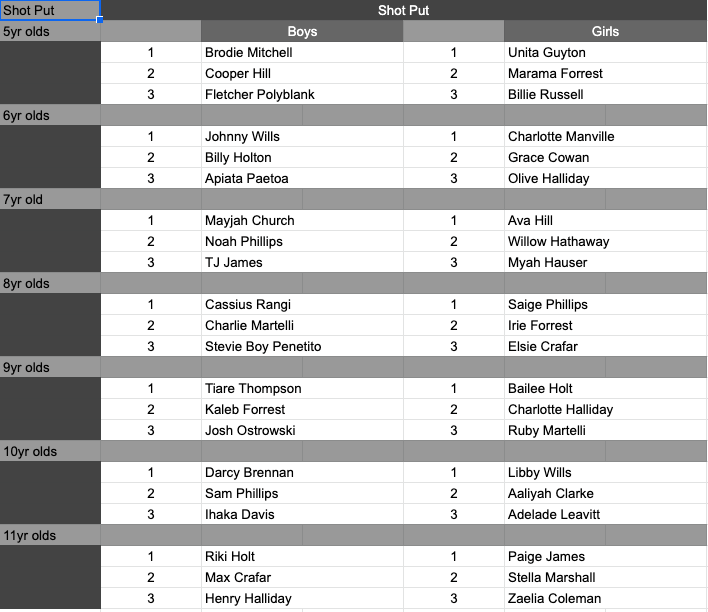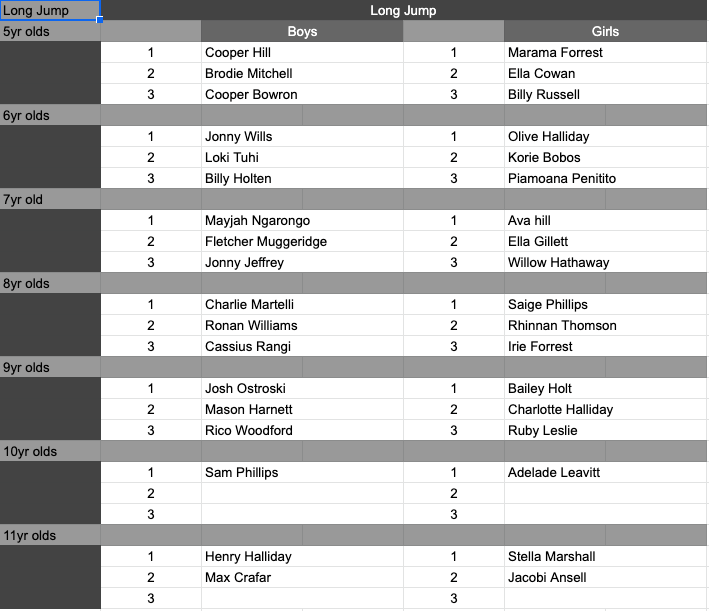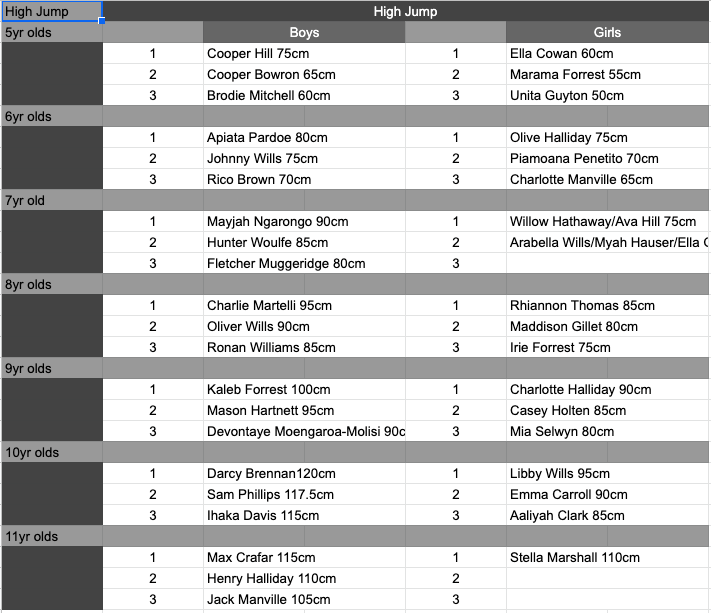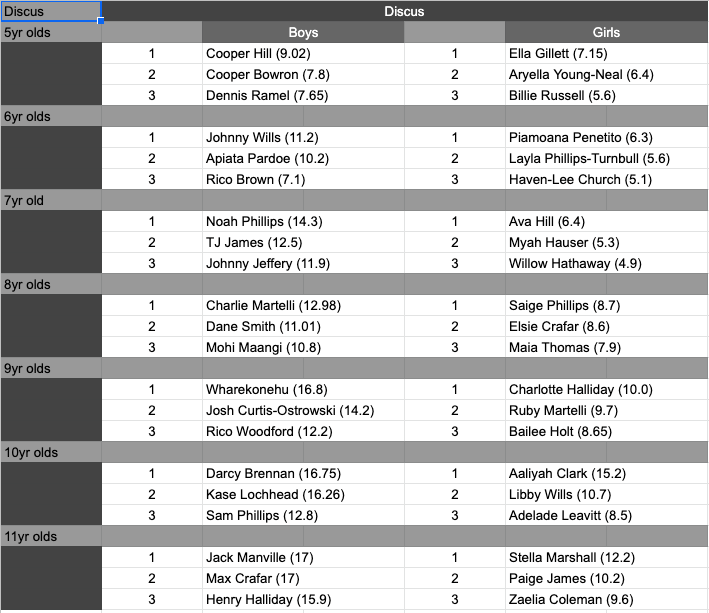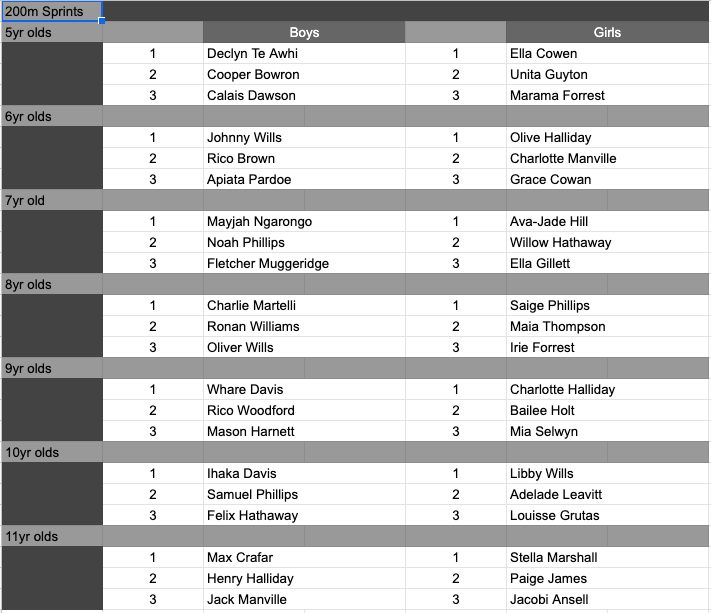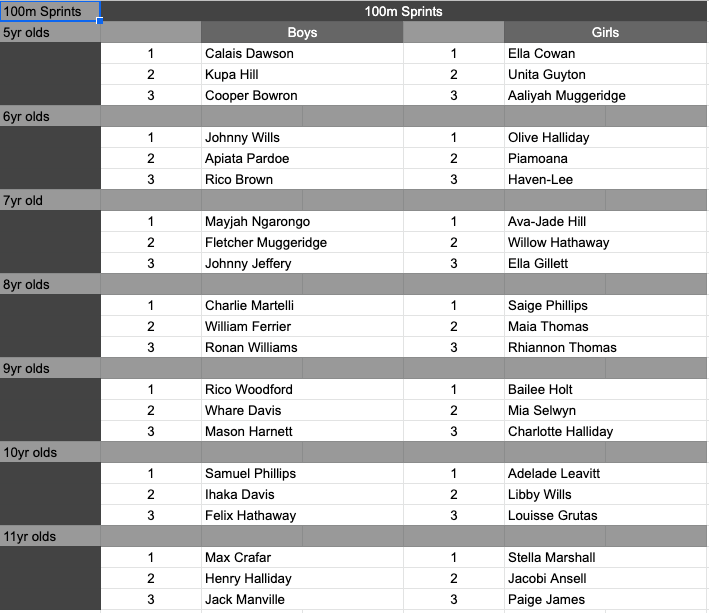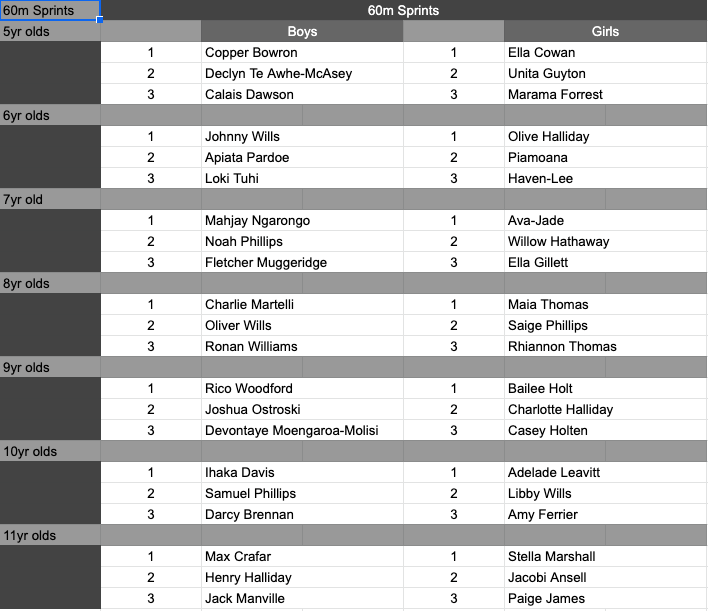 Calendar:
| | |
| --- | --- |
| Thurs 9th Dec | Year 6 Graduation 10am |
| Fri 10th Dec | Reports Home |
| Tues 14th Dec | Market Day |
| Wed 15th Dec | BOT Meeting 7pm |
| Thurs 16th Dec | Final Assembly / Prize Giving |
| Thurs 16th Dec | Last day of school – 3pm finish |
Thank You to our sponsors!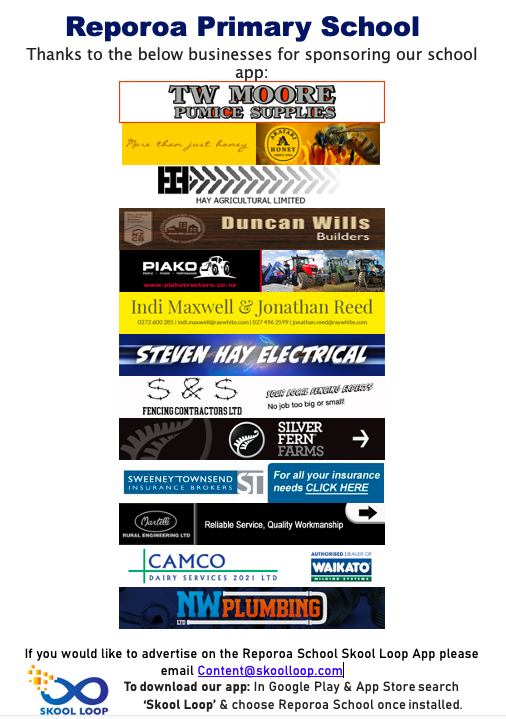 Other Notices:
School Account Details:
Account payments can be made directly to our school ASB account using online banking.  The account number is: 123155 0134517 00
Details: 
Remember if you change address, get a new cell phone number or email address you need to notify the school so we have up to date records. The office needs your up to date email address so the newsletter can be emailed out – thanks.
LUNCHES: 
We are part of the governments healthy lunches programme. Children are provided lunch everyday. If they have any allergies, please let the office know so that allowances can be made. Children still need to bring a drink bottle (water only please) and morning tea every day.
Absences:
Reminder – if your child is absent either text, phone and leave a message, or fill in an on-line absent form. We also are required to fill in the reason they are away, so remember to include this in your message – thanks.
Car Parks:
Please use the car parks provided at the front or back of the school. No vehicles are permitted on the school grounds except for staff or service vehicles.
Library Books:
Please return all library books this week so that we can do our annual stock take.
Lost Property:
Please name ALL items of uniform. Lost property can be found at the end of room 1. Please check this if something has been lost.
Nãku i runga i aku mihi ki a koe – Yours with thanks
Richelle McDonald
and our team –Cherie, Jazmin, Debs,  Steven, Julie, Maureen, Heather, Mary, Nei, Karla & Linda.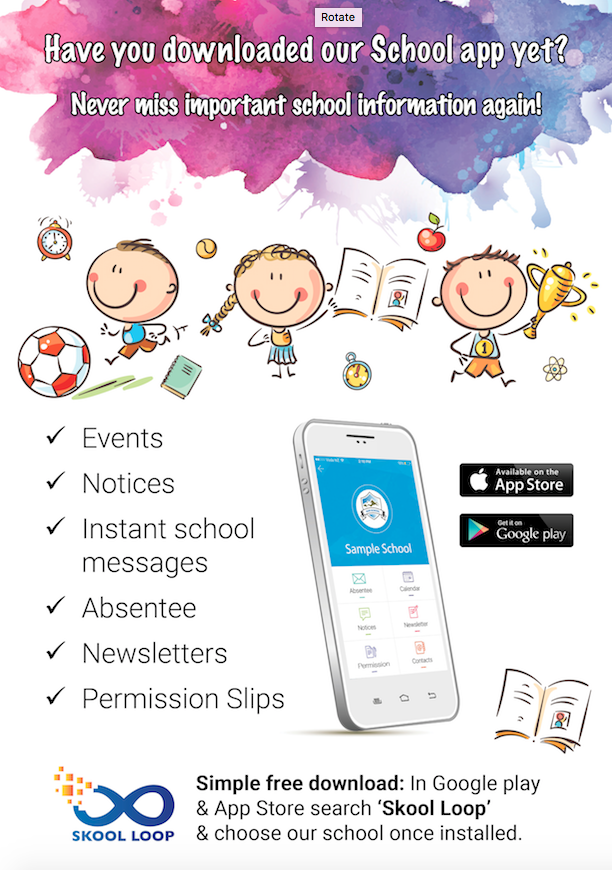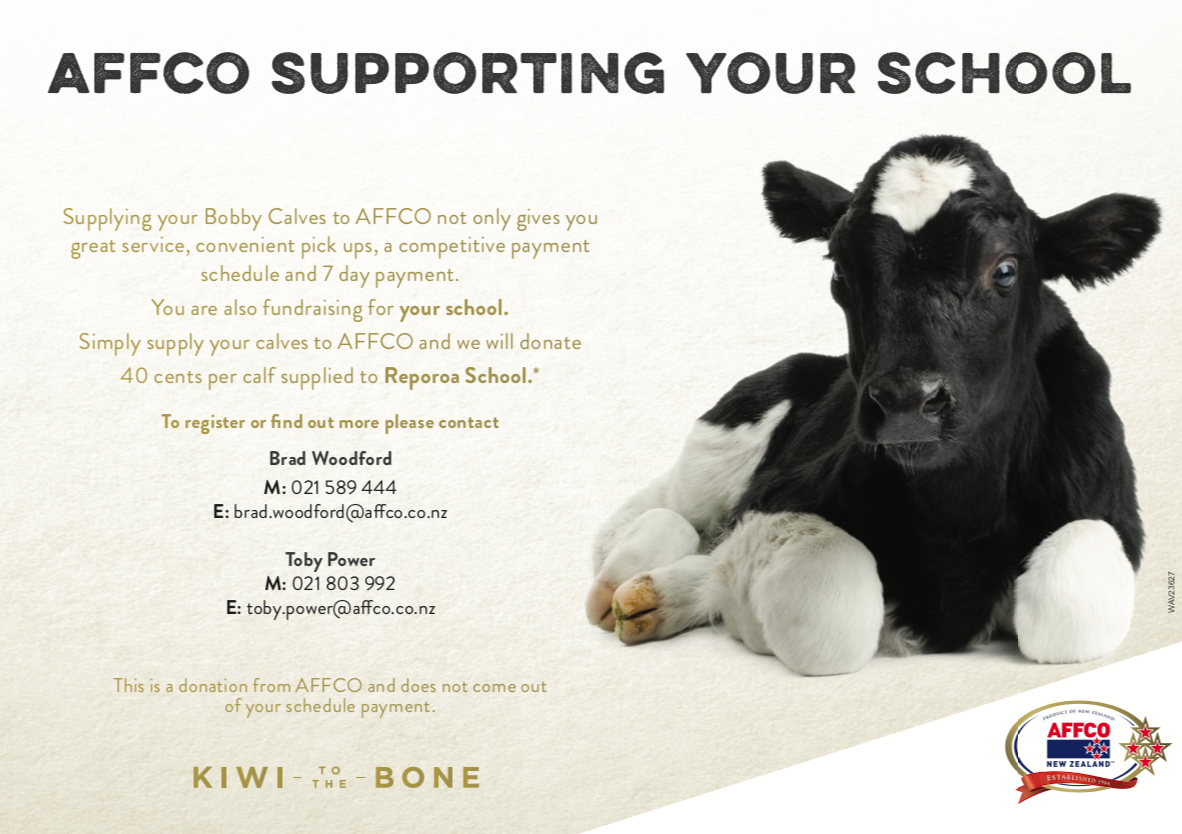 North Fuel:
North Fuel supply Bulk on farm fuel and lubricants for Farmers and Contractors throughout the Primary Sector in New Zealand. One way they give back to the community is via Schools and fundraising events. They also have a large BBQ Trailer for which they bring along for Schools to use on their event days. For every 100 Litres of fuel used by a contractor or farmer in our area they will donate 50 cents to Reporoa Primary School. Once we've reached $1,000.00 against our School, they let us know at which point we choose what package suits us best. We could choose between sports, IT and Stationary Packages.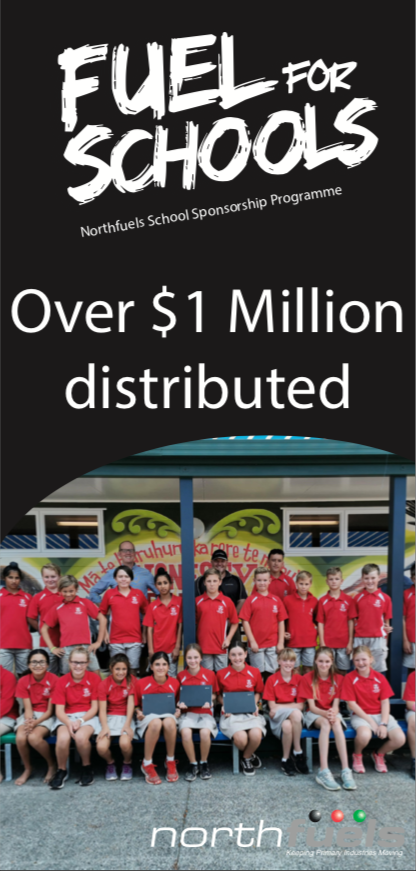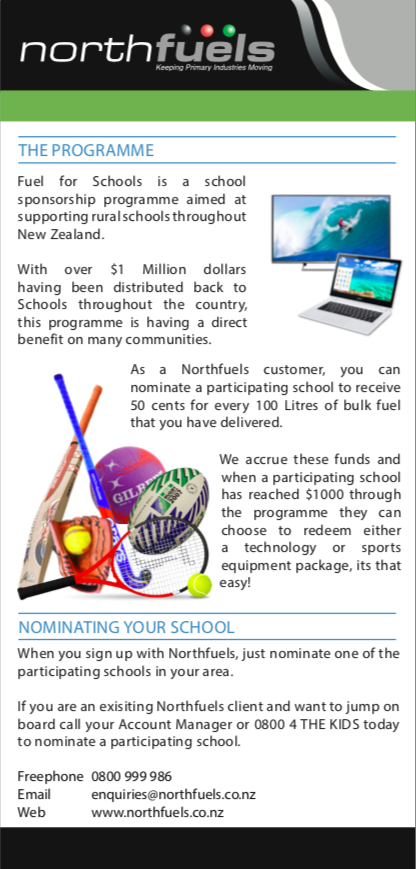 Print or Save this Post