Nga mihi nui ki a koutou katoa – warm greetings to everyone
Kia ora, Nameste, Talofa, Konnichiwa, Guten Tag , Gidday, Vannakkam, ni Hao, Kia orana, Hola, Salam, Sa wat dee kha, Dia Dhuit, Goeie Dag, Bonjour, Hello, (please let us know the greeting in your language if it is not here)
Korero from the Principal:
Last week I was very fortunate to join the Central Plateau Principal Association on a Hui a Tau to Visit Te Tiriti o Waitangi and some Northland Schools. The purpose was to look at how we can better build on our Te Tiriti actions, cultural responsiveness and the normalisation of Te Reo/Tikanga within our kura. Te Tiriti is now the foundation document to Te Mātaiaho | the refreshed NZ curriculum. All schools are going through a process of implementing changes to the way they deliver the curriculum in Aotearoa through our revised curriculum. The trip also showcased the breath-taking beauty of the region, beautiful beaches, warm weather, and the welcoming nature of the schools. 
I was particularly impressed with the focus on normalising te Reo Māori and tikanga throughout the curriculum in the schools I visited. This was not only in the inclusion of tikanga in daily school routines, such as karakia (prayers) and waiata (songs), but in the everyday expectations and language of the whole school rather than seperate bilingual classes. It created a sense of unity and respect across all cultures.
During the visit, I was also struck by the harmonious coexistence of the schools with their stunning natural surroundings. They see themselves as kaitiaki (guardians) of the whenua (land) and take this responsibility very seriously. It is something we are wanting to do better at in our space too. 
Before School Food and Drink:
A friendly reminder that before school children should not be eating and drinking unhealthy food. It sets them up for a disruptive morning and hinders their ability to focus on their school work. We are finding that sugar is a major issue for many of our children during the day. At our school we drink milk or water only. We eat healthy food and avoid food high in sugar, salt and additives. 
Absolutely NO chewing gum please!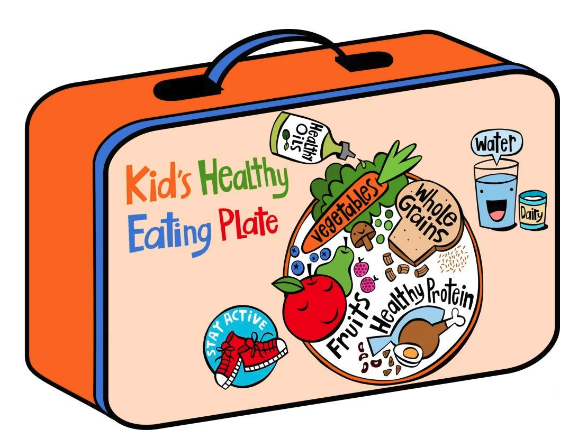 PB4L – Positive Behaviour for Learning:
At our school we have a big focus in our charter in being inclusive. We have a growing number of diverse students who add to the awesome make up of our community. How does your child do at accepting people who are not the same as they are? It's worth having a conversation about !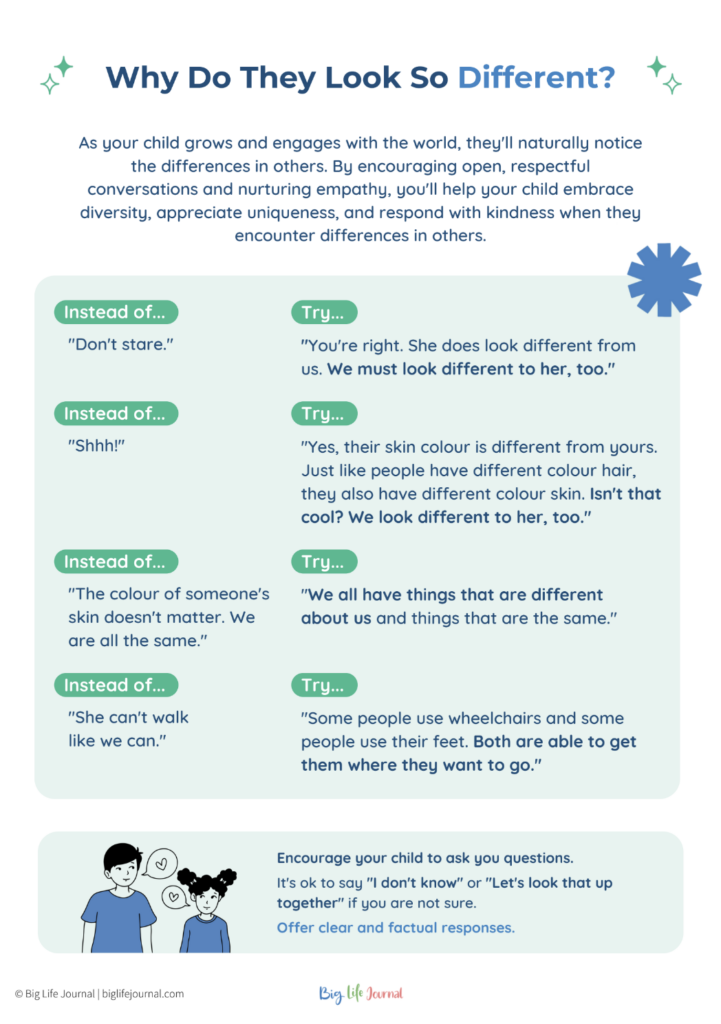 From the Board of Trustees:
We hope that the calving season has started well for all of you farmers out there! Look out for a wellness package coming home in a big box with your child shortly, kindly sponsored by Ka Pai Kai and Unilever. Hopefully it helps you a little in getting through this busy time!
We would like to welcome Stephen Forrest onto our staff as our new caretaker. Stephen has picked up Linda's position and we are extremely lucky to have someone so capable to carry on the excellent mahi that Linda did for us.
The Board of Trustees is about to ask you some questions about our next steps and what you would like to see happen in our kura/school. Be prepared for some questions coming your way via surveys and kanohi ki te kanohi/face to face. We are excited to have your input into where we head and we are interested in what your hopes and dreams are for your tamariki/children.
Kate Bowron
Presiding Member
Loose Parts Play:
We love our loose parts play area! It allows us to be creative and explore our imaginations! Gradually our loose parts play equipment disappears or goes walk about (we have possibly donated to some fences). We would love some more things to create with such as…
Bread and milk crates

Cable wheels

Spouting

Thick rope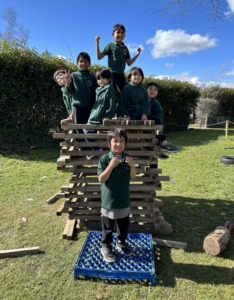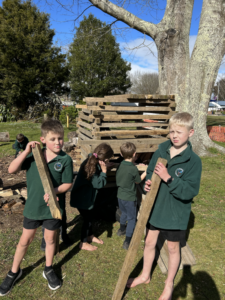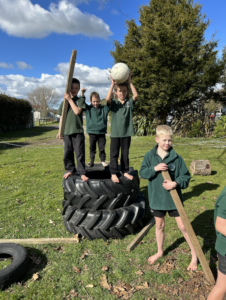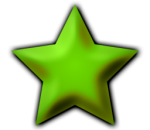 Stars of the week:

 
Ka rawe te mahi to Calais for some awesome maths and to Casey and Ronan for excellent comprehension in their writing!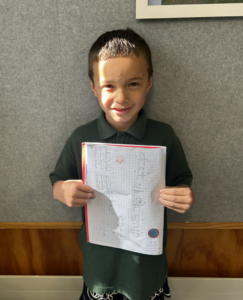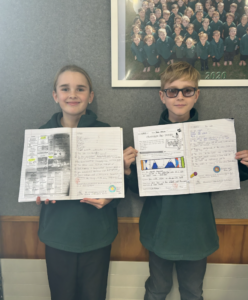 Cultural Festival: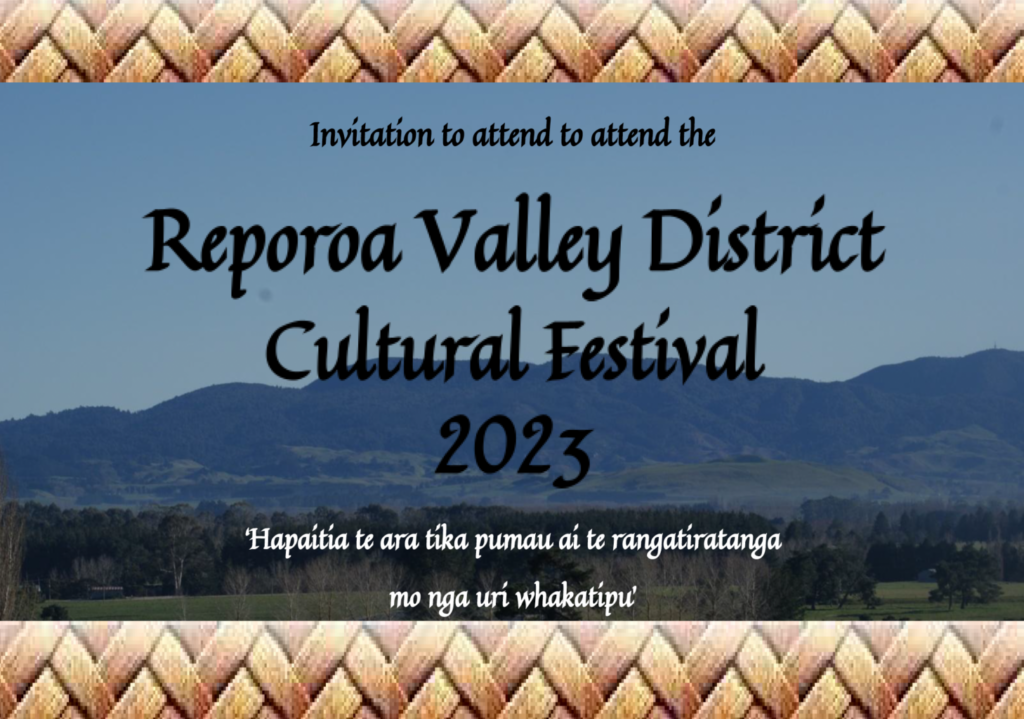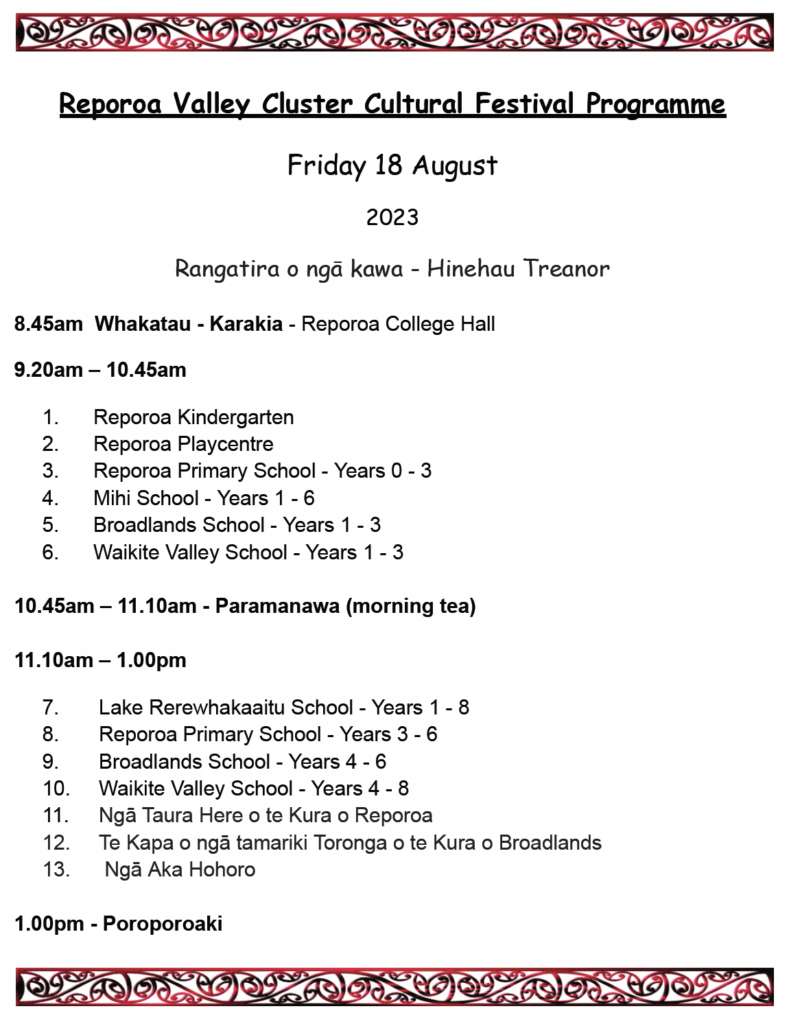 A sneak peek at our dress rehearsal…
100th Centenary Celebrations:
Remember to register.
Forms are at the office, or online through our website https://www.rep.school.nz/history-2/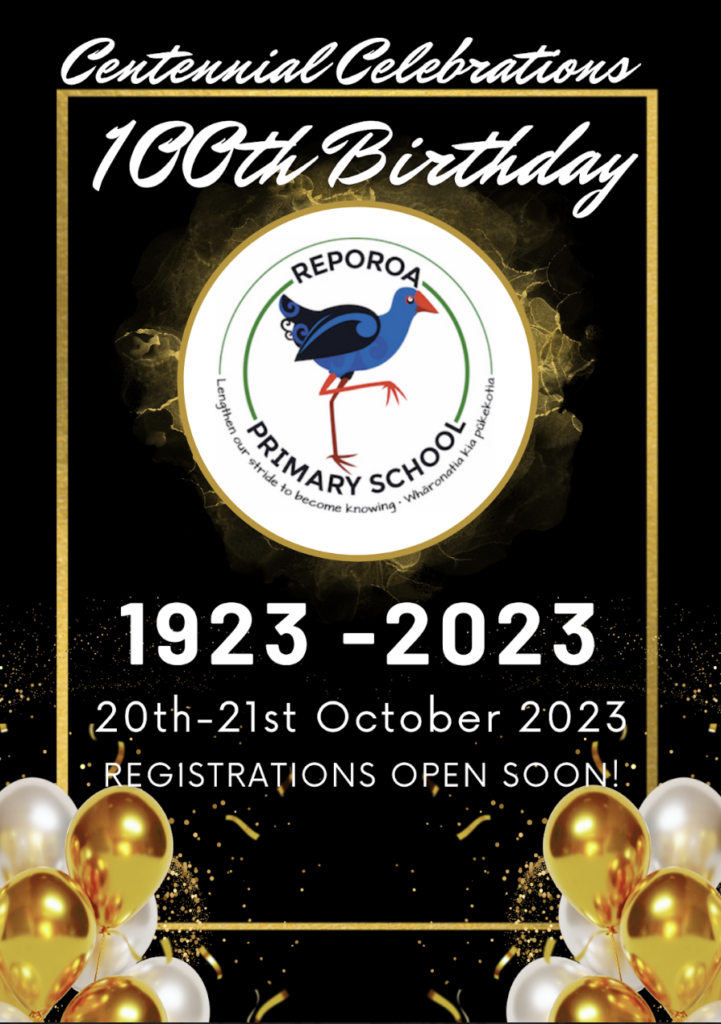 Sports:
Please note whanau, sports notices will be posted in our community feed on Hero. You will need to download the app and sign up using your email address you have given to Mrs J in the office. See instructions below.
League 9's competition
Thankyou to Rangi who has popped down to the school and held a practise run for our Year 5/6 league team. The team will be competing with other Rotorua schools next week.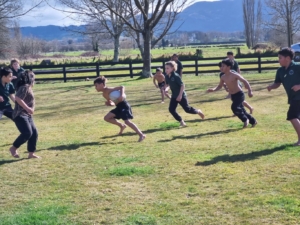 Reporoa Pukeko Hockey Team
Our team are having their last game this Friday. What an epic season, very proud to say we put in a team and have participated with all our hearts and souls. A big mihi to the whanau for supporting us. Also a big thankyou to Sarah, Duncan and Kate for all their mahi behind the scenes.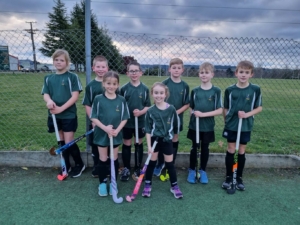 Whaea Tanissha – Sports Coordinator
Calendar:
| | |
| --- | --- |
| Fri 18th Aug | Cultural Festival |
| Mon 21st Aug | R6 Assembly |
| Thurs 24th Aug | League 9's |
| Fri 25th Aug | Daffodil Day – Gold coin donation |
| Mon 28th Aug | R1 Assembly |
| Fri 1st Sept | College Open Day |
| Fri 1st Sept | Fathers Day afternoon |
| Mon 4th Sept | R2 Assembly |
| Tues 5th Sept | Reporoa School Speech Competition |
| Tues 5th Sept | BOT Meeting |
| Mon 11th Sept | R3 Assembly |
| Thurs 14th Sept | Reporoa Valley Cluster Winter Sports Day |
| Mon 18th Sept | R4 Assembly |
| Tues 19th Sept | Rip, Grip and Whip |
| Tues 19th Sept | RVC Speech Competition |
| Thurs 21st Sept | Whare Fun Day finish 3pm |
| Fri 22nd Sept | Kahui Ako TOD |
| Mon 9th Oct | Term 4 starts 9:00am |
| Tues 10th Oct | Pet Day |
| Tues 24th Oct | BOT Meeting |
| Fri 27th Oct | Grandparents Day |
| Fri 3rd Nov | Gumboot Day |
| Tues 14th Nov | Reporoa School Athletics |
| Tues 21st Nov | Reporoa Valley Cluster Athletics |
| Tues 28th Nov | BOT Meeting |
| Tues 7th Dec | Whare Fun Day |
| Fri 8th Dec | Reports Published |
| Fri 8th Dec | Triathlon |
| Wed 13th Dec | End of Year Assembly |
| Thurs 14th Dec | Last Day of school 2023 – 3pm finfsh |
Have you got our app downloaded for all current communications?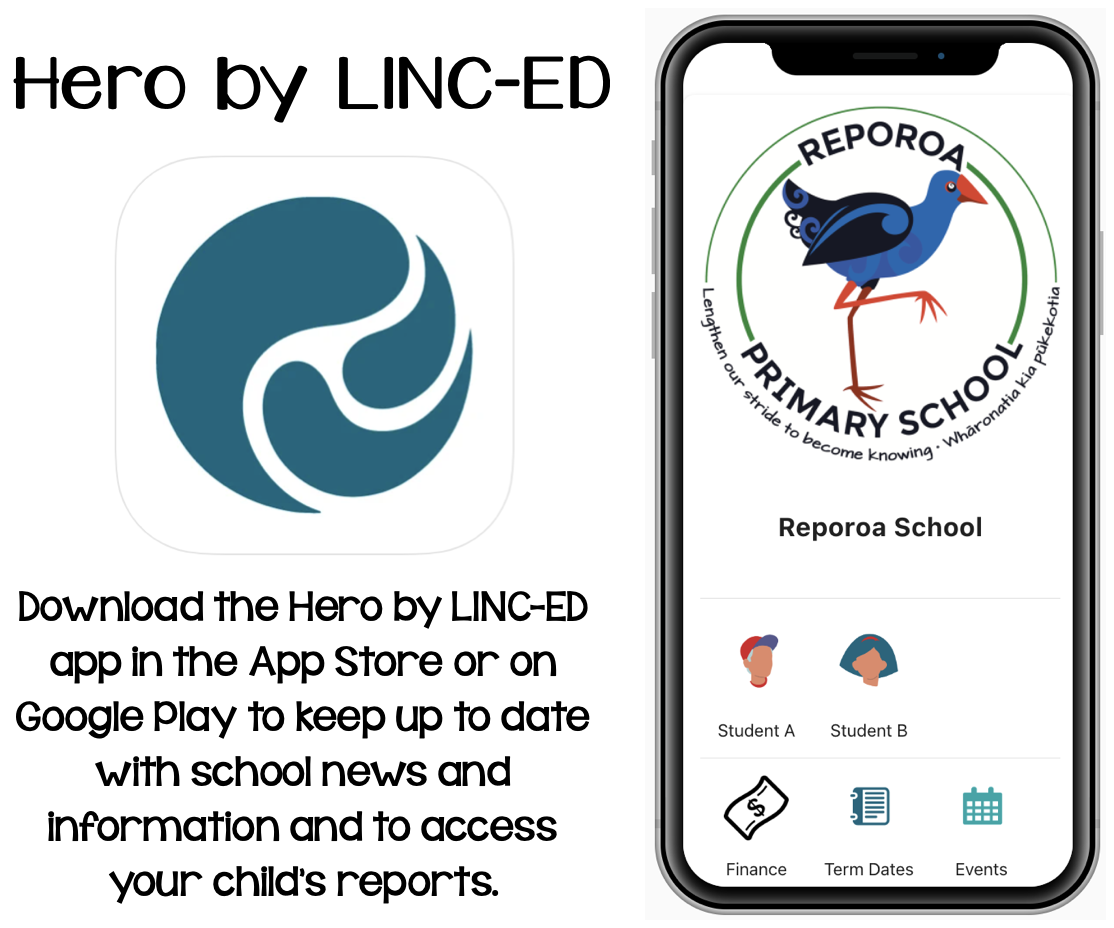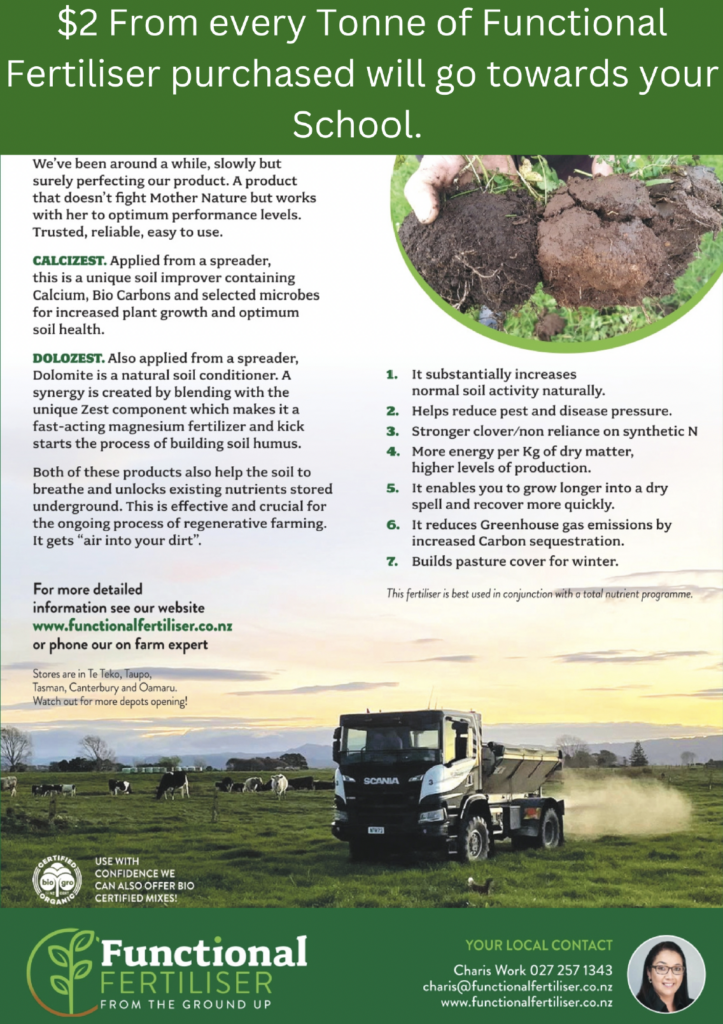 Other Notices:
School Account Details:
Account payments can be made directly to our school ASB account using online banking.  The account number is: 123155 0134517 00
Details: 
Remember if you change address, get a new cell phone number or email address  to notify the school so we have up to date records. The office needs your up to date email address so the newsletter can be emailed out – thanks.
LUNCHES: 
We are part of the governments healthy lunch programme. Children are provided lunch everyday. If they have any allergies, please let the office know so that allowances can be made. Children still need to bring a drink bottle (water only please) and morning tea every day.
Absences:
Reminder – if your child is absent either text, phone and leave a message, or fill in an on-line absent form. We also are required to fill in the reason they are away, so remember to include this in your message – thanks.
Car Parks:
Please use the car parks provided at the front or back of the school. No vehicles are permitted on the school grounds except for staff or service vehicles.
Nãku i runga i aku mihi ki a koe – Yours with thanks
Richelle McDonald
and our team – Nikkole, Gemma, Tanissha, Steven, Pip, Jenni, Julie, Allie, Maureen, Heather, Becky, Bridget, Kate, Kylie and Linda.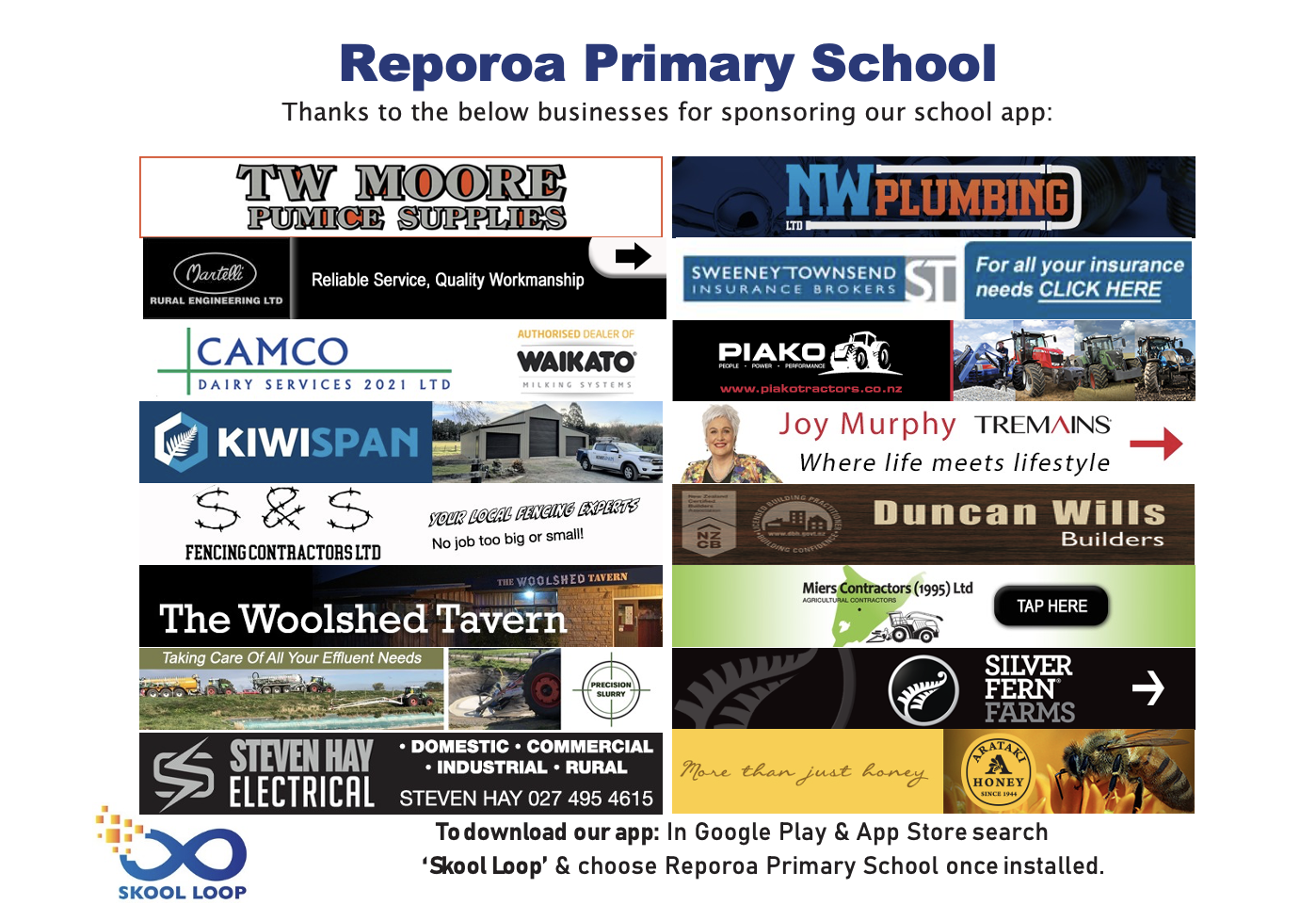 Print or Save this Post